Windows 8.1: Professional (OEM)
Release Date: 17 Oct, 2013
15014
RRP: $199.99
Our price: $10.45
PLEASE NOTE: THIS IS AN OEM LICENSE KEY for WINDOWS 8.1 professional.
also note: windows iso file are not provided, you are purchasing a license key only.
It Plays as Hard as it Works
Windows 8.1 gives you the power to quickly browse, watch films, play games, polish your CV, and pull together a great presentation — all on a single PC. Now you can organise up to three apps on your screen at once in a single view.
The Start Screen
Personalize your Start screen with your favourite news, friends, social networks, and apps. Customisable colours and backgrounds and four different sizes of tiles make your device as unique as you are.
The Apps you Want
In addition to great built-in apps for email, people, photos and video editing – you can also download thousands of popular apps from the Windows Store.
Security
Stay up to date and more secure with Windows Defender, Windows Firewall, and Windows Update.
Speed
Windows 8.1 starts up faster, switches between apps faster, and uses power more efficiently than previous versions of Windows, including Windows 7.
Your Familiar Desktop
From the Start screen, you are just a click away from the familiar Windows desktop you know so you can do the stuff you've always done.
Multitasking Made Easy
It's easy to do more at once. Snap multiple apps side by side in a single view for easy multitasking.
Mouse, Keyboard—and now Touch
Windows 8.1 works harmoniously with various types of devices, including touch, mouse-and-keyboard, or both. Whatever kind of device you have, you'll discover fast and fluid ways to switch between apps, move things around, and go smoothly from one place to another.
Your files, Everywhere
Stay connected to your photos and important files and access them on your phone, tablet or PC with SkyDrive. By signing in with your Microsoft account to any of your PCs running Windows 8.1 and you'll immediately see your own background, display preferences, and settings.
You Keep all your Files
If your PC is running Windows 7, your files, apps and settings will easily transfer to Windows 8.1 Pro.
You Keep Familiar Programs
Programs that run on Windows 7 will run on Windows 8.1 Pro.
Your Office. Your Way.
Experience Office at its best on Windows 8 devices. Discover new and better ways to create, edit, and browse—using a keyboard, pen, or touchscreen. Don't forget: Office is not part of Windows 8.
| | | |
| --- | --- | --- |
| Windows version | Windows 8.1 | Windows 8.1 Pro |
| Great Apps built in such as Mail, Calendar, Messaging, Photos, and SkyDrive with many more available at Windows Store. | ✔ | ✔ |
| Includes Internet Explorer 11 for fast, intuitive, touch-friendly browsing. | ✔ | ✔ |
| Keeps you up-to-date and more secure with Windows Defender, Windows Firewall, and Windows Update. | ✔ | ✔ |
| Works with new and existing Windows desktop software including the full Microsoft Office experience (Outlook, SharePoint Designer and more). | ✔ | ✔ |
| Comes with Windows Media Player | ✔ | ✔ |
| Provides enhanced data protection using BitLocker technology to help keep your information secure | | ✔ |
| Enables you to connect to your PC when you're on the go with Remote Desktop Connection. | | ✔ |
| Connects to you corporate or school network with Domain Join. | | ✔ |
| Watch and record live TV with Windows Media Center | | ✔ |

Download and installation instructions:
1: Download the necessary Windows 8 Pro ISO files to create a boot disk. We recommend the site:
http://windowsiso.net/
3: During installation, you will be prompted to insert your product key, insert the code we sent you through email after your purchase.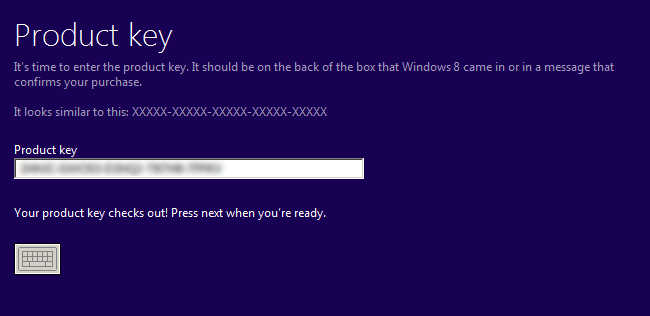 System requirements
1 GHz processor or faster with support for PAE, NX, and SSE2
2 GB RAM
20 GB available hard disk space
1366 x 768 screen resolution
DirectX 9 graphics processor with WDDM driver
To use touch, you need a PC that supports multitouch
Internet access (fees may apply)
Microsoft account required for some features
Watching DVDs requires separate playback software
Windows Media Center licence sold separately
Would be 5* but the price instantly came down after I bought it. Works well, no problems and upgraded to Windows 10 before the free upgrade period ran out. Fast, excellent service would order from again.