Age of Survival
Release Date: 25 Aug, 2015
2377
RRP: $18.99
Our price: $1.84
Survive, explore, craft, build, fight, die! Welcome to Age of Survival.
Age of Survival is survival simulation crafting game from Seattletek. Your player has been stranded on an island not far off of the coast of Africa where you will encounter creatures like boar, elephant, lions, hippos, crocs, rhinos, and tons of sea life.
Explore a beautiful environment based on real life heightmap and satellite image data. Interact with trees, ores, creatures, structures, explore the ocean, and travel to new environments. Your player is also able to build structures anywhere on the map, make sure to protect your valuable resources! Craft items like you never have before : craft firearms, weapons, and your tools in a more in depth manner by having to construct individual components, and combining them to create a final outcome. There are currently ten types of crafting in the game, from your basic crafting available on the character anytime, to things like water de-salination and distillation, tailoring, reloading, toolmaking, different types of cooking and more!
Truly test your survival skills!
Age of Survival is a truly immersive survival experience, which brings you to a new level of survivalism and creates a rich experience unlike any other!
We truly care about the community, and want everyone involved in our development throughout it's process. With great features already, and huge plans for the future, Age of Survival is setting itself in motion to be a contender in the survival game arena.
SYSTEM REQUIREMENTS
Windows
Minimum:
OS: Windows 7
Processor: Intel: i3 2.4Ghz or higher
Memory: 4 GB RAM
Graphics: NVidia Geforce 460GTX / AMD Radeon HD5850
DirectX: Version 9.0
Network: Broadband Internet connection
Storage: 6 GB available space
Recommended:
Processor: Intel i5 2500, i7 2600, 2700 or better
Memory: 6 GB RAM
Graphics: GTX 670 or greater
DirectX: Version 11
Network: Broadband Internet connection
Storage: 6 GB available space
SIX FEET UNDER

Your very first death!
KILLER

Kill one animal
LOGGER

Chop down ten trees
I'M RICH

Collect your first gold ore
BRUTE

Kill one gorilla.
GORILLAS IN THE MIST

Kill four gorillas
HUNTER

Hunt and kill 100 animals
LUMBER JACK

Cut down one hundred trees
TAKE A BEATING

Die one hundred times
NINER

Collect twenty five gold ore
Crock Eye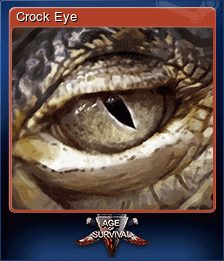 Skull face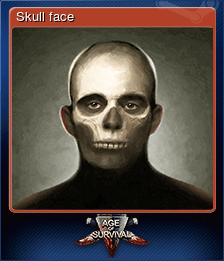 Deep Woods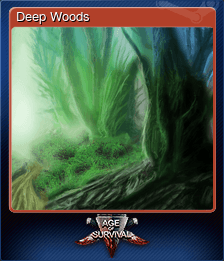 Knives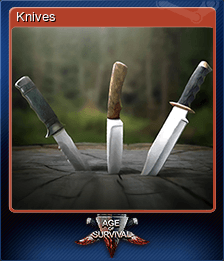 Red Hand