Police Tactics: Imperio
Release Date: 7 Sep, 2016
2001
RRP: $19.99
Our price: $19.59
16 years ago, the city of Newport Falls belonged to the criminal organization IMPERIO. The members of this group spread fear and terror and held the once picturesque Newport Falls in a stranglehold of organized crime. For a long time, the police had nothing to oppose this power and IMPERIO was free to do as it pleased. Until one day a wily police officer, John Croft, appeared on the scene. Together with his taskforce, he was able to put a stop to this syndicate's deeds bit by bit. But just before he could arrest the leader, he and his organization disappeared without trace. John Croft, the hero and father of a young boy was found dead a short time later. There were two bullets in his chest. But the case was never solved. IMPERIO disappeared and the city blossomed and developed magnificently.
16 years later, there is no longer any sign of what had happened. IMPERIO has returned and flooded the urban area with its criminal activities. The unthinkable happens when the mayor puts on a large banquet to present his future strategy against organized crime, which has been on the rise for months. During the presentation, a shady man draws a weapon and shoots at the mayor. Bullets fly; glass shatters and panic breaks out everywhere. At first, all that can be seen is the mayor lying on the ground. Next to him, police chief Michael Reese, riddled with bullets. He saved the mayor's life and paid with his own. The killer has escaped unidentified.
In
POLICE TACTICS: IMPERIO
you play as Harvey Croft and take on the vacant office of the police chief. You are responsible for upholding law and order in Newport Falls. Coordinate the emergency vehicles and personnel of the municipal precinct and put a stop to crime. Make sure that no crime goes unpunished and convict the perpetrators! You are the first line of defense in the fight against organized crime. You must prevent crime from prevailing and take out the big fish before it's too late. Collect and examine a wide range of evidence and protect your city before it sinks into a swamp of crime. Use your police units to their full potential. Train and deploy crime scene investigators, special units, police officers and detectives. Manage your headquarters and make best use of your budget to ensure the best standards of law enforcement and hazard defense.
With increasing success in the fight against organized crime, you will take on greater responsibility and unlock new areas, units and enhancements. Solve exciting cases, investigate capital offenses and prevent everyday misdemeanors. Will you be able to complete your father's lifework and put IMPERIO in its place once and for all?
POLICE TACTICS: IMPERIO
is a realistic real-time strategy game, developed by CyberphobX Ltd. and astragon Entertainment GmbH.
Features:
Uphold law and order in your city Newport Falls

Fight organized crime

Coordinate a range of different police units

Gradually unlock precincts, enhancements and new units

Manage and improve your headquarters and forces

Realistic emergency vehicles, either U.S. or German police units

Dynamic day and night cycles

With realistic police radio and sirens
SYSTEM REQUIREMENTS
Windows
Minimum:
OS: Windows 7/8/10

Processor: Quad-Core Processor Intel Core i5 with 3 GHz or comparable

Memory: 4 GB RAM

Graphics: DirectX 11 compatible graphics card with 1GB VRAM (GeForce GTX 700 series or comparable | ATI Radeon HD 79xx or comparable)

DirectX: Version 11

Network: Broadband Internet connection

Storage: 3 GB available space
Mac OS X
Minimum:
OS: Mac OS X 10.8.2 or better

Processor: Intel Core i5 with 2,7 GHz or comparable

Memory: 4 GB RAM

Graphics: Intel Iris Pro or comparable

Network: Broadband Internet connection

Storage: 3 GB available space
A Set Of Wheels

Purchase a vehicle.
Promotion

Promote a rookie to an Officer.
Fast and a bit furious

Respond to a crime in under 15 seconds.
I'm in the story!

Finish a Story mission.
Doing Okay

Solve 25 cases (including story missions).
Safe space

Raise the average safety of your unlocked districts above 99%.
Photo Booth

Obtain a Speeding Camera Van.
Making Space

Upgrade a room to maximum level.
Not a racing game

Catch a speeding vehicle with a camera van.
Not what I expected

Fail a story mission
Hawkeye

Arrest a group of criminals while they are on the way to commit a crime.
Dirty dozen

Have 12 employees in your HQ.
Doing Great
Solve 100 cases (including story missions).
The Big Comeback

Solve a case after your Investigators failed to gather evidence.
Les Miserables

Fail to solve 10 cases.
Four Musketeers

Employ four officers simultaneously.
I like perks

Purchase a bonus room.
Slow motion

Remove 5 speeding areas.
No escape

End a car chase under 20 seconds.
Expanding

Unlock the second district.
Kingpin

Remove a Crime Ring by arresting its leaders.
Not on my watch

Remove crime ring under 180 seconds.
Where to park?

Own 12 police cars simultaneously.
Disorganized Crime

Remove 3 Crime Rings.
Doing too well

Solve 250 cases (including story missions).
Hell on earth

Lower the average safety of your unlocked districts below 10%.
Maximized Efficiency

Fill all bonus slots.
Roadblocked

Stop an escaping car with a roadblock.
We believe we can fly

Own 3 helicopters simultaneously.
The Big Boss

Unlock all districts in the city.
The end

Finish the Story.
Full house

Upgrade all rooms to maximum level and fill all bonus slots.
KILLER ON THE RUN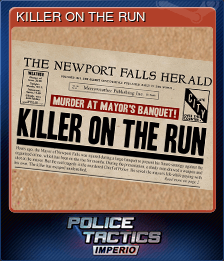 POLICE DEPARTMENT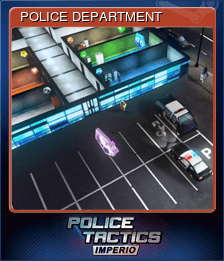 HIGH SPEED CHASE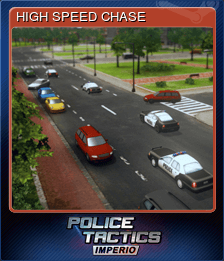 HORRIBLE MURDER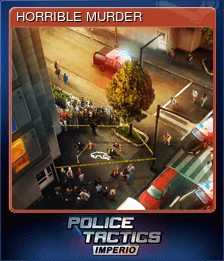 NEW POLICE CHIEF WANTED