Aerial Destruction
Release Date: 18 May, 2017
3580
RRP: $3.99
Our price: $2.46
About the Game

Aerial Destruction
is a
helicopter game
set during battles between
militaries and armed groups of bio-engineered mutants !

3 helicopters
to play,
easy to fly
with
cockpit and behind view
, having their own armaments, tactics, gameplay and
upgradable with credits points
to achieve maximum destruction !

7 missions
with objectives ranging from defending military outposts for as long as possible, destroying enemy convoys, storming enemy positions, supporting allied troops in assaulting enemy bases, etc...
15 achievements to unlock
, with support of
Steam trading cards
and Steam cloud to keep all progress available on any computer. Also playable with Xbox-like gamepads and in Ultra HD (4K).
SYSTEM REQUIREMENTS
Windows
Minimum:
OS: Windows XP or Windows 7
Processor: 2 GHz Dual-Core 64-bit CPU
Memory: 4 GB RAM
Graphics: DirectX 9 Compatible GPU with 1 GB Video RAM
DirectX: Version 9.0c
Storage: 2 GB available space
Mac OS X
Minimum:
OS: Mac OS X Sierra
Processor: Core i3 2.4 Ghz
Memory: 4 GB RAM
Graphics: Intel HD 4000
Storage: 2 GB available space
Invasion

Defend the outpost in mision "Outpost Invasion".
Upgraded

Buy 5 upgrades for the helicopters.
Night Ops

Blast the bridge in mission "Bridge Destruction".
Death From Above

Kill 1000 mutants.
Aerial Demolition

Destroy 100 buildings and fortifications.
Tank Destroyer

Destroy 300 tanks.
Scrap Yard

Destroy 500 armed pickups.
Air Support

Successfully support the allied retreating troops in mission "Convoy Support".
Assault
Destroy the enemy base in mission "Frontline Assault".
Jurassic Mutants

Destroy the enemy troops and positions in the "Volcanic Island" mission.
Archeologist

Succesfully protect both temples in the "Ancient Ruins" mission.
Aerial Punishment

Fire a total of 2000 rockets.
Until The End

Protect the camp for few minutes in mission "Camp Defence".
Veteran Pilot

Complete all missions of the game.
Curse of the AA

Have the helicopter shot down 10 times.
MH-6 "Little Bird"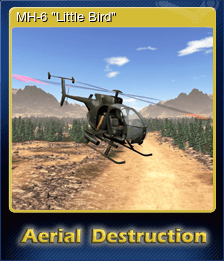 AH-64 "Apache"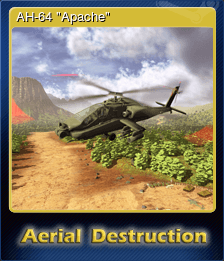 KA-50 "Black Shark"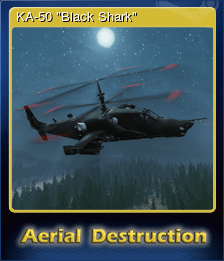 Bio-Engineered Soldier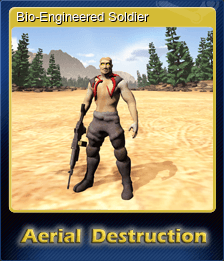 Tank