The Escapists + The Walking Dead Deluxe
Release Date: 13 Feb, 2015
1971
RRP: $24.99
Our price: $6.34
Includes:
The Escapists
The Escapists: The Walking Dead
Just Updated
FREE CONTENT UPDATE!

Jingle Cells

Following on from last year's release of the free Santa's Sweatshop content, our daring escapee elf unfortunately lost control of their sleigh mid-flight and was forced to make an emergency landing – right in the middle of the grounds of the Jingle Cells prison!

Stuck doing hard time again, if you want to get home in time for the holidays you'll need to sneak around the brand new wintery themed prison sourcing the unique items and crafting supplies that you'll need to repair the sleigh and make another break for it!


The Jingle Cells update features:
New festive themed prison to escape
20 new items and craftables
New leaderboard to make your mark on
About the Game
You've landed yourself in prison again, and your only chance is to engineer an escape by any means necessary. How you do it is up to you! Why not cause a prison riot? Or dig a tunnel right under the walls of the prison? Or even steal a guard uniform to blend in with your captors?
The Escapists is a unique prison sandbox experience with lots of items to craft and combine in your daring quest for freedom. Life in prison will keep you on your toes with the strict rules that you'll have to break. The guards are out to stop any escape attempts, so you'll have to avoid suspicious behaviour by attending roll calls, working a prison job and hiding your stolen craftables.
Escaping is what you do best, and you'll have to prove your skills in a variety of challenging prisons from across the world.
Become an Escapist now!
Features
10 Fully operational prisons complete with routines to give you a flavour of how it *really* is inside!
10 Separate job opportunities for you to sink your teeth into… If you have the knowledge to earn and hold down these employment paths of course!
185+ Unique Items for you to seek out and perhaps even craft useful items with. (Team17 fully endorse the use of various weapons such as 'shivs', 'nunchucks' and 'maces' – within a fictional setting of course!).
Various Favour types for you to tackle offered up by inmates – You wouldn't want to go upsetting them now, would you?
Highly opinionated and incredibly funny inmates and guards to keep you on your toes as well as providing entertainment!
Multiple escape routes for you to work out and achieve the title of 'The Escapist'!
Multiple save slots so you can have more than one escape attempt on the go!
Steam Achievements to strive for.
Steam Leaderboards – Once you have escaped see how you fared against other successfully escaped players!
Prison Editor – Create from scratch your very own confinement masterpiece and share it with the community!

Legal Notice / EULA
The Escapists. © 2015. Published by Team17. Team17 are trademarks or registered trademarks of Team17 Digital Limited. THE WALKING DEAD is TM and © 2015 Robert Kirkman, LLC. Based on the Comic Book by Robert Kirkman, Tony Moore and Charlie Adlard. All other trademarks, copyrights and logos are property of their respective owners.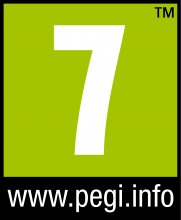 SYSTEM REQUIREMENTS
Windows
Minimum:
OS: Windows XP
Processor: Dual Core CPU 2.4 gHz
Memory: 2 GB RAM
Graphics: Intel HD Graphics 4000, Nvidia GeForce 8000, ATI Radeon HD 4800 Series
Storage: 2 GB available space
Sound Card: Windows Compatible Card
Additional Notes: We recommend updating your PC's hardware drivers before playing. If your PC is no longer supported by your manufacturer and your hardware drivers are very old, you may experience difficulty running the game. Please check with your PC manufacturer for more details.
Mac OS X
Minimum:
OS: OSX 10.8 Mountain Lion
Processor: 2GHz Intel Core 2 Duo
Memory: 2 GB RAM
Graphics: NVIDIA GeForce 9400M or equivalent
Storage: 2 GB available space
Additional Notes:
SteamOS + Linux
Minimum:
OS: Ubuntu 12.04 64-bit or later
Processor: Dual Core CPU 2.4 gHz
Memory: 2 GB RAM
Graphics: Intel HD Graphics 4000, Nvidia GeForce GT 8000, ATI Radeon HD 4800 Series
Storage: 2 GB available space
Sound Card: Linux Compatible Card
Additional Notes:
Grey Matters

Reach 100 intellect
I Present To You

Give away 50 items
Master Craftsman

Fill 13 or more pages in your crafting journal
Punch Drunk

Knocked out 50 inmates
Favour Fave

Complete 100 favours
Let's Get Physical

Get your Strength and Speed stat to 100
Disrespect My Authority

Knocked out 50 guards
Strip Searched
Strip 50 outfits from floored opponents
Day One

Escape a prison on the first day
Butter Fingers

(Secret achievement)
The Monopoly Guy

Have $1000 or over on hand
Thug Life

Recruit 5+ buddies
Digging It!

Cleared a total of 50 tiles
Getting Your Hands Dirty

(Secret achievement)
Santa's Lap

(Secret achievement)
Clean Getaway

Escape a prison with 0% average heat
Way of the Dragon

Initiate a prison takeover using nunchuks
The Great Escapist!

Successfully escaped from all six prisons
Tinsel Town

(Secret achievement)
Jobsworth

Complete quota on every job
Getting Noticed

(Secret achievement)
Wrapped Up

(Secret achievement)
Northern Lights

(Secret achievement)
Cage's Buddy

(Secret achievement)
The Wet Bandit

Flood 30 toilets
My Gifts To You

(Secret achievement)
The Mad Man

(Secret achievement)
Soldiers Of Fortune

(Secret achievement)
Tanked Up

(Secret achievement)
Ladies' Man

(Secret achievement)
The Key to Success

(Secret achievement)
Never Be Alone Again

Attended 50 prison visits
Finger of Blame

(Secret achievement)
On Top of the World

(Secret achievement)
Spy Hard

(Secret achievement)
The Voice of Reason

(Secret achievement)
Loved Up

(Secret achievement)
Bald Eagle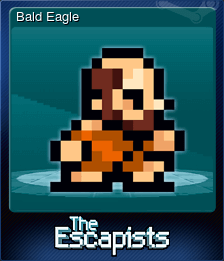 Lifer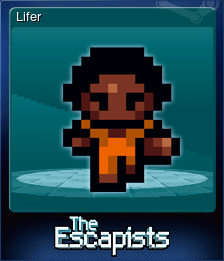 Old Timer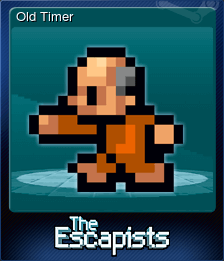 Young Buck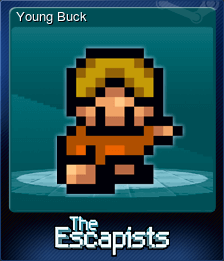 Rabbit