Deep Sky Derelicts
Release Date: 15 Nov, 2017
1463

In a grim dystopian future, where mankind has scattered across the galaxy and the human society has split into two distinct classes, you are a poor stateless outcast forced to live off scraps from derelict alien stations and ships in the outer space, yet you dream of becoming a privileged citizen and living on the surface of a habitable planet, enjoying non-synthetic air, water and food. A fabled alien derelict ship somewhere within the Deep Sky sector of space is your voucher for a citizenship and a promise of cozy life on a hospitable planet.
Build and control a squad of up to three mercenary characters and set on to explore derelict ships within your reach from the scavenger's base. Searching the derelicts for loot and clues, you come across many friendly inhabitants and traders, but more often – various enemies. Challenge and defeat them in tactical turn-based fights, where randomly-drawn cards form your changing arsenal of combat actions, gain experience for yourself and your crew, loot dead bodies, resupply and upgrade once back at your base. The scavenger's home ship gives you the opportunity to heal and level-up your mercenaries, recruit new ones, equip them, upgrade their gear or recharge energy for life support during missions.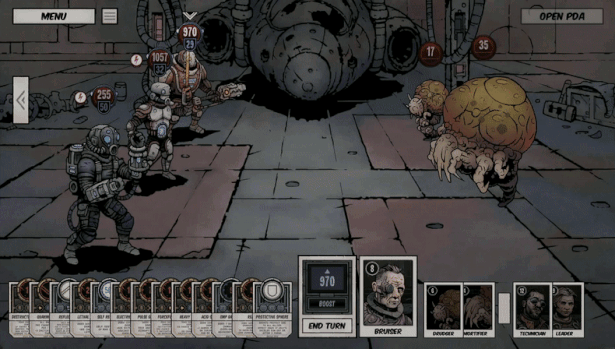 Key Features:
Fresh take on turn-based combat with cards

Refined sci-fi comic book look & feel

Endless customization options for characters and scavenging teams

High replay value thanks to procedural generation of content

Story of the human society divided within a dystopian universe

Two game modes: story and arena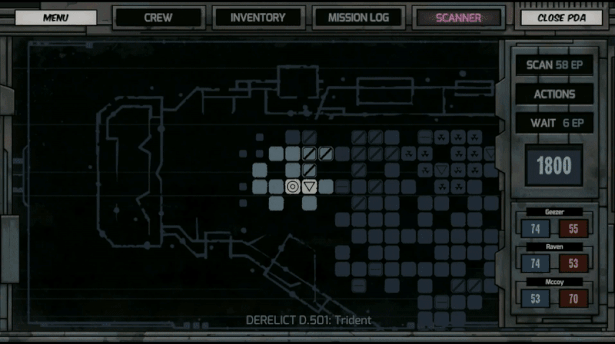 SYSTEM REQUIREMENTS
Windows
Minimum:
OS: Windows 7 / 8 / 10, 64-bit only

Processor: Intel Core i3 or equivalent

Memory: 4 GB RAM

Graphics: Intel HD Graphics 4400

DirectX: Version 9.0c

Storage: 2 GB available space

Additional Notes: Minimum system requirements will allow you to play the game in FullHD / 30 fps
Mac OS X
SteamOS + Linux
First of Many

Find one piece of location data.
Rust in Peace

Lose a character in combat.
No Time Wasted

Win a combat encounter in one round.
Errand Boy

Complete a contract.
Flawless Victory

Win a combat encounter without receiving any damage.
Toil

(Secret achievement)
Shiny!

Find and equip an Illustrious piece of gear.
Never Too Versatile

Pick a specialization for a character.
Glorious Monuments

Unlock the second tier of derelicts.
Majestic Monoliths

Unlock the third tier of derelicts.
The Real Pain

Spend a total of 5000 credits on medical costs.
No Fear of Zombies

(Secret achievement)
Smooth Talker

Get friendly with a rival scavenger group.
This Ship is Too Small for Both of Us

Vanquish a rival scavenger group.
Houdini

Play 4 or more cards on a single turn.
Massive Impact

Kill multiple enemies with one attack.
Animate

Revive a fallen character.
Scavenger Elite

Get a character to level 10.
Standard Field Procedure

(Secret achievement)
Transhumanist

(Secret achievement)
Prepared for Anything

Have all single character's equipment slots filled.
Fully Proficient

Max out an ability.
Diligent Trashman

(Secret achievement)
Fresh Loot

Lose an entire party in combat.
Impenetrable

Have over 200 shield points on a character in combat.
Try'em All

Advance at least one character of each class to level 2.
Bronze Medal

Advance past the 5th encounter in Arena mode.
Silver Medal

Advance past the 10th encounter in Arena mode.
No Step Back

(Secret achievement)
Gold Medal
Advance past the 15th encounter in Arena mode.
Parsimony
(Secret achievement)
Energy Adept

(Secret achievement)
Game Over!

(Secret achievement)
Appetite Ruined

(Secret achievement)
Arena Champion

Beat Arena mode.
Let's Try an Intern

Hire a mercenary.
Boffin

Build all research upgrades at the station.
Nobody is Irreplaceable

Dismiss a character.
Not Like This

(Secret achievement)
Oxygen Not Included

Lose an entire party due to energy depletion.
Welcome, Citizen!

(Secret achievement)
Professional Pride

Go to a derelict with three characters of the same class.
Danger Zone

Enter a derelicts two levels higher than your highest ranked character.
Executive and Greedy

Complete all side missions on a single playthrough.
No Life Without Sacrifice

Convert a piece of loot into energy.
You Made It!

(Secret achievement)
Tenacity

Win a fight with only one character remaining.
Trench Warfare

Have a combat encounter that lasts for 50 rounds.
I'll Buy My Own World

Have a cash balance of 100000 credits.
True Scavenger

Beat the game on Hardcore.
Da Blast!

Deal over 100 points of damage with a single attack.
Close Call

Successfully return to the station after running out of energy.
Overskilled

Raise a character's skill to 200.
Uncontrollables

Go to a derelict with three aggressive characters.