Batman: Arkham City - Game of the Year Edition
Release Date: 7 Sep, 2012
5926
RRP: $19.99
Our price: $8.79
Batman: Arkham City builds upon the intense, atmospheric foundation of Batman: Arkham Asylum, sending players flying through the expansive Arkham City - five times larger than the game world in Batman: Arkham Asylum - the new maximum security "home" for all of Gotham City's thugs, gangsters and insane criminal masterminds. Featuring an incredible Rogues Gallery of Gotham City's most dangerous criminals including Catwoman, The Joker, The Riddler, Two-Face, Harley Quinn, The Penguin, Mr. Freeze and many others, the game allows players to genuinely experience what it feels like to be The Dark Knight delivering justice on the streets of Gotham City.

Batman: Arkham City - Game of the Year Edition includes the following DLC:


Catwoman Pack
Nightwing Bundle Pack
Robin Bundle Pack
Harley Quinn's Revenge
Challenge Map Pack
Arkham City Skins Pack


Batman: Arkham City - Game of the Year Edition packages new gameplay content, seven maps, three playable characters, and 12 skins beyond the original retail release:

Maps: Wayne Manor, Main Hall, Freight Train, Black Mask, The Joker's Carnival, Iceberg Long, and Batcave
Playable Characters: Catwoman, Robin and Nightwing
Skins: 1970s Batsuit, Year One Batman, The Dark Knight Returns, Earth One Batman, Batman Beyond Batman, Animated Batman, Sinestro Corps Batman, Long Halloween Catwoman, Animated Catwoman, Animated Robin, Red Robin and Animated Nightwing
SYSTEM REQUIREMENTS
Windows
OS: Windows XP, Vista, 7
Processor: Intel Core 2 Duo 2.4 GHz or AMD Athlon X2 4800+
Memory: 2GB RAM
Hard Disk Space: 17 GB free hard drive space
Video Card: ATI 3850HD 512 MB or NVIDIA GeForce 8800 GT 512MB
DirectX®: 9.0c
Mac OS X
OS: 10.7.5
Processor: Intel Core 2 Duo 2.0 GHz
Memory: 4GB RAM
Hard Disk Space: 16 GB free hard drive space
Video Card: 256MB VRAM
Other Requirements: The following graphics cards are not supported: ATI X1xxx series, ATI HD2xxx series, NVIDIA 7xxx series, NVIDIA 8xxx series, NVIDIA 9400, NVIDIA 320M, Intel HD3000 and Intel GMA series.
I'm Batman

Become the Bat
Acid Bath

Save the damsel, but is she in distress?
Savior

Save the medical volunteers
Chimney Sweep

There is only one way in
One-Armed Bandit

Hammer the point home
Arkham City Sirens

Drop in on an old friend
Communication Breakdown

Clear the airwaves
Gladiator

Last man standing
Wrecking Ball

Stop the unstoppable
Lost And Found

Uncover the secret of Arkham City
Sandstorm

We are legion
Hide And Seek

A deadly game of hide and seek
IQ Test

Solve the first riddle
Ghost Train

Fight for survival
Pick Pocket

Steal the score of a lifetime
Freefall
Don't look down
Exit Stage Right

All the world is a stage
Stop the Clock

Time is running out
Conundrum

Rescue the first hostage from Riddler
Lost Property

No crimefighter should be without this
Broken Toys

Destroy it all
Bargaining Chip

Reunite the separated couple
Dial Z For Murder

Stop the phone booth killer
Breaking and Entering
Find a way into the secret base
How's It Hanging?

Clean up the Dry Docks
Mastermind

Rescue the second hostage from Riddler
The Last Laugh

The joke's on who?
Contract Terminated

Stop the contract operative
AR Knight

Complete all augmented reality training exercises
Mystery Stalker

Reveal the mystery watcher
Family Jewels

Retrieve your stolen goods
Puzzler

Rescue the third hostage from Riddler
Serial Killer

Track down the serial killer
Fully Loaded

Collect all of Batman's gadgets and upgrades
Gadget Attack

Use 5 different Quickfire gadgets in one fight (any play mode)
Aggravated Assault

Stop all assaults in Arkham City
Intellectual

Rescue the fourth hostage from Riddler
Flawless Freeflow Fighter 2.0

Complete one combat challenge without taking damage (any character)
Brainteaser

Rescue the fifth hostage from Riddler
Bomb Squad

Defuse all bombs in 3 minutes or less
Frequent Flyer

Zip Kick 5 different thugs
Genius

Rescue all the hostages from Riddler
Battering Ram

Shield Bash 5 different thugs
Pay Your Respects

A moment of remembrance
Sphinx' Riddle

Complete all 40 of the Catwoman Riddler grid items
Bronze Revenge

Obtain 24 medals on the original Arkham City maps (as Batman)
Twice Nightly

Complete New Game Plus
A Few New Tricks

Use 5 different Quickfire gadgets in one fight as Robin in Harley Quinn's Revenge
Silver Revenge

Obtain 48 medals on the original Arkham City maps (as Batman)
Snap To It

Snap Flash an unarmed thug, an armed thug, an environmental object and a Titan
Storyteller

Have 12 murderous dates with Calendar Man
Campaign Bronze

Obtain 36 medals on the original Arkham City campaigns (as Batman)
Party's Over

Destroy all Harley Balloons
Gold Revenge

Obtain all 72 medals on the original Arkham City maps (as Batman)
Campaign Silver

Obtain 72 medals on the original Arkham City campaigns (as Batman)
Perfect Freeflow 2.0

Perform a perfect combo including all of Batman's combat moves (any play mode)
Campaign Gold

Obtain all 108 medals on the original Arkham City campaigns (as Batman)
Robin Revenge

Obtain 78 medals on the original Arkham City and Robin Bundle Pack maps (as Robin)
Nightwing Revenge

Obtain 78 medals on the original Arkham City and Nightwing Bundle Pack maps (as Nightwing)
Feline Revenge

Obtain all 72 medals on the original Arkham City maps (as Catwoman)
Campaign Kitty

Obtain all 108 medals on the original Arkham City campaigns (as Catwoman)
Campaign Wonder

Obtain 114 medals on the original Arkham City and Robin Bundle Pack campaigns (as Robin)
Campaign Nightwing

Obtain 114 medals on the original Arkham City and Nightwing Bundle Pack campaigns (as Nightwing)
Batman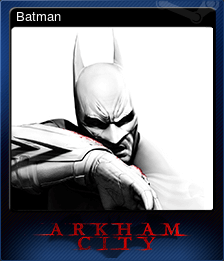 Catwoman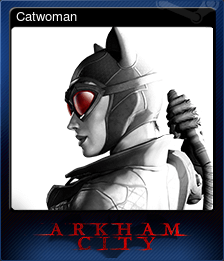 Joker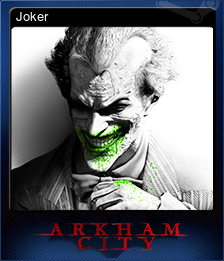 Penguin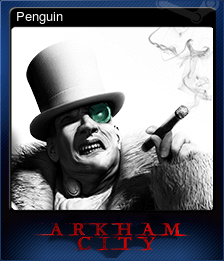 Mr. Freeze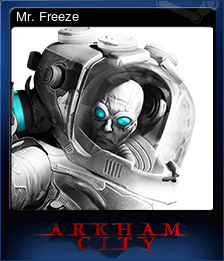 Riddler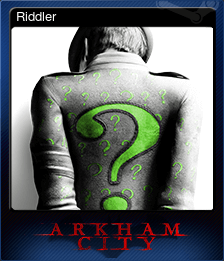 Two-Face