Death Coming
Release Date: 6 Nov, 2017
637
RRP: $6.99
Our price: $5.84
About the Game

'Death Coming'
is a non-linear puzzle game where you take on the role of the Reaper. Your sole objective? Cause deaths and harvest souls while abiding by the Free Will Clause.
Background Story
You Died.
Pure and simple, but death was not the end. You have become an agent of Death: a Reaper. You have the powers of Death, but there are rules in this supernatural afterlife.
The Reaper ends lives, but it cannot control humans directly due to the Free Will Clause. As the Reaper, you must plan and execute your killings by using the environment to your advantage. In the meantime, be wary of Minions of Light, who will try to save humans from their grim fate!
Key Features
View your hunting grounds from a top-down perspective. Follow the lives of your targets and those out to stop you.
Start with any character you want, and solve the puzzles in any order you like within the limits of the Death Traps and weather conditions.
Observe the victims to find out their behavior and idiosyncracies. Trigger death traps at the right moment to kill efficiently. The better you know their routines, the better you can prepare your death traps.
Victims will hang around spots they like and will change their actions and behavior when something happens to them, such as seeing someone die.
From suburbia to missile factories, there's always a wacky way to wreak havoc. Don't be afraid to laugh at someone's demise. If you do what you love (in this case, harvesting souls), you'll never have to work a day in your life!
SYSTEM REQUIREMENTS
Windows
Minimum:
OS: Windows Vista,Windows 7,Windows 10
Memory: 4 GB RAM
Network: Broadband Internet connection
Storage: 500 MB available space
Recommended:
OS: Windows Vista,Windows 7,Windows 10
Memory: 8 GB RAM
Network: Broadband Internet connection
Storage: 500 MB available space
First blood

Harvest your first soul.
5-Combo

Complete a 5-combo kill
10-Combo
Complete a 10-combo kill
Death of the Matron

Kill the Matron in Act 1.
Angel's Favorite

(Secret achievement)
Wonderful Evening
Resurrect the Werewolf, Dinosaur, Vampire and Pharaoh in Act 3.
Monarch Monkey's Rage

Trigger Monarch Monkey's cutscene in Act 5.
Murder on the Express Train

Kill all the passengers on the train in Act 4.
Five Flowerpot Failures

(Secret achievement)
Going Nuclear

Successfully launch the missile in Act 2
First Clear

Clear all Acts
Alien

Trigger the Alien Robot event in the Slaughter
Fateful Choice

Kill all the marked characters
Curtain Call

Kill the 8 starred characters in Act 7 and trigger the curtain call.
Dodge This!

(Secret achievement)
Death Trap

Spotted all Death Traps in every Stage
Perfect Reaper

Achieve the highest rating in all Acts
Christmas Present Guardian

Kill 50 Thieves in Bonus 2.
accident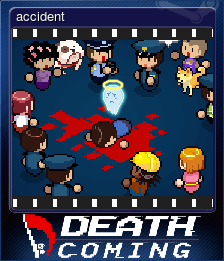 Christmas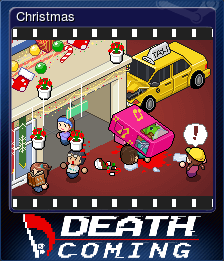 Swim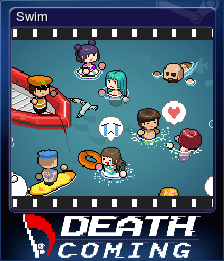 aliens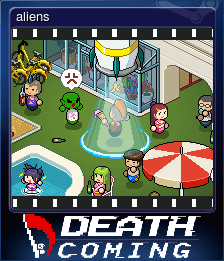 Magic