Battlestar Galactica Deadlock
Release Date: 31 Aug, 2017
982
RRP: $39.99
Our price: $3.86
About the Game
The Cylons have rebelled!
Four years of war and a steep price in human lives have not been enough to unlock a deadly stalemate. The Colonials have countered all of the Cylon's offensives so far, but no decisive victory was achieved.
The deadlock is suddenly broken by a surprise attack from the Cylons and the brutal annihilation of the Colonial Fleet High Command on Picon. The fate of mankind is now resting on the shoulders of Rear-Admiral Lucinda Cain.
The secret, cunning plan she has conceived could turn the tide of the war forever…
THE GAME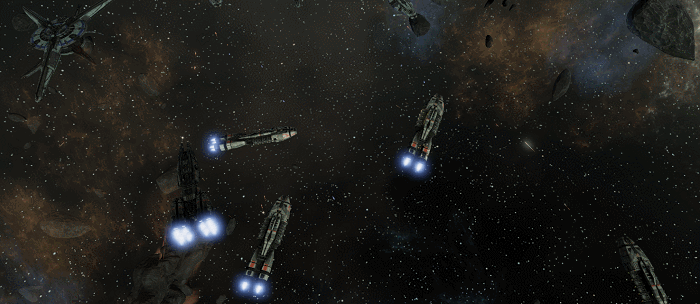 BATTLESTAR GALACTICA Deadlock™
takes you into the heart of the First Cylon War, to fight epic 3D battles that will test your tactical prowess.
Take control of the Colonial Fleet from the bridge of the mobile shipyard, Daidalos, and free the Twelve Colonies from the Cylon threat. Build your fleets, protect the Quorum alliance and prepare to dig deeper into the conspiracies of this heroic conflict.
Command the Colonial Fleet
Design and build fleets of powerful capital ships. Recruit officers to protect the Twelve Colonies. From the Manticore corvette to the mighty Jupiter class Battlestar, you won't be short on firepower.
Legendary Names
Continue the legacy of Battlestar Galactica™ with new characters and familiar faces, in an original story set during the First Cylon War. Launch Viper squadrons and Raptor scouts and jump the
Galactica
in to dominate the battlefield. An authentic Battlestar Galactica™ experience awaits.
WEGO 3D Tactical Battles
Intense tactical space battles in full 3D. Give commands to your fleet of capital ships and watch the explosive results play out in pause-able real-time across beautiful environments.
War Room Politics
From the bridge of the Daidalos shipyard you will command all the Colonial Fleet. Build up your forces and jump them across the quaternary solar system of Cyrannus. Keep the Colonies safe and the Quorum of Twelve unified, lest the alliance break and introduce a new age of Cylon dominance.
The Cylon Threat
Prepare to face relentless opposition. Defend against squadrons of Cylon Raiders and missile salvos from Basestars. Trust in your marines to fight off Centurion boarding parties, while your firewalls slow down the hacking attacks of the Wardriver electronic fighters. Unlock blueprints for new ships, munitions and squadrons to help defeat your tireless foe.
Join Forces
Experience Battlestar multiplayer like never before! Outwit your opponent in fierce 1-v-1 fleet battles.
Review Your Battles
Review your battles from a cinematic point of view with the AutoCam replay, and then export them to YouTube with our in-game tool!

NEW UPDATES - Season One Finale announcement!
Since its release Battlestar Galactica Deadlock has been constantly improved and expanded through DLCs and free updates alike. The developers have added plenty new features and content to the original game. The release of Sin and Sacrifice marked the conclusion of Season One, and we decided to show and recap all that had been added until that point. Click on the link below to have a look!

SYSTEM REQUIREMENTS
Windows
Minimum:
OS: Window 7, 8, 8.1 or 10
Processor: 2.0GHz or higher
Memory: 4 GB RAM
Graphics: 1GB NVIDIA Geforce 460/ATI Radeon HD 5770 or better
DirectX: Version 11
Storage: 8739 MB available space
Sound Card: DirectX Compatible Sound Card
Additional Notes: Broadband Internet connection for multiplayer required for Multiplayer
Recommended:
OS: Window 7, 8, 8.1 or 10
Processor: 2.5GHz or higher
Memory: 8 GB RAM
Graphics: 2GB ATI Radeon HD 7970, 2GB NVIDIA GeForce GTX 770 or better
DirectX: Version 11
Storage: 8739 MB available space
Sound Card: DirectX Compatible Sound Card
Additional Notes: Broadband Internet connection for multiplayer required for Multiplayer
There Are Those Who Believe...

Complete Chapter One
Show of Force

Complete Chapter Two
Signals

Complete Chapter Three
What Do You Hear?

Destroy 10 enemy ships
The Red Line

Complete Chapter Four
Start of a Legacy

Complete Chapter Five
Medical Aid

Complete Chapter Six
Nothing But The Rain

Destroy 100 enemy ships
Bad Habits

Complete Chapter Seven
Sagittaron Democratic Union

Complete Chapter Eight
Throw Them Out The Airlock

Successfully board an opponent's ship with a Heavy Raider
So Say We All

Win a skirmish or multiplayer match with a custom Colonial fleet
Distribution of Power

Redistribute power in a Cylon ship
Escalation

Complete Chapter Nine
Nuclear Option

Unlock the nuke munition in the single-player campaign
Are You Alive?

Complete Chapter Ten
Shipbuilder

Complete Chapter Eleven
Jupiter Project

Unlock the Jupiter-class battlestar in the single-player campaign
More Than A Name

Complete Chapter Twelve
Marathon

Complete Chapter Thirteen
All Of This Has Happened Before...

Complete the single-player campaign
Endeavor / Evolution

Unlock all blueprints in the single-player campaign
Grab Your Gun And Bring in The Cat

Destroy 500 enemy ships
Technological Superiority

Successfully hack an opponent's ship with the Nemesis or the Wardriver
By Your Command

Win a skirmish or multiplayer match with a custom Cylon fleet
Articles of Colonization

Have at least 10 Colonies fortified in the single-player campaign
Adamant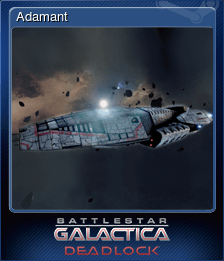 Artemis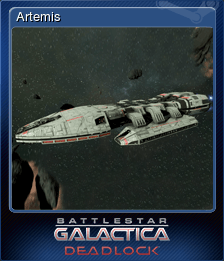 Atlas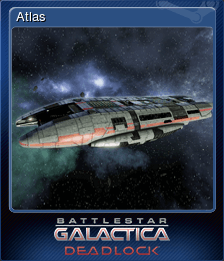 Jupiter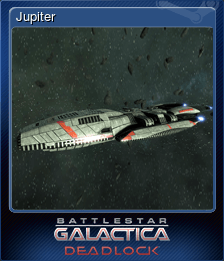 Manticore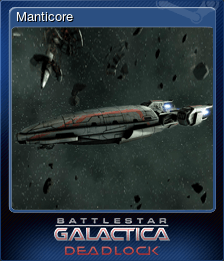 Minotaur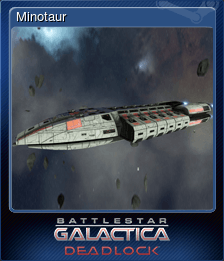 Ranger