Battleborn (incl. Firstborn Pack DLC)
Release Date: 3 May, 2016
6076
RRP: $34.99
Our price: $6.62
About the Game
A tremendous band of badass heroes fight to protect the universe's very last star from a mysterious evil in this next-gen shooter by the creators of Borderlands. To defend it, you'll need to utilize every type of character and weapon you've ever imagined -- from cyborg hawkmen to samurai vampires to mini-gun wielding man-mountains. Slash and parry, run and gun, cast and dash, or simply obliterate foes all while building and growing your personal team of heroes. Choose your hero and fight alone or co-operatively alongside friends in story missions, or battle against them in fast-paced competitive multiplayer matches.
Features:
Story Mode:
Battleborn's Story Mode is a narrative experience that can be played entirely singleplayer and is even better when it's played cooperatively with friends.
Multiplayer:
Battleborn's team-based competitive multiplayer action can be experienced by up to 10 players online in 5v5 matches, and includes three distinct multiplayer modes.
Incursion: Teams of heroes must defend their base from waves of AI-controlled minions while working together alongside their own minions to destroy their opponent's base.
Capture: Teams of heroes face off in a fast-paced death match and must capture and hold objectives on the map to win.
Meltdown: Teams of heroes must guide their minions as they march to their death at the center of the map. Points are scored for every minion who throws themselves into the incinerator, and the team with the most points wins.
Persistent Progression System:
All experience points, whether earned through playing Battleborn's Story Mode or Competitive Multiplayer modes, contribute to leveling up individual Character Rank, as well as player profile Command Rank.
Character Rank: Each hero can permanently rank up from 1 to 10 outside of missions and matches, allowing players to swap out augments in their helix skill tree, as well as unlock skins.
Command Rank: Players can rank up their own player profile, unlocking badges and titles to impress friends, and loot that can be used to benefit any hero the player chooses to command.
Factions:
The last star, Solus, is the only beacon of hope for the universe's surviving factions.
The Peacekeepers are sworn protectors of Solus
The Eldrid are preservers of the natural order of the universe
The Rogues are mercenaries only concerned with their own survival
The Last Light Consortium (LLC) are war profiteers, exploiting others for their own gain
The Jennerit Empire rule others by force, valuing power above all else
Battleborn Heroes:
Battleborn has a deep roster of 25 playable heroes and no two are the same. Every hero has their own personality and comes equipped with their own unique weapons and powers.
Helix System:
Battleborn's accelerated character growth system allows players to level-up a character from 1 to 10 and fully experience each hero's unique weapons and powers in a single story mission or multiplayer match.
SYSTEM REQUIREMENTS
Windows
Minimum:
OS: Windows® 7, 64-bit
Processor: Intel Core i5 750/ AMD Phenom X4 945 3.0
Memory: 6 GB RAM
Graphics: GeForce GTS 450/ Radeon HD 5770
DirectX: Version 11
Network: Broadband Internet connection
Storage: 50 GB available space
Sound Card: DirectX 11 Compliant
Additional Notes: Initial installation requires an internet connection for Steam authentication, and gameplay; software installations require (included with the game) include Steam Client, DirectX 11, NVidia PhysX, .Net Framework 4.5, Visual C++ Redistributable 2010, and Visual C++ Redistributable 2012.
Recommended:
OS: Windows® 7, 64-bit or Later
Processor: Intel Core2 Extreme CPU Q6850/ AMD A8-3870k (Quad Core CPU's)
Memory: 6 GB RAM
Graphics: AMD HD 7850/ NVIDIA GeForce GTX 660 or better, PhysX support
DirectX: Version 11
Storage: 70 GB available space
Dressed for Success

Complete any challenge that unlocks a Champion skin.
Divide by Zero Hour

Complete The Algorithm on any difficulty.
Mister Wolf's Wild Ride
Complete The Void's Edge on any difficulty.
Perfectionist

Complete a Story mission without losing any Lives.
Shock the Trooper

Complete The Renegade on any difficulty.
Grow Forth and Conquer

Activate a mutation in a match.
Remnants of Codex

Complete The Archive on any difficulty.
Solus Sentinel

Achieve a Gold rating on any Story mission.
Traps and Treasure

Complete The Sentinel on any difficulty.
Behold My Death Lasers and Despair

Activate a piece of Legendary Gear.
Desperate Measurements

Complete The Experiment on any difficulty.
A Booming Business

Complete The Saboteur on any difficulty.
A Tyrant Undone

Defeat Rendain.
Decked Out

Activate three pieces of Epic or better Gear in a single mission or match.
No Rest for the Wicked

Win 30 Story missions or Versus matches.
The Ol' One-Two

Get 5 double kills.
Gotta Punch 'em All

Participate in killing each Battleborn at least once.
Sir Hon. Lord Baron Oscar Mike Jr IV, Esq.

Collect 25 Titles from completing Challenges.
When You Roll Up With the Squad Like

Enter matchmaking with a full team of 5 players.
First Among Heroes

Complete a match or mission and reach rank 15 with a Battleborn.
Tour of Duty

Win a match on each Versus map.
Solus War Hero Advanced

Complete all Story missions on Advanced Difficulty.
Brotherhood of the Mikes

Complete all Oscar Mike lore challenges.
Love and Fire, Death and Kisses

Complete all Orendi lore challenges.
It Was A Dark And Stormy Night

Complete Attikus and the Thrall Rebellion with at least 50 Ops Points.
Battleborn

Play a match or mission after reaching Command Rank 100.
Berg Rush

Complete Toby's Friendship Raid with at least 50 Ops Points.
Commander and Collector

Play at least one match or mission with all 25 Battleborn.
Priestess of the Sustaining Mother

Complete all Ambra lore challenges.
Magnum Gun Loud

Complete Oscar Mike vs. the Battle School with at least 50 Ops points.
Titanium Dandy

Complete all Marquis lore challenges.
Acres and Eras

Complete all Miko lore challenges.
Rise of the Valkyrie

Complete all Reyna lore challenges.
Me 'n' My Monster

Complete all Shayne & Aurox lore challenges.
Hate Furnace at Maximum! :)

Complete all ISIC lore challenges.
Elegance in Engineering

Complete all Phoebe lore challenges.
Keeper of the Blades

Complete all Rath lore challenges.
Mountains of Madness

Complete Phoebe and the Heart of Ekkunar with at least 50 Ops points.
The Mike Who Lived

Complete all Whiskey Foxtrot lore challenges.
The Wraith of Bliss

Complete all Galilea lore challenges.
Tooth, Nail, and Minigun

Complete Montana and the Demon Bear with at least 50 Ops points.
Champion of the Pits

Complete all Caldarius lore challenges.
It's My Only Name, Chief

Complete all Montana lore challenges.
Sergeant Demobird

Complete all Ernest lore challenges.
Lost Little Eldrid

Complete all Mellka lore challenges.
The Spymistress

Complete all Deande lore challenges.
The Curmudgeon

Complete all Kleese lore challenges.
Anarchy Rules

Complete all Attikus lore challenges.
Civil Ice

Complete all Kelvin lore challenges.
The Blossom's Fury

Complete all Thorn lore challenges.
The Bears and the Beers

Complete all Boldur lore challenges.
Twice-Made Sneaker

Complete all Pendles lore challenges.
The Bluemother Smiles

Complete all Alani lore challenges.
Anxious, Angry, and Adorable

Complete all Toby lore challenges.
Flyboy

Complete all Benedict lore challenges.
The Captain

Complete all Ghalt lore challenges.
Solus War Hardcore Hero

Complete all Story missions on Hardcore.
The Once and Future Champ

Complete all El Dragón lore challenges.
Collect All 5!

Complete all Kid Ultra lore challenges.
Duty is Only Skin Deep

Complete all Beatrix lore challenges.
Eldrid - Miko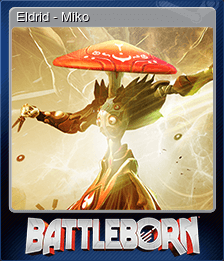 Eldrid - Thorn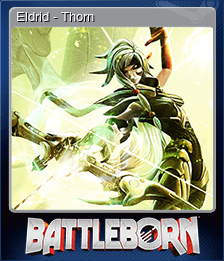 Jennerit - Ambra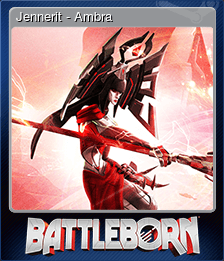 Jennerit - Rath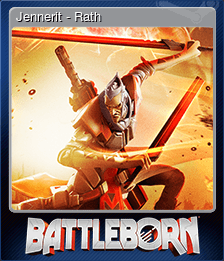 LLC - Marquis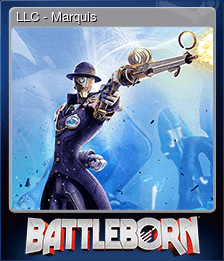 Rogue - Orendi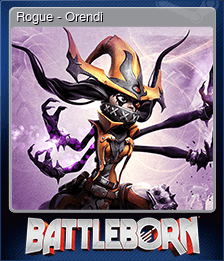 Rogue - Reyna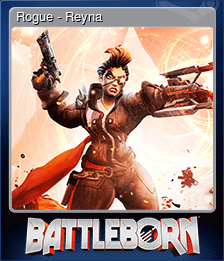 UPR - Benedict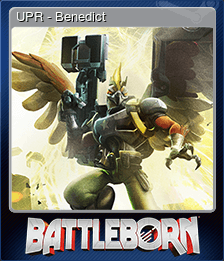 UPR - Montana