Super Toy Cars
Release Date: 6 Jun, 2014
480
Super Toy Cars is a tabletop arcade combat racing game featuring fast and cool looking cars, impressive tracks made of everyday objects and a bunch of power-ups that will let you destroy your opposition. Collect all cars and upgrades to keep up with competition while you progress in career mode or have a quick race either against AI opponents or against friends. You can play up to 4 players locally and up to 8 players online. Go and build your own tracks, share them with friends or play with them in your tracks. Super Toy Cars is big and with lots of options for you to tinkle and play with, but most importantly this game has been carefully crafted to be fun play and fun to race, either alone or with friends.
There are 16 different cars in the game each one with its unique handling model. You can experiment with them and play the ones that best suite your driving style and the different situations you'll find in our 12 tracks. Oh, and maybe you'll want to use different cars depending on which type of event you're playing, because we have 48 events in career mode, but not all of them are races! And if you grow tired of the tracks in the game you can always check what other tracks have the community built or even build your own and share it with our in-game track editor.
Features:
16 different cars with unique handling models
12 different tracks in 4 different locations which can be played in 5 different event types
Career mode comprising 48 events
Up to 4 player local multiplayer
Up to 8 player online multiplayer
Track editor to build and share your own tracks

SYSTEM REQUIREMENTS

Windows

Minimum:

OS: Windows 7
Processor: 2GHz Intel Core 2 Duo or equivalent
Memory: 2 GB RAM
Graphics: 256MB with Shader Model 3.0 support
DirectX: Version 9.0c
Storage: 512 MB available space
Sound Card: DirectX 9 Compatible

Mac OS X

Minimum:

OS: OS X 10.9 or higher
Processor: 2 GHz Dual Core Intel CPU
Memory: 2 GB RAM
Graphics: nVidia GeForce GT 9600M/320M, or ATI (AMD) Radeon HD 4670 with 256 MB VRAM.
Storage: 512 MB available space
Additional Notes: These specs are still being determined.
Scholar

Finish the tutorial
Winner

Finish 1st in a single player race
Fully Upgraded

Buy all upgrades for a vehicle
Steady Driver

Win a race without drifting
Ramping up

Unlock the 3rd episode (B class vehicles)
Fun with friends

Play a local or online multiplayer game
This is War!

Use 250 power-ups
Pacifist

Win a race using no power-ups
Minesweeper

Step on 10 or more mines in an evade event and win
A Class!

Unlock the 5th episode (A class vehicles)
Long Drift

Do a drift of more than 500 meters
Classy

Unlock the 7th episode (S class vehicles)
Marathon Drifter

Drift a total of 42Km
Millionaire

Earn a total of 500000 credits
Gold Digger

Collect 100 coins
Win like a Boss

Finish a race drifting and boosting
Booster

Spend 10 minutes boosting
Photographer
Take one Replay Screenshot
Champion!

Finish the game in career mode
New Horizons

Play a custom track downloaded from the Steam Workshop
Fly Like a Bird

Spend 10 minutes in the air
Completist

Finsh all races in career mode 1st
Collector

Own all the cars in the game in career mode
Dodger

Finish first in an Evade event stepping on no mines
Obsessive Collector

Own all the cars with all the unlocks in career mode
500 Miles Away

Race a total of 500 miles
Jumping Competizione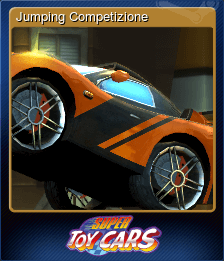 Golem's Strength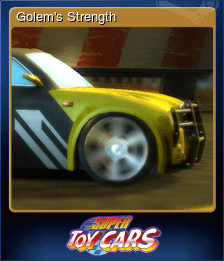 Boost!!!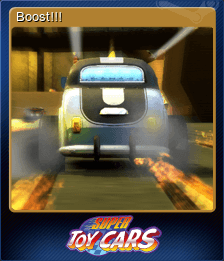 That must have hurt!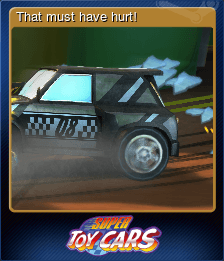 Catch me if you can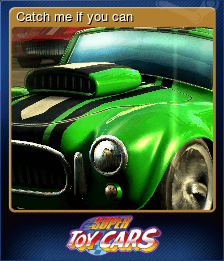 Class C Power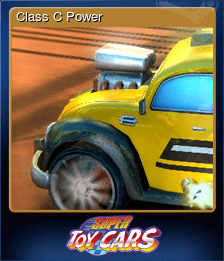 -->