DOOM
Release Date: 13 May, 2016
27346
RRP: $59.99
Our price: $5.19
You've come here for a reason. The Union Aerospace Corporation's massive research facility on Mars is overwhelmed by fierce and powerful demons, and only one person stands between their world and ours. As the lone DOOM Marine, you've been activated to do one thing – kill them all.
Developed by id Software, the studio that pioneered the first-person shooter genre and created multiplayer Deathmatch, DOOM returns as a brutally fun and challenging modern-day shooter experience. Relentless demons, impossibly destructive guns, and fast, fluid movement provide the foundation for intense, first-person combat – whether you're obliterating demon hordes through the depths of Hell in the single-player campaign, or competing against your friends in numerous multiplayer modes. Expand your gameplay experience using DOOM SnapMap game editor to easily create, play, and share your content with the world.
KEY FEATURES
A Relentless Campaign
There is no taking cover or stopping to regenerate health as you beat back Hell's raging demon hordes. Combine your arsenal of futuristic and iconic guns, upgrades, movement, and an advanced melee system to knock-down, slash, stomp, crush, and blow apart demons in creative and violent ways.
Return of id Multiplayer
Dominate your opponents in DOOM's signature, fast-paced arena-style combat. In both classic and all-new game modes, annihilate your enemies utilizing your personal blend of skill, powerful weapons, vertical movement, and unique power-ups that allow you to play as a demon.
Endless Possibilities
DOOM SnapMap – a powerful, but easy-to-use game and level editor – allows for limitless gameplay experiences on every platform. Without any previous experience or special expertise, any player can quickly and easily snap together and visually customize maps, add pre-defined or completely custom gameplay, and even edit game logic to create new modes. Instantly play your creation, share it with a friend, or make it available to players around the world – all in-game with the push of a button.
E1M1

Complete the first mission of the campaign
Butcher

Perform 200 Glory Kills
A Gift from Beyond

Earn a Rune
Into the Unknown

(Secret achievement)
Momentum Shift

Upgrade a Rune
Rip and Tear

Glory Kill all common enemy types in the campaign.
Tinkering

Fully upgrade a Praetor Suit category.
An Old Friend

(Secret achievement)
Argent Overload

Fully upgrade Health, Armor, or Ammo capacity
Specialist

Earn the Mastery for a weapon mod
Shoot it Until it Dies

(Secret achievement)
Thorough Shopper

Complete all Challenges for a single mission.
Outnumbered? No Problem

(Secret achievement)
Who's Next?

(Secret achievement)
Knee-Deep in the Dead

Complete the campaign on 'I'm Too Young to Die', 'Hurt Me Plenty', 'Ultra Violence', or 'Nightmare'.
Juicin' it up

Kill 150 enemies while using Power Ups
IPXSETUP.EXE

Win a Multiplayer match
Timing is Everything

Use explosive barrels to kill 100 enemies
Up Close and Personal

Kill 50 enemies using the Chainsaw
Combat tested, Doomguy approved

Reach Level 5 in Multiplayer
Argent Fiend

Fully upgrade Health, Armor, and Ammo capacity on a single campaign run.
Hot Swapper

Acquire all weapon mods
The Circle is Complete

Earn all Runes
Overclocked
Fully upgrade all Praetor Suit categories on a single campaign run.
No Rest for the Living

Play 5 published SnapMaps
Historian

Find all Data Logs
Every Nook and Cranny

Find all Collectibles
Arcade Stockpile

Collect 20 bonus lives or relics in Arcade Mode
IDDQD

Upgrade all Runes
IDKFA

Earn the Masteries for all weapon mods
A Memorable Performance

Earn a Gold Rating in a Multiplayer Match
What Else Ya Got?

Complete all Mission Challenges
A Toe into Madness

Complete The UAC on Ultra-Nightmare
Threat Assessment

Detect 20 enemies using the Threat Pulse in Multiplayer
Go for the Gold

Earn a gold rating in Arcade Mode
Fashion Fanatic

Play a Multiplayer Match with a piece of Evil Cultist armor equipped
Entryway

Complete the SnapMap Basic and Advanced Tutorials
Successful Launch

Kill 10 enemies with the Grenade Launcher in Multiplayer
Shareware

Create and publish a SnapMap
Slotted for Success

Unlock all Multiplayer Runes
Reaping all the Benefits

Kill 10 enemies with the Reaper in Multiplayer
Computing with Style

Play a Multiplayer Match with a piece of Robotic Armor equipped
Sitting Duck

Use a taunt from Expansion 1 during a Multiplayer Match
On Track

Complete a tracked challenge in a Multiplayer Match
Tenderizing the Crops

Kill 10 enemies with the Harvester demon in Multiplayer
Motion in the Explosion

Kill 5 enemies with the Kinetic Mine in Multiplayer
Like Nobody is Watching

Use a taunt from Expansion 2 during a Multiplayer Match
Bowling for Gibs

Perform a MultiKill with the Spectre demon in Multiplayer
Head First

Kill 10 enemies with the Spectre demon in Multiplayer
Marked for Death

Kill 10 enemies with the EMG Mark V Pistol in Multiplayer
Beauty is Pain

Play a Multiplayer Match with a piece of Cyber-Demonic armor equipped
Insult to Injury

Use a taunt from Expansion 3 during a Multiplayer Match
Eat Your Vitamins

Kill 10 enemies with the Cacodemon in Multiplayer
Filling the Trophy Case

Earn every medal type in Arcade Mode in one run
REVENANT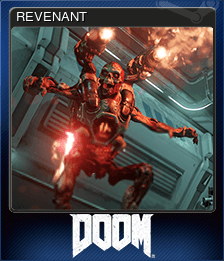 MANCUBUS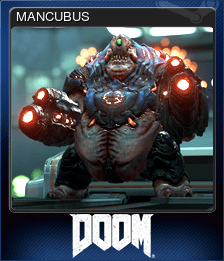 CYBERDEMON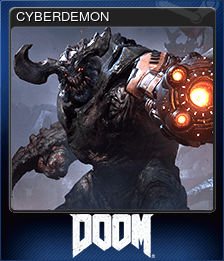 CACODEMON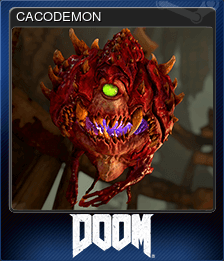 HELL RAZER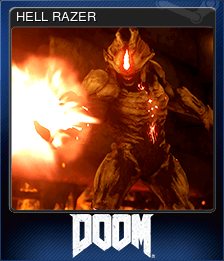 BARON OF HELL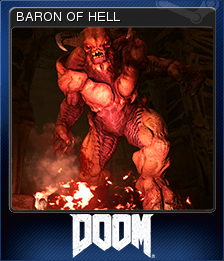 IMP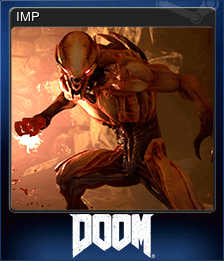 SUMMONER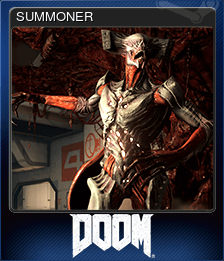 PINKY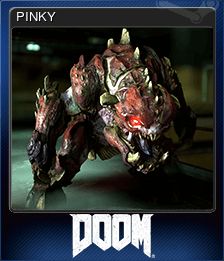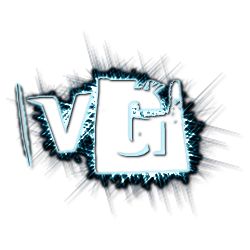 I played the Multiplayer Beta and absolutely hated it, there were performance issue and it just didn't feel like Doom to me. On recommendation from a friend however I bought it to give the single player game a try.

WOW! My first impressions have never been more wrong, the game is great and really does play like Doom, only bang up to date with superb graphics, an awesome soundtrack and the same balls out action you'd expect from a Doom title.

5/5 Would be completely wrong again!
Completely agree with PC_Arcade. The Beta got a lot of bad press and put a lot of people off the game. But seriously give the single player campaign a go - you can't help but have fun!

I'm not normally one for fasted paced games and with this game you HAVE to keep running if you want to stay alive collecting ammo and health packs along the way. But it's just so much fun and the graphics are gruesomely amazing!

For those that like to find little hidden rooms and secrets - DOOM also has this covered... I have a feeling I may need a second run through to collect everything!
best site Fast Guarantee very cool thank you :)