Letter Quest: Grimm's Journey Remastered
Release Date: 8 Apr, 2016
4550
RRP: $7.99
Our price: $1.57
The grim reapers Grimm and Rose need your help to defeat a legion of monsters, ghosts, and evil bunnies using the power of words!
Spell words to battle monsters, earn gems and use them to purchase upgrades, books, special items, potions, and much more! Letter Quest is a game about using your linguistic skills to survive. It's a turn-based RPG featuring high-res artwork, clever wordplay, and a great soundtrack.
Letter Quest, Remastered
New ENDLESS MODE - choose your favorite background art, music, character, weapon, and letter tiles and see how long you can survive!
8 more achievements, now 60 in total!
Fully animated enemies and shopkeepers
A brand new soundtrack in addition to the original music - choose your favorite!
Tooltips during battle
Fully rewritten in Unity, allowing for a smoother experience, better resolution options, higher-quality music and sound effects, and much more!
Windows, Mac, AND Linux support
70 quests to complete
A built-in dictionary of over 192,000 English words that is frequently updated
Keyboard Support
All of the battles in Letter Quest Remastered can be played with a keyboard - no more hunting for letters with the mouse if you don't want to! Simply type letters to add them to the current word, hit backspace to remove the last letter typed, and much more!
Letter Quest Remastered also supports setting key bindings for all hot-keys right in the game's options menu.
Touch Support
Everything in Letter Quest Remastered works great on touchscreen laptops and computers, including Microsoft Surface Pro - you can even swipe to scroll lists and the map!
About Bacon Bandit Games
We're a two-man Canadian game dev team attempting to make great games. Letter Quest Remastered is a completely rewritten version of our first game, Letter Quest: Grimm's Journey.
The original Letter Quest was written in Flash and limited the platforms that we could release it on, so we spent over 600 hours rewriting it in Unity and are now proud to fully support Windows, Mac, and Linux!
More Info
http://www.facebook.com/baconbanditgames
http://twitter.com/thebaconbandits

SYSTEM REQUIREMENTS
Windows
Minimum:
OS: Windows XP or newer
Processor: Support for SSE2 instruction set
Memory: 512 MB RAM
Graphics: DirextX 9, Shader Model 2.0
Storage: 300 MB available space
Mac OS X
Minimum:
OS: Mac OS X 10.6 or newer
Processor: Support for SSE2 instruction set
Graphics: Shader Model 2.0
SteamOS + Linux
Minimum:
OS: Ubuntu 10.10 or newer
Processor: Support for SSE2 instruction set
Graphics: Shader Model 2.0
What Was The Point?

Spell a word that does zero damage
So Close!

Leave a monster with only one health
Showing Off

Finish a stage with full health
Crystal Conqueror

Spell a word containing two or more crystals
Sir Punch A Lot

Deal 10000 damage
Row Row Row Your Boat

Use an entire row in one word 3 times
Top Shelf!

Use 500 letters from the top row
See You in 'Sept'ember

Spell 10 seven-letter words
I Wonder What Was Inside?

Fail to open 3 treasure chests
Starbitrary

Earn 29 stars
Pin Cushion

Take 10000 damage
Prevention

Use 25 plague tiles
In The Corner

Use 500 corner letters
Six Pack

Spell 50 six-letter words
'Oct'oberfest

Spell 5 eight-letter words
Sir Punch A Bunch

Deal 25000 damage
Book Smart

Earn 1000 book XP
Open Sesame!

Open 10 treasure chests
Saving Up

Earn 15000 gems
WHY?

Spell 3 words with no vowels
Need A Pick Me Up?

Purchase 10 potions
My Precious

Use 100 crystals
Knowledge Is Power

Reach max level with one book
Precision Striking
Defeat 5 monsters with exact damage
Yay Everyday Royalty

Spell a word that contains two 'Y's
It's a Bling Thing

Spend 25000 gems
Letter To The Editor

Use 5000 letters
Sidestepper

Dodge 50 attacks
Tile Trouble

Lose from taking tile damage
Librarian

Purchase 5 books
All Plagued Out

Fill the entire board with plague tiles
FEELING REALLY GOOD!

Spell 200 double-letter words (ex: 'bubble')
You, The Master Of Unlocking

Open a treasure chest with no incorrect guesses
Eh Eee Eye Owe You

Use 2500 vowels
It's BACON!!!!!!!!!!

Spell the word BACON
Spelling Bee Champ

Spell 1500 words
We Have The Technology

Purchase 30 upgrades
Swappy McSwappington

Swap all letters 50 times
Show Me The Money

Bust apart 100 gem piles.
Monster Masher

Defeat 250 monsters
Critically Acclaimed

Do 100 critical attacks
I Can Do This All Day

Defeat 10 monsters in a single game in Endless Mode
Word Wizard

Spell 60 words in a single game in Endless Mode
A Man, A Plan, A Canal, Panama

Spell 25 palindromes
What're Ya Buyin'?

Purchase 50 merchant items in battle
Part Of The Way Dare

Earn 20 crystal stars
Superstar

Earn 99 stars
Quest King (or Queen!)

Complete 70 quests
Rock Star

Earn 120 stars
Printing Press

Fill the entire board with duplicator tiles
Born To Spell

Spell 2500 words
Walk Of Fame

Earn 40 crystal stars
Close Call

Beat a stage with only 1 health remaining
Honorary Bacon Bandit

Spell the word BANDITS
Repeat Customer

Purchase 100 merchant items in Endless Mode
Endless Monster Masher

Defeat 100 monsters in Endless Mode
Coin Collector

Collect 2000 coins in Endless Mode
Practice Makes Perfect

Play 10 games of Endless Mode
Alphabet Soup

Use 2500 letters in Endless Mode
Endless Wordsmith

Spell 750 words in Endless Mode
Oh Hungry!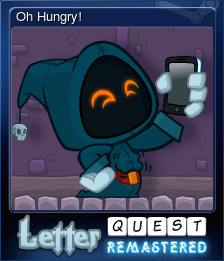 Grim Graveyard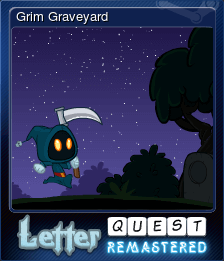 Secret Lab!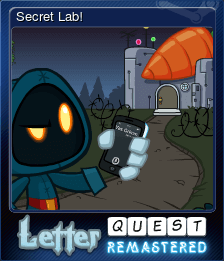 Starstruck!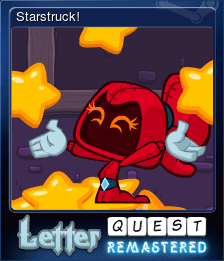 Mega Bacon