Styx: Master of Shadows
RRP: $29.99
Our price: $1.60
Styx: Master of Shadows
is an infiltration game with RPG elements taking place in a dark fantasy universe, where you sneak, steal and assassinate your way through as Styx, a Goblin two-centuries of age.
Deep inside the vertiginous and multi-layered forsaken Tower of Akenash, where Humans and Elves protect the World-Tree, source of the Amber – a powerful and magical golden sap – is hidden Styx' chance to understand his true origin... and to make a fortune at the same time.
Prowl through the huge, miles-high Tower of Akenash, completing various missions (assassination, information recovery, etc.) and avoiding detection. Progress in the shadows, assassinate your targets in close combat, or orchestrate «accidents». RPG mechanics let you unlock new powerful skills, impressive special moves, and an optimized equipment. Amber will grant you spectacular powers such as invisibility, «amber vision», and the ability to clone yourself. Explore the levels to discover every bit of information about your past, and steal prized treasures to acquire equipment upgrades. Embrace the shadows!
Mission areas featuring truly organic player path-finding

A strong focus on hardcore stealth and infiltration: progress through the shadows with a sense of verticality, and explore to find hidden treasures

Upgrade your skills along six unique skill-trees to improve your stealth, assassination, and technique.

Distract, solve, smother and prowl with your clone

An intricate story full of twists and revelations
SYSTEM REQUIREMENTS
Windows
Minimum:
OS: WINDOWS VISTA SP2/WINDOWS 7/WINDOWS 8

Processor: AMD/INTEL DUAL-CORE 2.4 GHZ

Memory: 3072 MB RAM

Graphics: 1024 MB 100% DIRECTX 9 AND SHADERS 4.0 COMPATIBLE AMD RADEON HD 5850/NVIDIA GEFORCE GTX 560 OR HIGHER

Storage: 8 GB available space

Sound Card: DIRECTX 9 COMPATIBLE

Additional Notes: INTERNET CONNECTION REQUIRED FOR THE GAME ACTIVATION
Born in the shadow

Extinguish 30 torches
Reminiscences

Finish the introduction
Sudden silence…

(Secret achievement)
Passkey

Unlock 20 doors
Watch out below!

Kill two or more enemies by making a chandelier drop on them
Akenash's Atrium

Finished mission 1
Wrong turn

Kill an enemy with a covered kill
Indigestion

Kill an enemy by poisoning the food
Outstanding duelist

(Secret achievement)
Serial killer

(Secret achievement)
Army of clones

Create 30 clones
Master key

Finished mission 2
Expendable

Let 15 clones die
Goblin-tossing

Kill an enemy with an aerial kill
Unquenched thirst

Drink 20 vials of amber
Tidy up your room!
No body found during a mission
Deliverance

Finished mission 3
Sticky-fingered

Pick pocket 15 guards
The creator

Finished mission 4
Goblin snack

Give an orc one of your clones to eat
Sharpshooter

(Secret achievement)
The architect

Finished mission 5
Conflagration

Finished mission 6
Dodge this

Kill an enemy who was bound by a clone
Renaissance

(Secret achievement)
Suicide mission

Eliminate a guard with a booby trapped clone
Dose of his own medicine

(Secret achievement)
My precious

Gather all the treasures
Pretentious

Do not use any item during a mission
Music Lover

(Secret achievement)
Like looking through a wall

Manage to disable three guards, or more, inside a clone's smoke bomb
Great power...

Unlock all skills
Unseen, unknown

Unlock the Insignia of the Shadow for each mission
Clone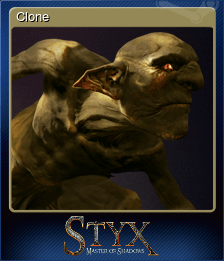 Governor Barimen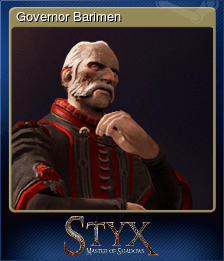 Orc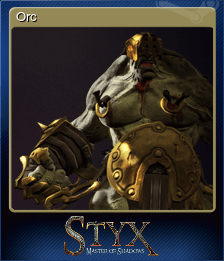 Styx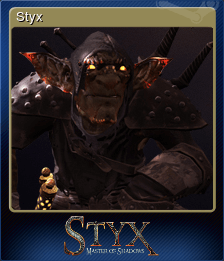 Barimen Junior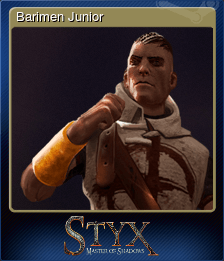 Elf