Corel Painter Essentials 5
RRP: $39.99
Our price: $7.50
Description
Corel Painter Essentials 5 makes it easy to create amazing art at any skill level. Easily sketch, draw or paint on a blank canvas with award-winning Natural-Media brushes that are custom selected for beginners. Want to do something really different and exciting with your photos? Discover unmatched photo-painting and cloning tools that will transform your pictures into impressive art right before your eyes. Explore a wide variety of painting styles, brushes and photo effects that let you create an authentic, hand-painted look every time. It's the most natural way to show your unique personality and style.
Revolutionary Particle brushes
Discover incredible brushes that let you revel in creative chaos or take complete control. Enhance a photo-clone painting with unique photo effects or create a unique masterpiece with physics-based brushstrokes that spring, flow, glow and gravitate onto your canvas.
Jitter brushes
Enhance the realism and randomness of your digital brushes. Now, you have access to a variety of Jitter brushes across several brush categories and can experience an array of unexpected results.
Mirror painting
With Mirror painting, every stroke you make is copied onto the opposite side of your canvas. Not only does this new tool greatly increase your precision and accuracy when painting symmetrical objects, but it also saves you a lot of time!
Kaleidoscope painting
Go where traditional painting can't! This exciting new tool allows you to create beautiful kaleidoscope effects on canvas. Use your choice of media to paint electrifying patterns and colors, and see amazing results when you add a blending tool to the mix.
User Interface
The new user interface in Painter Essentials was inspired by the professional tools found in Painter 2015, but was built for beginners. Easily choose to get started with Drawing and Painting or Photo Painting. You'll find all the tools you need to create incredible photo effects and original art.
Redemption instructions
Corel Painter Essentials 5 can be
downloaded here
The code received by us can then be entered during the installation process, as seen in the image below: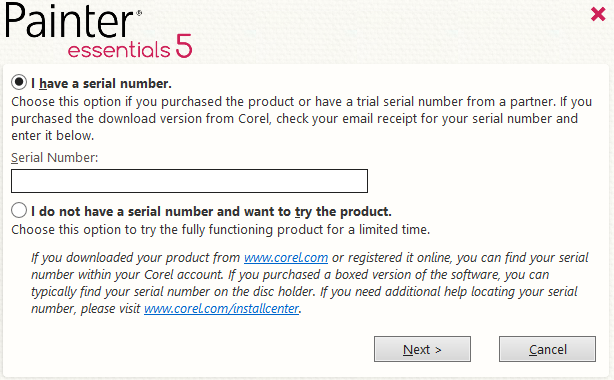 SYSTEM REQUIREMENTS
Windows:
Windows 8.1 (64-bit) or Windows 7 (64-bit) with latest Service Pack
Intel Pentium 4, AMD Athlon 64 or AMD Opteron
2 GB RAM
650 MB hard disk space for application files*
Mouse or tablet
1024 x 768 screen resolution
DVD drive
Microsoft Internet Explorer 8 or higher

Mac:
Mac OS X 10.9 or 10.10 (with latest revision)
Intel Core 2 Duo
2 GB RAM
500 MB hard disk space for application files
Mouse or tablet
1024 x 768 screen resolution
DVD drive
Safari v5 or higher

*Additional space may be required for Microsoft .NET Framework 4.5