Batman: Arkham Asylum Game of the Year Edition
Release Date: 26 Mar, 2010
6158
RRP: $19.99
Our price: $5.03
Critically acclaimed Batman: Arkham Asylum returns with a remastered Game of the Year Edition, featuring 4 extra Challenge Maps. The additional Challenge Maps are Crime Alley; Scarecrow Nightmare; Totally Insane and Nocturnal Hunter (both from the Insane Night Map Pack).
Utilize the unique FreeFlow™ combat system to chain together unlimited combos seamlessly and battle with huge groups of The Joker's henchmen in brutal melee brawls
Investigate as Batman, the WORLD'S GREATEST DETECTIVE, by solving intricate puzzles with the help of cutting edge forensic tools including x-ray scanning, fingerprint scans, 'Amido Black' spray and a pheromone tracker
Face off against Gotham's greatest villains including The Joker, HARLEY QUINN, POISON IVY and KILLER CROC
Become the Invisible Predator™ with Batman's fear takedowns and unique vantage point system to move without being seen and hunt enemies
Choose multiple takedown methods, including swooping from the sky and smashing through walls.
Explore every inch of Arkham Asylum and roam freely on the infamous island, presented for the first time ever in its gritty and realistic entirety
Experience what it's like to be BATMAN using BATARANGS, explosive gel aerosol, The Batclaw, sonar resonator and the line launcher
Unlock more secrets by completing hidden challenges in the world and develop and customize equipment by earning experience points
Enjoy complete superhero freedom in the environment with the use of Batman's grapnel gun to get to any place you can see, jump from any height and glide in any direction
SYSTEM REQUIREMENTS
Windows
OS: Vista/XP
Processor: 3Ghz Intel or AMD or any Dual Core
Memory: 1GB Ram(XP)/2GB Ram
Graphics: PCI Express SM3 NVidia 6600/ ATI 1300
DirectX®: 9
Hard Drive: 8GB free space
Sound: Any onboard sound card
Mac OS X
Minimum:
OS:Mac OS X 10.9.5
Processor: 2.0 GHz
Memory: 4 GB RAM
Hard Disk Space: 10 GB
Video Memory: 256 MB
NOTICE:The following graphics cards are not supported: ATI X1xxx series, ATI HD2xxx series, Intel GMA series, NVIDIA 7xxx series, NVIDIA 8xxx series The following cards require you to have 8GB of system RAM: NVIDIA 3xx and Intel HD3000.
Recommended:
OS:Mac OS X 10.10.3
Processor: 2.4 GHz
Memory: 8 GB RAM
Hard Disk Space: 10 GB
Video Memory: 1GB
Freeflow Combo 5

Complete a combo of 5 moves (any play mode)
Shocking Rescue

Take down Zsasz in the Patient Pacification Chamber
Malpractice Needs More Practice

Survive the onslaught from the deformed Joker henchman
Leave No Man Behind

Rescue the guards and henchman from the Joker toxin in Decontamination
Born Free

Escape from Intensive Treatment to the island surface
Freeflow Combo 10

Complete a combo of 10 moves (any play mode)
Arkham Analyst

Solve 5% of Riddler challenges
Just What The Doctors Ordered

Save all the doctors in medical
Daydreamer

Survive the nightmare of the Scarecrow's fear gas
Baneful Payback

Defeat Bane
Cryptic Investigator

Solve 10% of Riddler challenges
Breaking And Entering

Gain access to Administration after it is locked down by the Joker
Recurring Nightmare

Face your biggest fears and keep your sanity
Zsasz Cut Down To Size

Save Dr. Young from being killed by Victor Zsasz
Solitary Confinement

Capture and lock up Harley Quinn
Freeflow Combo 20

Complete a combo of 20 moves (any play mode)
Double Trouble

Defeat two Titan Henchmen at once
Lateral Thinker

Solve 25% of Riddler challenges
Resist The Fear

Conquer the effects of the Scarecrow's fear gas
Crocodile Tears

Venture into Killer Croc's lair and come out alive
Freak Show Rodeo

Ride a Titan henchman and knock down 5 thugs (any play mode)
Poisoned Ivy

Defeat the giant Titan Ivy plant
Big Bang

Deliver an explosive knock out blow to the Joker (Easy difficulty)
Bigger Bang

Deliver an explosive knock out blow to the Joker (Normal difficulty)
Mystery Solver

Solve 40% of Riddler challenges
Rope-a-dope-a-dope

String up one henchman and drop him to surprise a second (any play mode)
Party Pooper

KO all the henchmen celebrating your arrival at the party
Conundrum Cracker

Solve 55% of Riddler challenges
Mental Athlete

Solve 70% of Riddler challenges
Riddle Resolver

Solve 85% of Riddler challenges
Night Glider

Glide continuously for over 100m
Crack The E Nigma

Solve every riddle on the island
Freeflow Combo 40

Complete a combo of 40 moves (any play mode)
World's Greatest Detective

Spirit of Amadeus Arkham revealed
Catch!

Catch a Batarang (any play mode)
Flawless Freeflow Fighter

Complete one combat challenge without taking damage
Mano-a-mano

Defeat Titan henchman without using Batarangs (any play mode)
Biggest Bang

Deliver an explosive knock out blow to the Joker (Hard difficulty)
Predator Bronze

Achieve 8 medals on predator challenges
Freeflow Bronze
Achieve 8 medals on combat challenges
Invisible Predator

Complete one predator challenge by using only Silent Takedowns and without being detected
Predator Silver

Achieve 16 medals on predator challenges
Freeflow Silver

Achieve 16 medals on combat challenges
Freeflow Perfection

Perform a perfect combo including all of Batman's combat moves (any play mode)
Predator Gold

Achieve 24 medals on predator
Freeflow Gold

Achieve 24 medals on combat challenges
Perfect Knight

100% Complete
Intensive Treatment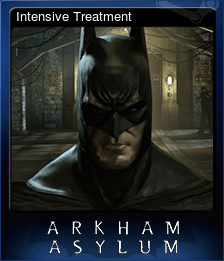 Death's Scent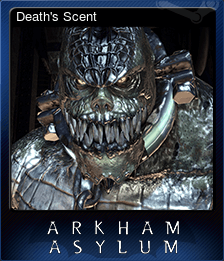 Quinzel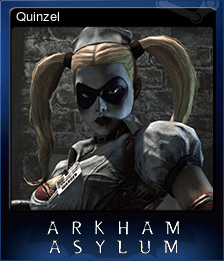 There Is No Crane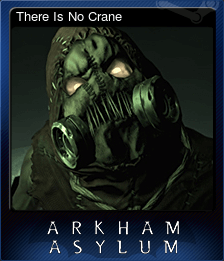 Botanist Isley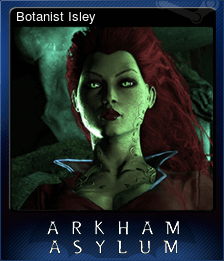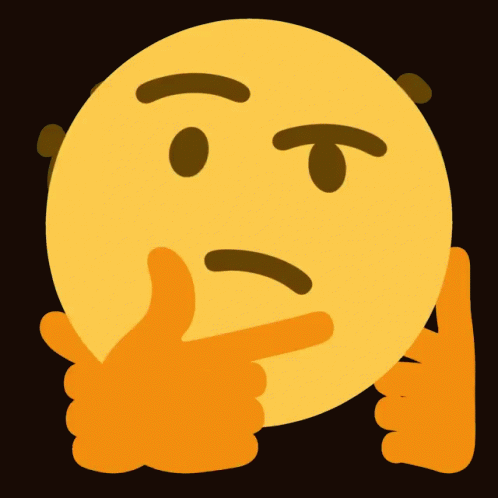 This is how a superhero game should be made.

Batman Arkham Asylum is the first game of the Arkham series and man Rocksteady did a great job

The history is damn good (I mostly don't type about what happens in game since I dont want to spoil it) you really get inmmersive into it at the start.

The graphics are still impressive even when we are in 2016, the fighting is pretty good you can make a lot of combos, a lot of ways to finish your enemies, good stealth mechanics, and the soundtrack is pretty damn good

If you are a DC Fan just get this game you will not regret it