Bully Beatdown
Release Date: 16 Nov, 2018
919
RRP: $5.99
Our price: $2.90

You play that one fat kid in school that everyone loves to pick on. But is that really such a good idea? Now you can kick some bully ass by punching, kicking, stomping, belly bumping, bowling over enemies or farting in their faces!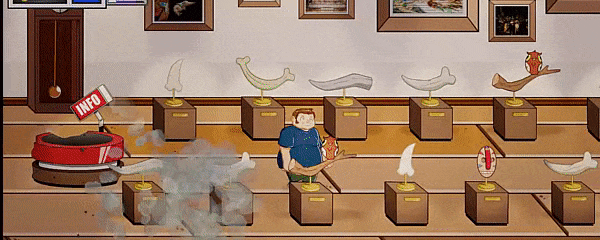 "Bully Beatdown" is a story-based comic book style Beat-Em-Up Brawler featuring Progressive Skill Mastering, 4 Difficulty Settings, an uplifting visual experience with tons of stuff to break along the way!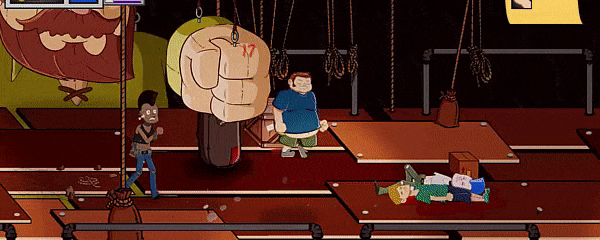 "Gamer Geek" and "Goth Chick" encourage "Fat Kid" to ask "Skool Gurl" out to the prom. He builds up courage while fending off bullies only to discover he has become one himself.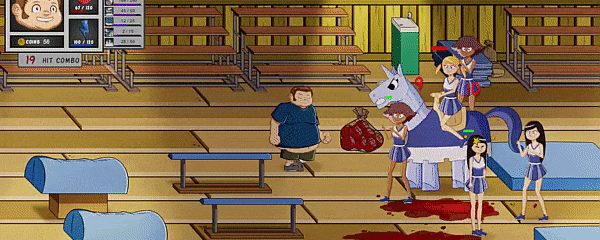 FEATURES:
9 Unique Levels
8 Bosses
60+ Characters
100+ Breakable Objects
5 Original Songs
Steam Achievements
Steam Leaderboards
Comic Style Cutscenes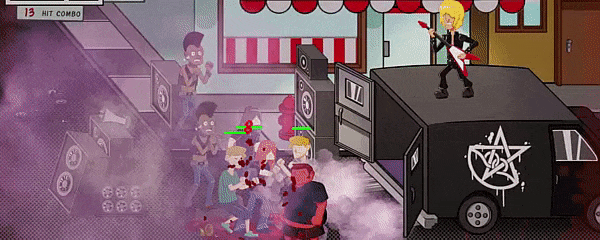 SYSTEM REQUIREMENTS
Windows
Minimum:
OS: Windows XP
Processor: Dual Core
Memory: 4 GB RAM
Graphics: Integrated Video card
Storage: 3500 MB available space
Sound Card: DirectSound-compatible sound card
Recommended:
OS: Windows 10
Processor: Quad Core
Memory: 8 GB RAM
Graphics: Geforce
Sound Card: DirectSound-compatible sound card
Easy Win

Finished the game on Easy difficulty
Thug

Kill 100 enemies
Chubby Spree

Perform 30 uninterrupted attacks
Penny Pincher

Collect 100 coins
Brute

Kill 250 enemies
Smell Shocked

Kill 10 enemies while fart dazed
Slayer

Kill 400 enemies
Holy Fat Kid

Perform 40 uninterrupted attacks
Butcher

Kill 550 enemies
Fistful of Steel

Maxed all Punch upgrades
Piggy Banker

Collect 250 coins
Mighty Brawler

Perform 50 uninterrupted attacks
Chemical Warefare

Kill 25 enemies while fart dazed
Find Jesus

Discover the Save Jesus logo
Titanic Frenzy

Perform 60 uninterrupted attacks
Energizer

Maxed all Energy Regeneration upgrades
Fatinator

Perform 70 uninterrupted attacks
Normal Victory

Finished the game on Normal difficulty
Monstrosity

Perform 80 uninterrupted attacks
Silent Butt Deadly

Kill 50 enemies while fart dazed
Medic

Maxed all Health Regeneration upgrades
High Voltage

Maxed all Energy Pickup upgrades
Big Hearted

Maxed all Health Pickup upgrades
Porky Power

Perform 90 uninterrupted attacks
Kicking Butt

Maxed all Kick upgrades
Bully Beatdown

Perform 100 uninterrupted attacks
Bowling Pro

Maxed all Bowl upgrades
Old Fart

Maxed all Fart upgrades
Belly Buster

Maxed all Belly upgrades
Super Stomper

Maxed all Stomp upgrades
Predator

Kill 800 enemies
The Hard Way

Finished the game on Hard difficulty
Stuff of Nightmares

Finished the game on Nightmare difficulty
Tax Collector

Collect 500 coins
Spreading The News

Stomp on a pile of newspapers.
Bully Dozer

Kill 1,100 enemies
Avenger

Kill 1,400 enemies
Box of Chocolates

Find 10 hidden chocolates
Flatulator

Kill 100 enemies while fart dazed
Greedy Bastard
Collect 1,000 coins
Almighty Beatdown

Beat all levels without dying
Vigilante

Kill 1,700 enemies
Punisher

Kill 2,000 enemies
Wrecking Ball

Destroy every object in every level
Pest Control

Squash all roaches, spiders & rats
Sharing is Caring

Fart on every enemy
Sandbagger

Kill an enemy using sandbags
Cereal Killer

Kill 2,500 enemies