1849
Release Date: 8 May, 2014
758
RRP: $14.99
Our price: $8.39
The year is 1849, and gold has just been discovered in California. You decide to head out west, to seek fame and wealth in the approaching Gold Rush.
Will you strike gold and become an overnight mining magnate? Or will you build your fortune bit by bit by supplying 49ers with pickaxes and blue jeans?
Gameplay
1849 is a city management game set during the California Gold Rush. Your task is to build towns, populate them with workers, and make sure that they are housed, fed, and entertained. You'll have to manage and coordinate extensive production and trade networks to make sure your towns thrive.
Key Features Of 1849
A campaign mode that traces the development of the Gold Rush from mining camps to bustling cities. Each city scenario presents players with unique starting conditions, victory goals, and obstacle events.


Sandbox mode with a procedurally-generated map for your location, based on geography (from the Pacific coast to the Sierra Nevada mountains), precipitation, resource availability, and starting lot size.


Vivid old west towns with buildings lining the streets directly inspired by California's Gold Country.


Over 50 resources that players can dig up, farm, refine or manufacture as they build complex towns and cities.


Developed by SomaSim, a new studio dedicated to producing deep simulation games for today's players
SYSTEM REQUIREMENTS
Windows
Minimum:
OS: Windows 8 / Windows 7 / Windows Vista
Processor: Pentium 4 or better
Memory: 512 MB RAM
Storage: 75 MB available space
Mac OS X
Minimum:
OS: OS X 10.6 Snow Leopard or later
Processor: Intel only
Memory: 512 MB RAM
Storage: 75 MB available space
Village Founder

Attract 50 residents to your town.
Town Threshold

Build a town that attracts at least 100 residents.
Newcomer

Build three California cities
City Chartered

Build a a city that attracts at least 200 residents.
Camp Captain

Build five or more hunting or logging camps on the same map.
Homesteader

Build five California cities
Money Man

Accumulate $10,000 in cold hard cash
Agricultural Aristocrat

Build 10 or more farms of any type on one map.
Civic Leader

Construct a sheriff, fire brigade, saloon, school, church and jail in the same town.
Master Mayor

Create a town that attracts at least 300 residents.
Booze Baron

Build at least six breweries, distilleries or wineries on one map.
Land Baron

Build 10 California cities
Senator

Build 15 California cities
Governor

Build 20 California cities
Dayton

Complete the Dayton scenario in Nevada
Miner 49er

Build eight or more mines of any type on the same map.
Big House

Complete the grand mansion commission in the San Francisco scenario.
Washoe City

Complete the Washoe City scenario in Nevada
Mayor of San Francisco

Complete the public office commission in the San Francisco scenario.
Prepared Prospector

Stockpile 1,000 units of gold in your depot. Just in case you need it.
Silver City
Complete the Silver City scenario in Nevada
Gold Hill

Complete the Gold Hill scenario in Nevada
Virginia and Truckee Railroad

Complete the Virginia and Truckee Railroad
Virginia City

Complete the Virginia City scenario in Nevada
Nevada Capitol Building

Build the Nevada State Capitol
Carson City

Complete the Carson City scenario in Nevada
Governor of Nevada

Complete the Governor quest in Carson City
Deep Mine

Complete the deep mine in Carson City
California Gold Rush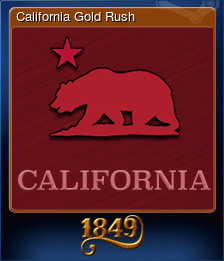 Comstock Silver Rush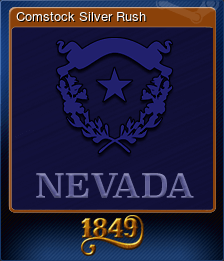 Gold Found in California!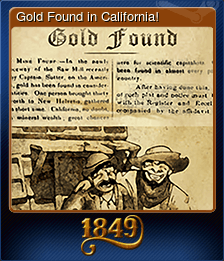 Miner 49er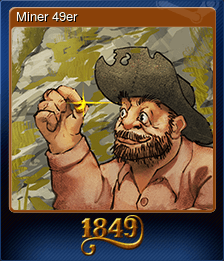 An old west saloon