Bombslinger
Release Date: 11 Apr, 2018
936
RRP: $11.99
Our price: $4.26
A Bomberman-inspired Spaghetti Western action game with rogue-like elements.

Wear the poncho of the
Bombslinger
, a former ruthless bandit turned rancher, as he sets out on a journey to avenge the brutal murder of his wife.
Bomb your way through hordes of enemies, defeat your former posse and get to the final showdown with its leader, the
Gunslinger
.
Bombslinger Features
Explosive Bomberman-inspired single and multi-player gameplay
Procedurally generated levels and tons of items make each play unique
4-player battle mode and AI bots for classic local multiplayer action
Want to share your thoughts on Bombslinger?! Join us on the
Community page
.
Visit the BOMBSLINGER website
here
.
SYSTEM REQUIREMENTS
Windows
Minimum:
OS: Windows7 or later
Processor: 1.2Ghz+
Memory: 2 GB RAM
Graphics: 1GB
Storage: 500 MB available space
Bring a Bomb to a Goat Fight

Bring a Bomb to a Goat Fight
Burnt to Ashes

Burn Ash Burnham down to the ground.
OCD

If you look hard enough, you might find something interesting.
Goat Reaction
Get a flaming goat to defeat an enemy by pushing a bomb.
You Shall Not Pass!

Block an enemy in between two bombs.
The Bombslinger

Defeat 250 enemies.
The Mexican Showdown

Survive the fight with El Skullo Calavera.
No chain no gain

Blast 4 enemies in a combo.
The Keymaster

Hold 7 keys at one time.
Can't touch this!

Keep your gold from Roscoe Copperpot.
Spirit of the Undead

Send the Dark Shaman back to where he belongs.
An Old Romance

Put an end to your story with 'Bertha.
Pistolero

Defeat 25 enemies using guns.
Spirit of the Wild

Max out your spirit regeneration.
No Mistakes

Complete the game without resurrecting.
The vengeful

(Secret achievement)
Lucky You!

Max out your luck.
Hot Shot

Hold 5 bombs and 5 flames at one time.
The Quickening

Beat the game in less than 45 minutes.
Gotta blast 'em all!

Defeat all the bosses at least once.
The merciful.

(Secret achievement)
The ninja

Hold the jump, roll and camouflage items at one time.
Barrels o' Fun

Blow up a chain of 10 barrels.
Nuke Dukem

Blast 3 enemies with a nuclear bomb at one time.
Plain and Simple

Complete the game with no upgrades to the bomb and flame counts.
Piggie Bank

Hold 5000$ at one time.
Son of a gun

Hold the Double Shot and Quick Shot items at one time.
The Specialist

Beat the game without getting hit by your own bombs.
Death From Above

Blast 3 enemies with one moonshine bomb.
Evil goat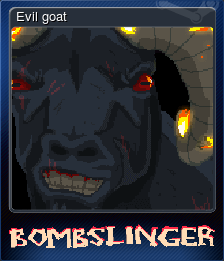 Ash Burnham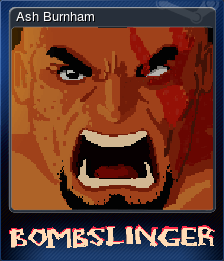 El Calavera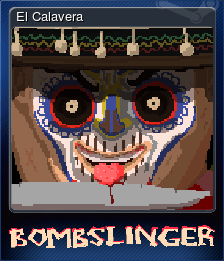 Roscoe Copperpot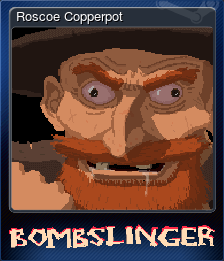 Big 'Bertha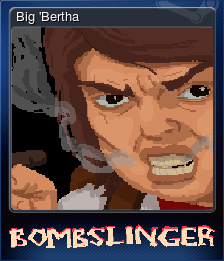 Dark Shaman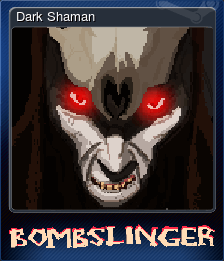 The Gunslinger