Bad Rats: the Rats' Revenge
Release Date: 20 Jul, 2009
971
Bad Rats is a physics puzzle game where rats finally get their bloody revenge on their new prisoners: The cats.
Come up with creative solutions for each puzzle using physics, functional objects, and your specially trained Rats. Try different ways of solving each puzzle to finish faster or earn higher scores. Revel in your success as the cat meets a violent demise in any number of humorous ways at the hands of Bad Rats.
Comic cartoon violence and cartoon blood
Realistic physics simulation
10 Specialist Rats, anxious for revenge
11 different and bloody deaths for cats
10 other functional objects to help you
44 Maps, from easy to very hard
Internet and local records
Original, cartoon styled characters
Challenge your creativity, intelligence and logic
Unlock all the Steam Achievements
SYSTEM REQUIREMENTS
Windows
OS: Windows XP or Vista
Processor: Pentium IV 1.6 GHz or better (dual core recommended)
Memory: 512MB RAM (1GB recommended)
Graphics: DirectX®9-compatible graphics adapter with 128 MB (256 MB recommended)
DirectX®: 9 or better
Hard Drive: 300MB
Sound: DirectX®9-compatible
Fast Thinker

Solved five maps with less than one minute
Bad Rat Junior

Solved ten maps
Super Fast Thinker

Solved ten maps with less than one minute
Very Bad Rat

Solved twenty maps
Master Super Fast Thinker

Uou! Solved fifteen maps in less than one minute.
Economic Bad Rat

Completed five maps using less objects than planned
Serious Bad Rat

Thirty maps solved
Bad Bad Rat

Forty maps solved
Bad Rats' King

Completed all levels
One Single Rat Move

Completed two maps using one single object.
Extra Economic Bad Rat

Finished ten maps using less objects than the plan
One Click One Death

Finished 10 maps in the first try
Genius Economic Bad Rat

OHH! Fifteen maps completed using less objects than planned
Tractor Rat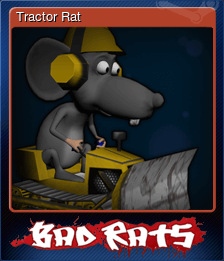 Fat Rat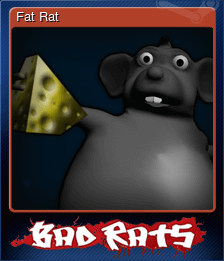 Archer Rat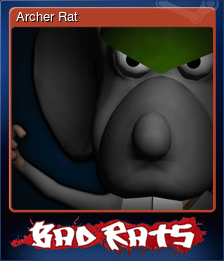 Cannon Rat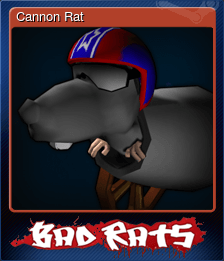 Vacuum Rat