Battle Brothers
Release Date: 27 Apr, 2015
1271
RRP: $29.99
Our price: $24.43
About the Game

Battle Brothers is a turn based tactical RPG which has you leading a mercenary company in a gritty, low-power, medieval fantasy world. You decide where to go, whom to hire or to fight, what contracts to take and how to train and equip your men in a procedurally generated open world campaign. Do you have what it takes to lead them through bloody battles and to victory?
The game consists of a strategic worldmap and a tactical combat layer. On the worldmap you can freely travel in order to take contracts that earn you good coin, find places worth looting, enemies worth pursuing or towns to resupply and hire men at. This is also where you manage, level up and equip your Battle Brothers. Once you engage a hostile party the game will switch to a tactical map where the actual fighting takes place as detailed turn based combat.

Manage a medieval mercenary company in a procedurally generated open world.
Fight complex turn-based tactical battles with historical equipment and brutal injuries.
Permadeath. All characters that die in combat will stay dead – unless they return as the undead.
All characters come with their own background stories and traits. Want a stuttering ratcatcher, a greedy witch hunter or a drunkard disowned noble?
Character development without a restrictive class-system. Each character gains experience through combat, can level up and acquire powerful perks.
Equipment that matters. Different weapons grant unique skills – split shields with axes, stun enemies with maces, form a spearwall with spears or crush armor with a warhammer.
Diverse enemy roster. All enemies have unique equipment, skills and AI behavior.
A dynamic event system with atmospheric encounters and tough decisions outside of combat.
Three late game crises – a war between noble houses, a greenskin invasion and an undead scourge – add a looming threat.
Two full hours of orchestral soundtrack.
70 Steam Achievements and Steam Trading Cards.

Overhype Studios is an independent game developer studio from Hamburg, Germany. We are devoted to making great games that we want to play ourselves. With Battle Brothers we strive to reflect the creativity, complexity and originality from the old days when game developers were passionate gamers, not corporate businessmen. While doing this we took a lot of inspiration from some of the best games out there: The original X-Com, Warhammer: Shadow of the Horned Rat and Jagged Alliance.
SYSTEM REQUIREMENTS
Windows
Minimum:
OS: Windows XP, Windows Vista, Windows 7, Windows 8, Windows 10
Processor: 1.2 Ghz
Memory: 1024 MB RAM
Graphics: OpenGL 3.3 compatible video card with 512 MB
Storage: 1500 MB available space
Additional Notes: Make sure your video drivers are up-to-date!
Recommended:
OS: Windows 7, Windows 8, Windows 10
Processor: 2+ Ghz
Memory: 2048 MB RAM
Graphics: OpenGL 3.3 compatible video card with 1024 MB
Storage: 1500 MB available space
Additional Notes: Make sure your video drivers are up-to-date!
Bloody Toll

Lose your first mercenary in battle
Trial By Fire

Defeat Hoggart at any difficulty level
Scars For Life

Have a brother receive a permanent injury
Blood Money

Complete a contract for a settlement
Making Friends

Get to friendly relations with a settlement
Ulfhednar

Kill a Direwolf in melee
To Fight Another Day

Flee from combat
Field Hospital

Have 5 or more brothers with a temporary injury at the same time
A Full Company

Have a company roster of 12 brothers
Patched Up

Have a temporary injury treated at the temple
Broken Promises

Fail a contract
Time To Rebuild
Lose half or more of your company in one battle
Making A Name

Reach 1,000 renown
Taste Your Own Medicine

Kill a Bandit Marksman with a ranged weapon
Back In Business

Have a total of 5,000 crowns
Man In Black

Kill a Necromancer
Meddling With Nobles

Complete a contract for a noble house
Early Retirement

Retire and have your company break apart
Who Let The Dogs Out?

Kill an enemy with a wardog
Trader

Sell 10 trading good stacks
Welcome Back

Have a brother come back as undead
Hip Shooter

Kill 2 enemies in one turn with a ranged weapon
Overcoming Fear

Kill a Geist
Outnumbered, Never Outclassed

Kill 24 or more enemies in one battle
Lessons Learned

Lose a game
Bling Bling

Acquire a named item
Never Trust A Mercenary

Betray your employer
Restless Dead

Kill a Fallen Hero
Survivor

Reach day 10 on veteran difficulty or higher
Back To The Grave

Kill a Necrosavant
First Aid

Bandage a wound in combat
Old And Wise

Get a brother to level 11
Not So Noble

Defeat a Noble House's unit
Man Of Renown

Reach 3,000 renown
Swordmaster

Get a brother to 90 melee skill
Master Trader

Sell 50 trading good stacks
Walking Statue

Kill an Ancient Honor Guard
Hard To Kill

Have a brother with 3 permanent injuries
Power In Numbers

Have a company roster of 20 brothers
I Made This!

Craft an item
Deadeye

Get a brother to 90 ranged skill
Deserter

Have a brother desert you
A Bitter End

Retire and have your company go down fighting
Swingin'

Kill 3 enemies with one AoE attack
King Of The Hill

Defeat another mercenary company
A Knight's Tale

Kill a Knight
Sleep Tight

Kill an Alp
Moneymaker

Have a total of 50,000 crowns
Beastmode

Kill an Orc Warlord in melee
Bag a Hag

Kill a Hexe
Tricked Out

Acquire 5 named items
Kingmaker

End the noble feud at any difficulty level
Wildgrowth

Kill a Goblin Shaman
Greenskin Slayer

Defeat the Greenskin Invasion at any difficulty level
Bane Of The Undead

Defeat the Undead Scourge at any difficulty level
Campaigner

Reach day 100 on veteran difficulty or higher
Making Allies

Get to allied relations with a noble house
Leaving A Mark

Retire and have your company persist
Nothing Personal

Kill one of your own men while mind-controlled by a Hexe
Scrambled Eggs

Destroy Webknecht Eggs
A Colorful Band

Dye a shield in company colors
Atheist

Kill an Ancient Priest
Outgunned

Kill a Goblin Overseer with a ranged weapon
There Can Be Only One

Kill a Swordmaster in melee
Chopping Wood

Kill a Schrat
Dragon's Hoard

Have a total of 250,000 crowns
Bullseye

Kill a Master Archer with a ranged weapon
Man Of Iron

Defeat a late game crisis on Ironman mode
Power Of Music

Knock out an enemy with a lute
Tough Farewell

Lose a level 11 or higher brother on Ironman mode
Stuff Of Legends

Reach 8,000 renown
Leaving A Legacy

Retire from your legendary company
How To Berserk

Kill an Orc Berserker in melee while high on mushrooms
Rest In Pieces

Destroy the Black Monolith and claim its treasures
Anniversary

Reach day 365 on veteran difficulty or higher
Famed Explorer

Find 10 legendary locations
Never Give Up

Lose 10 campaigns on Ironman mode
Savior

Defeat all three late game crises on Ironman mode
Reproach Of The Old Gods

Reassemble the legendary sword
Beast of Beasts

Kill a Kraken
Memory Loss

Use a Potion of Oblivion
The Ancient Dead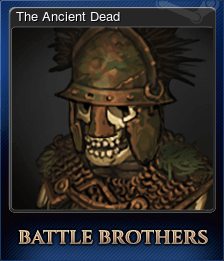 The Goblins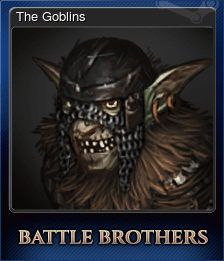 The Mercenaries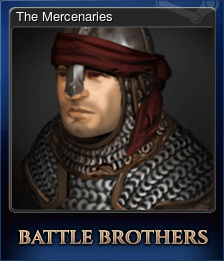 The Orcs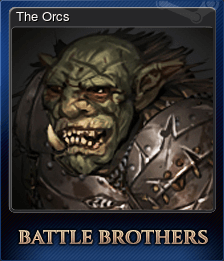 The Bandits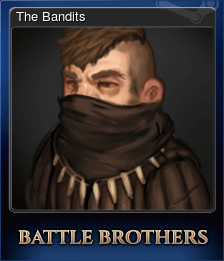 The Undead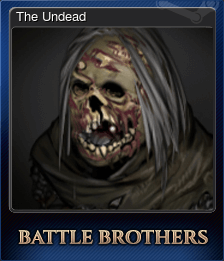 The Noble Houses