Chariot - Royal Edition
Release Date: 12 Nov, 2014
821
RRP: $16.99
Our price: $3.80
Chariot - Royal Edition includes the base game, the Royal Gadget Pack, and the Soundtrack.
Notice: We highly recommend playing Chariot with a controller.
Chariot is a couch co-op platformer that can be played alone or with a friend. Players take the role of the brave Princess or her faithful Fiancé as they maneuver the departed king's coffin-on-wheels through 25 levels set in 5 vibrant underground environments, with his majesty's ghost giving them a piece of his mind every step of the way. Filled to the brim with emergent physics-based gameplay, Chariot offers hours of exciting exploration, fast-paced ride sequences and mountains upon mountains of loot!
Chariot Royal Gadget Pack
The Shopkeeper joins the action, bringing along 5 new gadgets to Chariot! Play as the Shopkeeper in solo or co-op and try out new technology delivered straight from the royal engineers' workshop! Walk on ice, light up the darkness, go swimming in lava, freeze the world in place, teleport the Chariot through time and space, and much more! Also includes new achievements and blueprints hidden throughout existing levels. Help His Downloadable Majesty rest in peace already!
Soundtrack
The wonderful original soundtrack from Chariot by Interactive Sound & Fury and SkewSound. Featuring all 16 original music tracks from the game as well as 3 additional bonus tracks.
Composers: Steve Pardo and Chris Wilson
Publisher: Frima Originals
All the files are in MP3 as well as in High definition WAV file format.
01 - Chariot Theme
02 - Prelude to Adventure
03 - Keep Going
04 - Touched by the Sun
05 - Out of the Woodwork
06 - Brought to Light
07 - Dancing Shadows
08 - Waiting for the Verdict
09 - Arctic Choir
10 - Down the Ravine
11 - Red-Hot River Rapids
12 - Melting Rock
13 - Old Ghosts and Broken Dreams
14 - Shifting Sands
15 - His Most Humble Majesty
16 - The Ride Home
17 - A Hero's Welcome (Bonus)
18 - At Your Service (Bonus)
19 - Off the Beaten Path (Bonus)
SYSTEM REQUIREMENTS
Windows
Minimum:
OS: Windows Vista
Processor: Dual Core 2.5 GHz
Memory: 2 GB RAM
Graphics: ATI Radeon HD 4850 / NVIDIA GeForce GTX 260
DirectX: Version 11
Storage: 3 GB available space
Additional Notes: Notice: We highly recommend playing Chariot with a controller.
Spelunker

Completely reveal the map of a level.
Strange Souvenirs

Find all three skulls in any level.
Might Come In Handy

Unlock a gadget.
Deceased Parcel Service

Deliver a Chariot blueprint crate to its destination.
Honeymoon

Play a level from beginning to end with a second player.
A Walk in the Park

Find the Verdant Burrows sepulcher.
The Royal Whee

Reach maximum speed with the Chariot.
Ride Towards the Light

Find the Luminous Abyss sepulcher.
Off to Adventure and All That!

Complete a level with the Shopkeeper.
Rookie Charioteer

Obtain a bronze medal or better in a speed run.
Off the Beaten Path
Find an alternate exit.
Have an Ice Day

Find the Crystal Chasm sepulcher.
Looterpedia

Encounter a looter of each type.
Fully Equipped

Unlock all gadgets.
Going Down

Find the Obsidian Pits sepulcher.
Master Craftsman

Fully upgrade a gadget.
First-Class Ride

Fully upgrade the Chariot.
Royal Delivery

Deliver all Chariot blueprint crates to their destination.
Just Deserts

Find the Sandstone Ruins sepulcher.
Wrong Way

Find a different entrance than the one you came in through.
Had You Worried There

Warp an off-screen Chariot with less than a second to spare.
Pathfinder

Find all alternate exits.
Breaker of Dreams

Find the hidden level.
Only the Lonely

Locate and obtain the largest type of blue jewel without a second player.
Royal Sampler

Try out all three versions of the Royal Arms.
Rising Star

Obtain a gold medal in a speed run.
A Ropeless Situation

Reach any exit of Woodland Vestibule without using the rope.
Air to the Throne

Get 12 seconds of air time with the Chariot.
Spendthrift

Spend 500,000 loot.
That's the Plan

Find all standard and royal gadget blueprints.
Not All It's Cracked Up To Be

Go swimming in lava and emerge unscathed.
Family Reunion

Find all three skulls in every level.
Tool-Unassisted

Obtain a gold medal in a speed run with no gadget equipped.
Royal Cartographer

Completely reveal the map of all levels.
All Aboard

Have 20 looters looting the Chariot at the same time.
Quiet, Your Majesty

Reach any exit of the Hive without alerting any looters.
No Second Chances

Reach any exit of Molten River without respawning.
Half of Zero is Still Zero

Use the Slowdown while the Stasis Field is active.
Never Not Sliding

Reach any exit of the Crystal Castle without winding the rope or locking.
Greased Lightning

Obtain a gold medal in every speed run.
Seasoned Charioteer

Obtain a bronze medal or better in every speed run.
Rest in Peace Already

Reach 100% completion.
Unbreakable

Reach the exit of the hidden level with no gadget equipped.
Break Everything

Finish the Chasm Crossing speed run within 70 seconds.
Grounded

Use the Omni Boots to withstand 10 Flipper flips.
Unbankable

Collect ALL the hidden level's loot and reach the exit without losing any of it.
The Princess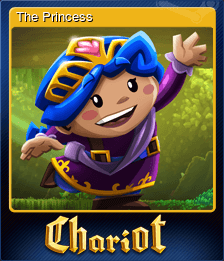 The Fiancé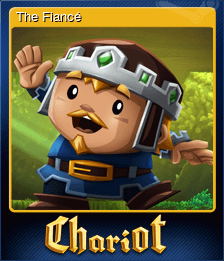 The King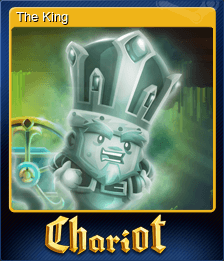 Looter Feast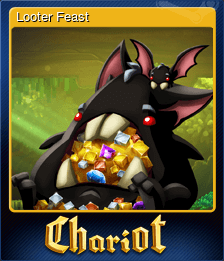 Looter Gang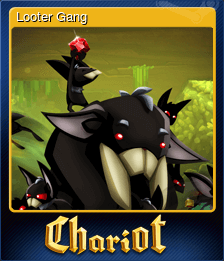 The Shopkeeper