Clouds & Sheep 2
Release Date: 24 Oct, 2016
929
RRP: $9.99
Our price: $1.39
Everyone's favorite fluffy flock is back – and it's livelier than ever!
In this eagerly anticipated sequel of the game "Clouds & Sheep", the cute sheep are finally on the loose again! Solve countless quests and fulfill your wooly friends' needs. Plant grass, flowers, trees and shear your animals' different-colored wool to stock up your resources! Collect happy stars, harvest wood and flower petals and use them to provide your flock with food, accessories, toys and more! Control the clouds and make it rain to ensure your sheep never run out of fresh water to drink. If your sheep feel happy and content, they'll bring tiny lambs into the world!
Every single animal is asking for your attention! The fluffy balls of wool love to be entertained. Make your sheep jump and use different toys like the trampoline, the seesaw and the swing to actively play with them! Watch your pets interact with each other and observe their reactions to the objects you give to them! Customize your flock's pasture with fun objects and choose between different settings like the Wild West or Pirate scenery. Watch your flock run around by day and sleep by the cozy campfire at night. Do everything you can to keep your sheep happy and healthy to prevent them from becoming big, cottony clouds in the sky.
Features:
✔ Awesome sequel of the top game "Clouds & Sheep"
✔ Go on an epic adventure to find the legendary Fountain of Youth!
✔ Simulation game with adorable sheep
✔ Take care of your flock
✔ Raise sweet little lambs
✔ Actively play with your animals
✔ Give them many different items and objects
✔ Grow and harvest various resources
✔ Shear your sheep
✔ Customize their pasture
✔ Control the weather
✔ Day-night cycle
✔ Open-ended game set in a 3D world
✔ Suitable for kids, but also fun for the whole family
✔ Optimized for Steam Controller
SYSTEM REQUIREMENTS
Windows
Minimum:
OS: Windows 7, 8, 10

Processor: 2 GHz

Memory: 2 GB RAM

Graphics: 1 GB

DirectX: Version 9.0c

Storage: 500 MB available space
Mac OS X
Minimum:
OS: Mac OS X 10.8+

Processor: 2 GHz

Memory: 2 GB RAM

Graphics: 1 GB

Storage: 500 MB available space
SteamOS + Linux
Minimum:
OS: Ubuntu 12.04+, SteamOS+

Processor: 2 GHz

Memory: 2 GB RAM

Graphics: 1 GB

Storage: 500 MB available space
I Love Ewe!

Match a loving couple!
Rain Maker
Let 3 clouds rain at the same time!
Sheep Happens!

A sheep died and became a cloud!
Sky Scraper

Touch 100 clouds!
Lawn Mower

Let your sheep eat 100 tufts of grass!
Sheep Impact

Toss 100 sheep!
Cloud Burst

Split 100 clouds!
God Of Thunder

Let your sheep get struck by lightning 25 times!
Wooly Jumper

Let a single sheep jump 100 times on the trampoline!
Baad Hatter

Give your sheep 10 hats!
Sheep Hit The Fan!

Roll a sheep against a pinwheel!
Painting By Numbers

Spend 100 balls of wool on painting sheep!
Sheep Counter

Get 10 sheep!
Art Collector

Purchase 10 decorative objects!
Shear Leader

Shear 100 sheep!
I Don't Give A Lamb

Try to hit a lamb with lightning bolts 10 times!
Captain Blackbaa

Equip a male black sheep with a pirate hat on Treasure Island!
The Good Shepherd

Solve 100 quests!
Wooly Looping

Let a sheep do a full swing!
Snowman Squad

Build 11 snowmen!
Snow Lamb

Build a snowman using two baby sheep snowballs!
Adventurer

Find the Fountain of Youth!
Billy The Sheep

Equip a male white sheep with a cowboy hat in the Prairie!
Conifer Forest

Plant 100 conifers!
Great Egg Hunt

Find 100 hidden Easter eggs!
Mini Snowman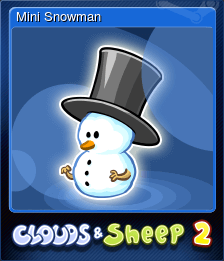 Sheep Counter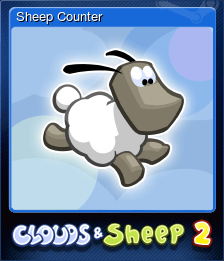 Sheep Impact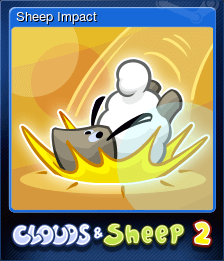 Wooly Jumper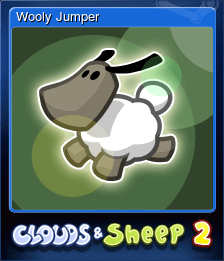 Baad Hatter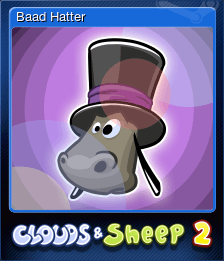 Billy the Sheep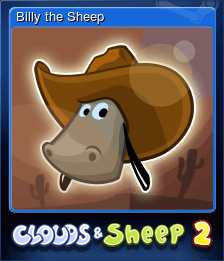 Captain Blackbaa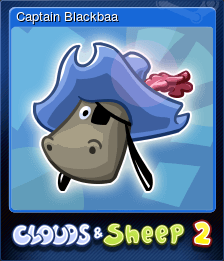 Lightning Reflexes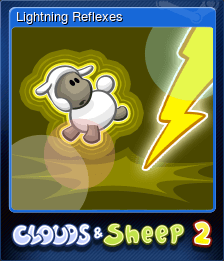 I love Ewe