The Walking Dead: Saints & Sinners - Tourist Edition
Release Date: 23 Jan, 2020
434
RRP: $49.99
Our price: $32.16
NOTE: Requires a virtual reality headset - HTC VIVE, OCULUS RIFT, WINDOWS MIXED REALITY OR VALVE INDEX
Tourist Edition
Tourist Edition
Get the Tourist Edition of The Walking Dead: Saints & Sinners and you'll receive three unique weapon recipes, collectible voodoo dolls, the game's soundtrack, and The Supernatural Skeptic's Guide to New Orleans companion piece.
About the Game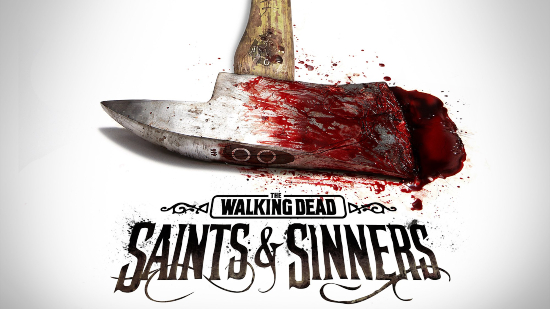 LIVE The Walking Dead
Saints & Sinners is a game unlike any other in The Walking Dead universe. Every challenge you face and decision you make is driven by YOU. Fight the undead, scavenge through the flooded ruins of New Orleans, and face gut-wrenching choices for you and the other survivors. Live The Walking Dead's dark drama in your own skin.​
Survive YOUR Way
A new way to live survival horror. With the living, dead, disease and famine as constant threats, you have countless ways to tackle these dangers.
Face the undead guns blazing or learn all the ways to sneak and hide among them.
Take on missions from different factions and survivors to earn valuable resources.
Risk life and limb to protect those in need or brutally murder anyone who stands in your way.
See how your choices affect the people of New Orleans, and learn to live with the consequences.
A New, Brutal Story
New Orleans is at war. The living are not just fighting the dead, but also inflicting pain and brutality upon each other. As bodies pile up between warring factions, whispers spread of a long-lost mystery in the city that could turn the tide of the war. Will you be able to survive while caught in the middle of this conflict? Can you unravel the mystery that is behind it all? The fate of the city and its survivors rests in your hands.​
A Vast World To Explore in VR
Crafting, exploration, freedom of choice and visceral combat make this a deep, 15+ hour game built for VR.
Cut down both the dead and the living with an arsenal of melee, ranged and makeshift weapons, all physics-based objects you can realistically wield.
Knock walker heads clear off and rip out weapons impaled in their skulls.
Creep through ruined streets and creole mansions to scavenge for supplies and secrets.
Scale the sides of buildings, cars, and walls to ambush enemies from above or make a quick escape.
SYSTEM REQUIREMENTS
Windows
Minimum:
OS: Windows 10
Processor: Intel i5-4590 / AMD Ryzen 5 1500X or greater
Memory: 8 GB RAM
Graphics: NVIDIA GTX 1060 / AMD Radeon RX 480 or greater
DirectX: Version 11
Storage: 40 GB available space
Recommended:
OS: Windows 10
Processor: Intel i7 8700k / AMD Ryzen 7 1800X
Memory: 16 GB RAM
Graphics: NVIDIA GTX 1070 / AMD Radeon Vega 56
DirectX: Version 11
Storage: 40 GB available space
Ghost Walker

Kill 15 unaware enemies
The Man on the Radio

(Secret achievement)
Over-Encumbered

Fill every slot in your backpack
Key to the Reserve

(Secret achievement)
New Orleans Most Wanted

(Secret achievement)
The Hugger

Grapple with walkers 50 times
Braaaaiiiiins

Brain 100 Walkers
Not a Plumber

(Secret achievement)
Hypochondriac
Take medicine while you have no trace of sickness
Chalk Up

Climb a total of 50 meters.
Sinner

Kill 30 humans
Negan's Dozen

Kill 13 walkers with a spiked baseball bat
Pew Pew

Craft 5 different items from the Gun Station
The Tourist
Visit all locations
Shaken, Not Stirred

Survive a stirred herd for 2 minutes
Kid's Got Talent

(Secret achievement)
Improvise. Adapt. Overcome.
Craft 5 different items from the Survivalist Station
Gearhead

Fully Upgrade the Gear Station
No Reservations

(Secret achievement)
Screw's Loose

Brain 20 walkers with a screw driver
What is a Beast?

(Secret achievement)
The Stig

Craft 5 different items from the Gear Station
Maybe You've Heard of Me

(Secret achievement)
For Whom The Bell Tolls

(Secret achievement)
Gun Nut

Fully Upgrade the Gun Station
Survivalist

Fully Upgrade the Survival Station
Arsonist

Kill 3 enemies in a single propane tank explosion
Hard Core

Survive 30 complete days in New Orleans (waking up, traveling to a location, and sleeping at night)
Bourbon Street Pharmacist

Craft all types of meds and bandages (1 of each)
Truffle Shuffle

Eat 3 Twinkle Toes
Blood Bath & Beyond

Collect 5 pillows and bring them back to the bus
Junk Foodie

Eat 10 low quality food items
Safecracker

Open every safe
Pyro

Ignite a propane tank with an explosive arrow
"You wear intestines well."

Speak to a character while in guts-mode
Gourmand

Craft and eat one of each craftable food item
Fly like a Pelican

Score a basket in the Rampart gymnasium with a basketball
Honorary Whisperer

Use guts-mode 15 times.
Propane Accessories

Kill 10 enemies with propane tank explosions
The Connoisseur

Eat 10 different food items in one day cycle
Master of the Craft

Unlock all craftables (including found recipes)
Completionist

Unlock all craftables and complete the story
Saint

Give up a total of 10 items to survivors in need.
Axeman's Jazz

Kill 10 elite walkers by braining them with the Esteemed Mortal
All the Angels and Saints

Collect every angel statue and bring them back to the bus