The Deer
Release Date: 28 Mar, 2016
5553
RRP: $0.99
Our price: $0.75
"The Deer" is an educational inter­ac­tive expe­ri­ence for children.
You'll be an ancient Deer during the Pleistocene (Ice Age) epoch and you'll discover everything about this marvellous era.
Here are some of the interesting facts that you'll find out playing "The Deer"!

- Did you know that during the Pleistocene there were no dinosaurs? They had become extinct at the end of the Cretaceous Period, more than 60 million years before the Pleistocene Epoch began.

- Did you know that many animals, specifically, mammals were much larger in body form than their modern relatives?

- Did you know that this age witnessed the final extinction of the giant shark Megalodon, that had been the top predator of the oceans for millions of years?

Unfortunately there were no T-Rexes during this age since they were already extinct millions of years before.

All artwork is by illustrator Giulia Airoldi.
SYSTEM REQUIREMENTS
Windows
Minimum:
OS: Windows XP SP3
Processor: Intel Dual-Core 2.6 GHz / AMD Dual-Core Athlon 3.0 GHz
Memory: 1 GB RAM
Graphics: SM 3.0 with 512MB VRAM; NVIDIA GeForce 8500 GT / AMD Radeon HD 4650 or greater
Storage: 150 MB available space
Recommended:
OS: Windows 7 or higher
Processor: Quad-Core Processor
Memory: 1 GB RAM
Graphics: SM 3.0 with 1GB VRAM; NVIDIA GeForce GTX 280 / AMD Radeon HD 4830 or greater
Storage: 150 MB available space
Mac OS X
Minimum:
OS: Mac OS X 10.6 Snow Leopard
Processor: Intel Dual-Core 2.4 GHz
Memory: 1 MB RAM
Graphics: NVIDIA GeForce 640M / ATI Radeon HD 5750 with at least 512MB VRAM
Storage: 150 MB available space
Sound Card: Any
Additional Notes: none
Recommended:
OS: Mac OS X 10.9 Mavericks or higher
Processor: Quad-Core Processor
Memory: 1 MB RAM
Graphics: NVIDIA GeForce 640M / ATI Radeon HD 6750M with at least 1GB VRAM
Storage: 150 MB available space
Sound Card: Any
Additional Notes: none
SteamOS + Linux
Minimum:
OS: Ubuntu 12.10 LTS
Processor: Intel Dual-Core 2.9 GHz / AMD Dual-Core 3.5 GHz
Memory: 2 GB RAM
Graphics: SM 3.0 with 512MB VRAM; NVIDIA GeForce GTX 550 Ti / AMD Radeon HD 6670 or greater
Storage: 150 MB available space
Recommended:
OS: Ubuntu 13.10
Processor: Quad-Core Processor
Memory: 2 GB RAM
Graphics: SM 3.0 with 1GB VRAM; NVIDIA GeForce GTX 770 / AMD Radeon HD 7970 or greater
Storage: 150 MB available space
The Goody Deer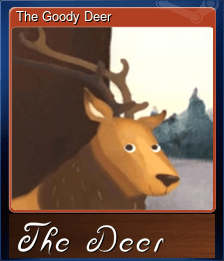 Goody Rino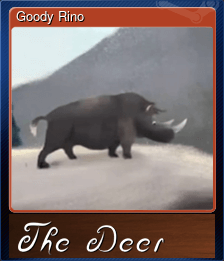 Hidden Entity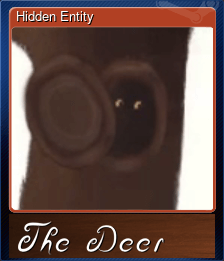 Fishy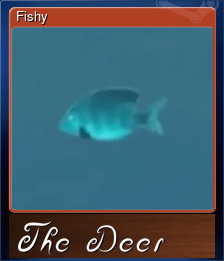 Good Squirrely