Mount & Blade: Full Collection
Release Date: 11 Dec, 2014
3780
RRP: $44.99
Our price: $14.71
The Mount & Blade Full Collection includes:
Mount & Blade
Mount & Blade: Warband
Mount & Blade: Warband - Napoleonic Wars
Mount & Blade: Warband - Viking Conquest Reforged
Mount & Blade: With Fire & Sword
Mount & Blade
Calradia is a land at war, offering great riches and even greater dangers to adventurers and mercenaries that flock to shed their blood on its soil. With courage and a strong sword, an unknown stranger can make a name as a warrior.
Free-form sand-box gameplay. You are free to go anywhere in a world with more than a hundred unique locations including villages, castles and towns.
Groundbreaking horseback combat.
Highly advanced and intuitive sword-fighting systems.
Fight on horseback and foot using a vast variety of medieval weapons, each with unique characteristics.
You can be anything from a lonesome adventurer to a commander of armies or an owner of villages, castles or towns.
Sophisticated AI will challenge you in combat and in your strategic plans.
Freedom to interact with hundreds of characters.
Mount & Blade: Warband

In a land torn asunder by incessant warfare, it is time to assemble your own band of hardened warriors and enter the fray. Lead your men into battle, expand your realm, and claim the ultimate prize: the throne of Calradia!
Mount & Blade: Warband is a stand alone expansion pack for the game that brought medieval battlefields to life with its realistic mounted combat and detailed fighting system.
Graphical overhaul: Support added for HDR, FSAA, depth of field, soft particles, tone mapping, and many other effects
New models with greater detail and high-quality textures
Multiplayer battles with up to 64 players. Multiplayer modes include Deathmatch, Team Deathmatch, Capture the Flag, Conquest, Battle, and Siege
A campaign allowing you to become the ruler of a faction and convince lords to become your vassals
The ability to upgrade your companions to vassals by granting them lands
The ability to marry a lady of the realm for romance or cold political gain. Try to win a lady's heart through poetry or bravery
Improved mechanics for soldier morale: Soldiers will break and run away if their morale gets too low
Pick any projectile off the battlefield for use as additional munitions
New motion-captured combat animations
Numerous improvements to the combat system: Your shield will still stop arrows even if you are not actively defending
The ability to play multiplayer matches on random maps as well as hand-designed ones
Multiplayer equipment system: Earn money by fighting opponents or accomplishing goals
The ability to use most throwing weapons in close combat: Switch to using a javelin as a short spear when the enemy gets close
Spend gold on more powerful equipment, using a carefully balanced system that will make combat more exciting without giving too much of an advantage to the leading team
Mount & Blade: Warband - Napoleonic Wars

Napoleonic Wars is a multiplayer DLC expansion pack for Mount & Blade: Warband featuring the final years of the French Empire's struggle to remain the dominant power of Western Europe in the early 19th century.
Experience the thrill of Napoleonic warfare first hand - Take part in the invasion of Russia or fight the French at Waterloo from the front line! Side with one of the six supreme European powers from the era and choose from more than 395 unique units to play. Fight on battlefields across Europe in of one of the most accurate and detailed Napoleonic war games ever!
Key features:
Accurate early 19th century weapons, uniforms and environments
Massive multiplayer battles with up to 200 players
Five nations with more than 395 unique units to choose from
A wide range of artillery pieces ranging from field cannons to mortars, capable of firing a variety of missiles such as canister, explosive shells and even rockets - all fully controllable by players
Finely crafted game balance ensuring player skill is the hero of the battlefield, not the gun or the sword
Construct barricades, dig trenches, and rig explosives with the multi-purpose Engineer class
Special musician units with drums, fifes, bagpipes or trumpets, able to play historically accurate tunes; all recorded and played by award winning musicians
Lead squads of soldiers against each other in the new commander battle mode
More than 40 classical background music tracks
Experience thrilling Naval battles on one of the games Frigates, Schooners or rowboat
Destructible environments; players can use a range of artillery and explosives to destroy various buildings, bridges, walls and other structures.
Wage war on more than 70 maps, ranging from the Russian steppe to the Spanish Peninsular.
Mount & Blade: Warband - Viking Conquest Reforged Edition
Viking Conquest Reforged Edition is a completely free update to all owners of Viking Conquest, which adds a host of new features and content as well as re-balancing and fixing previous issues with the DLC. Play through an all new storyline set in dark, mysterious Ireland, befriend a canine companion and master the art of fighting with the unpredictable Berserker units. Rekindle your passion for Viking warfare and reforge your path in this much improved version.
The Last Tuatha De Danann
All new story, set in dark, mysterious Ireland where nothing is what it seems and truths are hidden...
Hofs of the Nordic Gods
Visit the holy grounds of the Nordic Gods. Make sacrifices and recruit powerful yet unpredictable Berserker troops into your army.
Dog Companion
A loyal canine friend who will stay by your side, even on the battlefield.
Start As Leader of a Faction
Skip the rise to power and get straight into Reforged Editions expanded kingdom management.
Crouching and Hunting
Feed your men a better variety of food by hunting wild boar but beware, startle these creatures and they're liable to attack.
Working (minigames)
Out of luck and out of pennings. Commit yourself to an honest day's work in a quarry, mine or farmstead.
New Ambush System
There is no greater weapon than the element of surprise; catch your enemies off guard with an ambush attack. Though you must keep your wits about you, or you could be the target of an ambush yourself.
Adventuring Companions
Companions that leave the player's party from discontent may now strike out on their own as adventurers, gathering their own forces and making their mark on the world.
New Quests and Roleplay Events
Discover assassination plots, interfere in affairs of religion and more with these new sandbox quests.
Improved Atmosphere
New ambient sounds and scene contribute to a richer experience in historical Dark Age Britain.
New Items
Dozens of new weapons and armours as well as updates to old visuals.
Battles
Improved enemy AI, incorporating tactics and formations add a new dimension to battles. Shock troops such as the Berserkir fight like animals but in the heat of battle may not distinguish friend from foe.
Kingdom Improvements
Customise your kingdom's colour, ransom prisoners to the enemy and raise your peasants as a levy army in times of need.
Expanded Multiplayer
New scenes and Raid game mode. Improvements to the UI and additional options for server admins to take control of the invaders in Invasion mode.
More Immersion
Special player traits and the ability to spread rumours to influence people throughout the land. More lively scenes with domestic animals walking around. Extra information about your companions and the option of a second player outfit for use outside of battle, as well as much more roleplay and many more immersive features.
Customise Your Level of Difficulty and Goals
Set your own goals to become an Infamous Raider, Strong King, Beloved Warrior and more. Customise your difficulty options to cater your own experience and challenge.
Viking Conquest

From the creators of the popular "Brytenwalda" mod, "Viking Conquest" is a brand new DLC for Mount & Blade Warband! This single and multi player DLC brings Mount & Blade to historical Dark Age Britain, complemented by authentic scenes and cultures. The DLC features a story mode with a complex plot, where choices have real consequences, as well as a standard sandbox mode in an all new setting, with expanded options and controls. Online battling also takes on its own flavour, with special modes like Coastal Assault and Warlord.
Living world that evolves around you, with historical and random events, as well as the actions of the player all contributing.
More than 300 new cities, castles, villages and special scenes to discover, explore, conquer and plunder.
More than 200 historical characters and 100 extra NPCs: Kings, Lords, Ladies, bards, priests and many others. Meet legendary figures like Ivar the Boneless or his bother Sigurd Snake-in-the-Eye, royalty like Harald, later known as FairHair, or Aelfred of Wessex.
A story mode where the player will be part of a complex plot involving political conspiracy, during the time the sons of Ragnar were leading their Great Heathen Army through Britain. An immersive game style with choice and consequence, romance, betrayal, moments of greatness and ruin.
A sandbox mode, the classic Mount&Blade system, where goals are determined by the player, but with all the richness and options offered by the new setting.
More than 15 possible companions, with deep interaction and different personalities. Sometimes their conflicts will force you to use cunning and diplomacy.
A complex religion system with two faiths, The Norse Gods and Christianity, with monasteries, special NPCs and parties. Religion will be a important factor in the game that will affect the player's interactions even within their own party.
Naval travel and warfare, a key feature to really make the setting complete.
Battles can range from simple robbery to massive naval conflicts between huge fleets laden with warriors, all in dynamic battles where you can pilot your own boat, adjusting for factors such as wind, waves, and weather.
The option to build your own refuge, hire staff for it, and populate it with the wives and children of your troops...
Detailed siege warfare system, with options to reduce a defender by hunger or morale, or by direct assault. With hard choices, plagues and famines, coastal assaults.
Mount & Blade: With Fire & Sword

The standalone expansion for Mount & Blade! With Fire & Sword builds and expands upon the highly regarded combat system from Mount & Blade: Warband. Firearms have been introduced to the battlefield.
In an open sand box world you choose your allies, your enemies, what provinces to conquer, what castles to siege and what quests to embark on. With Fire & Sword builds and expands upon the highly regarded combat system from Mount & Blade: Warband. Firearms have been introduced to the battlefield. Additionally, muskets and pistols can now be used as sidearms in hand-to-hand combat to quickly drop your foes. In addition to the enhanced singleplayer mode, With Fire & Sword also provides a host of original multiplayer content including the new game mode: Captain.
Key Features:
A storyline based on the cult novel, "With Fire and Sword", from Nobel-prize winning author Henryk Sienkiewicz.
A new century of warfare that brings pistols, muskets, grenades, and other advanced weaponry to the battlefield.
Fully customizable armies; players can outfit their soldiers with each piece of weaponry & armor.
Additional quest types. More political intrigue with colorful factions. More adventure in a new land.
Multiple endings to increase re-playability.
Deeply researched historical component encompassing every aspect of the game's assets.
Ferocious new multiplayer action, bringing players the thrill of pitting old technology against the looming threat of firearms.
3 Main Story-driven quest-lines for the player to delve into once they've become known in a particular faction.
Additional quest types.
Implementation of firearms, adds a whole new layer of strategic depth to the franchise's proven combat model.
New Siege options to choose before besieging a town or castle.
New multiplayer Maps and new multiplayer mode, "Captain Team Deathmatch"
SYSTEM REQUIREMENTS
Windows
OS: Windows 2000/XP/Vista
Memory: 512 MB of RAM
Graphics: Graphics card with at least 64 MB memory
Hard Drive: 700 MB of hard disk space.
Pillaged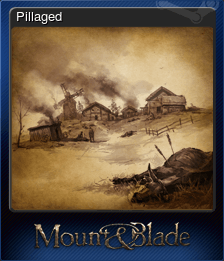 Village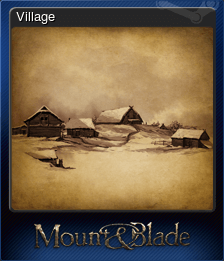 Farmstead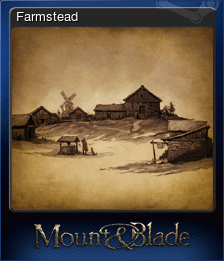 Oasis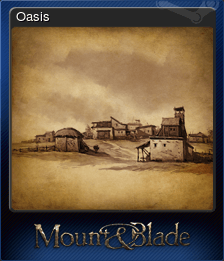 Town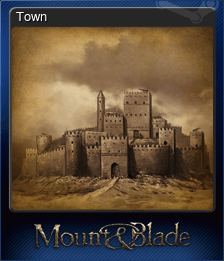 Castle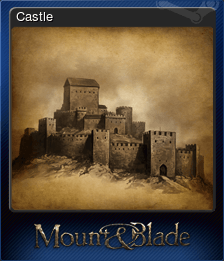 Fortress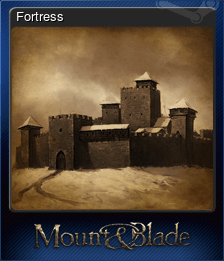 Burg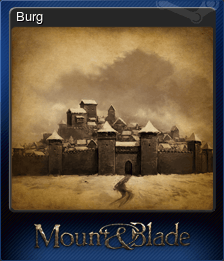 Citadel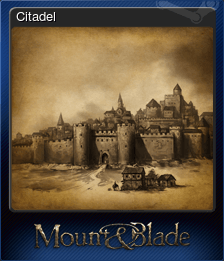 Battlefield