Pang Adventures
Release Date: 18 Apr, 2016
3074
RRP: $9.99
Our price: $5.17
The Pang series is a beloved collection of arcade video games from the early 90s. Guide two brothers on a quest around the world to save humankind from a massive alien invasion! Use your wits and skills to overcome the attack balls pouring from the skies and rescue the world's cities and landmarks from impending annihilation!
Pang Adventures brings new features and gameplay to this arcade legend while keeping true to the original spirit of the series.
● Local Co-op: Adventures are best shared! The couch-coop feature is available in every game mode, allowing friends and family to team up and save the world!
● Online Co-op: show off your skills and compete with your worldwide friends to see who can down the most balls!
● 3 different ball-popping modes:
Tour Mode: Fight back the alien forces, one location at a time!
Score Attack: Save the world with only 3 lives and NO CONTINUES! The real arcade experience!
Panic Mode: Bust balls like a legend! 99 levels of continuous battle will put your skills to the ultimate test!
● More than 100 levels scattered throughout Antarctica, Scotland, Death Valley, Bora Bora... each location with its own unique tricks and twists!
● The Pang Bros. have upgraded their gear since the last alien invasion: machine guns, flamethrowers, lasers, shurikens…you name it, they've got it!
● Boss fights! For the first time in the series, the Pang Brothers come face-to-face with the nefarious Alien Commanders! These villains didn't come to Earth for the sightseeing…so get ready to blow them to smithereens!
● Since the last invasion, the Aliens have been busy improving their attack ball technology! Electric, explosive, smoke and lava balls will all be deployed to knock you off your feet, so be prepared!
The simplest recipes make the best cookies! Pang Adventures is one delicious treat specifically designed to please your digital tastebuds and get you hooked! So keep your eyes peeled and your reflexes razor sharp to succeed and save the world!
SYSTEM REQUIREMENTS
Windows
Minimum:
OS: Windows 7, 8, 10

Processor: Core 2 Duo 2.2 Ghz

Memory: 4 GB RAM

Graphics: 256 MO 100% COMPATIBLE OPENGL 3.0 AMD RADEON HD 5000 SERIES/NVIDIA GEFORCE 9000 SERIES

DirectX: Version 9.0

Storage: 1 GB available space
FREEBIE

(Secret achievement)
KING OF POP

Shoot & pop 1000 balls
NO STRESS

Score 500 000 points in the panic mode
GOOD SAMARITAN

Revive your mate in the tour mode
TOTEM PROTECTOR

Protect 10 totems
AROUND THE WORLD

Finish the tour mode & save the world
SUPERSTAR

Get 1 star bomb bonuses
SO MUCH PANACHE!

Finish the score attack mode
PERFECTAMUNDO

Collect perfect stamps for all tour mode levels
Blue Bro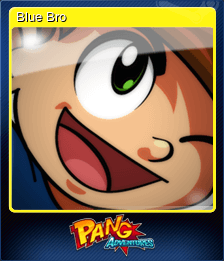 Red Bro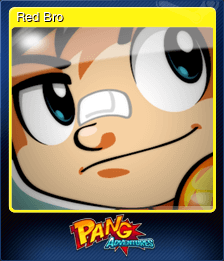 Pang crab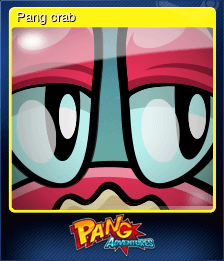 Seagull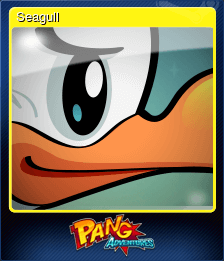 Pang Hermit