Magical Waifus Academy
Release Date: 11 Feb, 2021
1329
RRP: $9.99
Our price: $6.37
18+, THIS GAME IS FOR AN ADULT AUDIENCE ONLY.
All characters depicted in the game are 18 years old or older.
You are an aspiring mage, discovering new realms and dungeons through a magical portal. You accidentally stumble upon a spell that can direct the portal to a realm filled with sexy creatures wanting a bit of fun before they kick your ass back out!
Magical Waifu Academy is a vibrant RPG filled with monstergirls and sexual content. In total, there are 26 girls and 14 high resolution scenes for you to "research".
Don't forget to check the game files for bonus content!
SYSTEM REQUIREMENTS
Windows
Minimum:
OS: Windows 7 or newer

Processor: Dual Core

Memory: 1 GB RAM

Storage: 120 MB available space
The "cafeteria"

Enter the cafeteria and start your adventure!
The prince and the bull princess

Impress Europa the minotaur
The Blue Spartan

You're a legend!
Fresh meat

Impress Saki the hellhound. She's definitely a normal hellhound right?
Master of Combat Magic

Learn all possible spells in the game
BFD

Augment your dispelling abilities
There is always more to learn...

Some spells are not taught in old books
A+

Pass all exams, cementing your superiority.
Till I do Death part

(Secret achievement)
Lawful Neutral

Learn about the ancient laws of the dragons
Full house

Complete the gallery and then drink a love potion
From lonely to horny

Have a definitive victory over the last Great Ice Wyrm
Egg hunter

Collect all easter eggs in the Academy
From ash to ash

Meet the founders of the Club of Embers. You can see them in the shower room while Fae has a special costume.
It won't be this easy

(Secret achievement)
Top of the morning!

Take a shower first thing in the morning
I spy with my little eye...

Meet with Charlotte the chameleon. You can see her in the shower room while Fae has a special costume.
The prince and the frog

Meet with Kiku the frog. You can see her in the shower room while Fae has a special costume.
It's super effective!

(Secret achievement)
Soapy hands

Take a shower after dinner
Early riser
Is it really late or really early?
Night owl

Take a shower in the middle of the night
Freshen up for the night

Take a shower right before night time
End of classes

Reach the canon end of the semester
Mourning wood

(Secret achievement)
Master Caster

Cast the most complex and powerful spell in the game under 2 seconds
The Ambers, the dynamic duo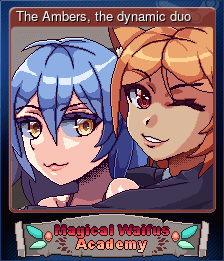 Ayla, promising Initiate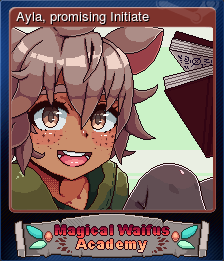 GrandWitch Cait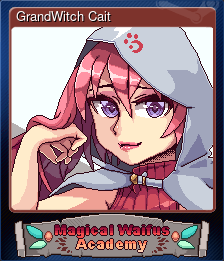 Europa, heir of the Minos family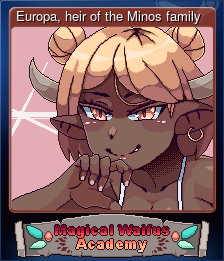 Fae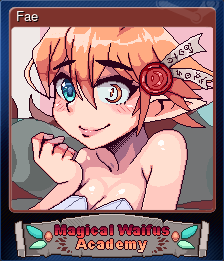 Julie, the "human"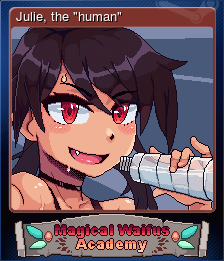 Libertin Korai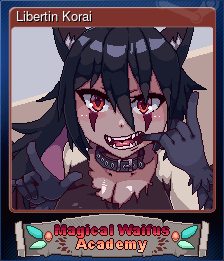 Saki, Magebane