MotionMuse
Release Date: 16 Feb, 2022
768
RRP: $34.99
Our price: $4.91
MotionMuse provides an easy to use animation tool-set for 3D character animation. No rigging of the character is required as the bone hierarchy itself is used for articulating motion. MotionMuse is an ideal tool for game developers, indie developers, freelancers and animators to quickly and easily prototype character animations.
Features
Retargeting: Transferring animation across characters, supports different skeletons.
Motion-Editing: Spline based path editing of spatio-temporal constraints for limbs.
Inverse Kinematics: Fast IK solver for partial or full body adjustment for quick posing.
Spline Sketching: Pose limbs by drawing, sketch is converted to spline for fine adjustments.
Curve Editor: Supports various tangents and interpolations for precise motion control.
Image Overlays: Load/save images onto a scene to trace poses for quick prototyping.
File Formats: Import support for fbx, dae, bvh, gltf/glb, vrm files with export to fbx/dae.
Note: Only characters with bones are supported, as no rigging tools are currently available.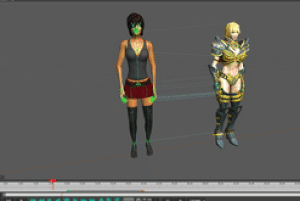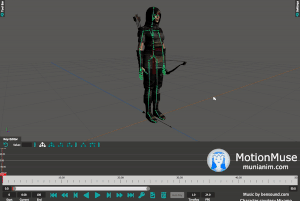 SYSTEM REQUIREMENTS
Windows
Minimum:
Requires a 64-bit processor and operating system

OS: Windows 7 to 11, 64 Bit

Processor: Intel Core i3 or AMD Ryzen 3

Memory: 8 GB RAM

Graphics: OpenGL 4.3 or above

Storage: 200 MB available space
Recommended:
Requires a 64-bit processor and operating system

OS: Windows 7 to 11, 64 Bit

Processor: Intel Core i7 or AMD Ryzen 7

Memory: 16 GB RAM

Graphics: OpenGL 4.3 or above

Storage: 250 MB available space
Mac OS X
Minimum:
Requires a 64-bit processor and operating system
Recommended:
Requires a 64-bit processor and operating system
SteamOS + Linux
Minimum:
Requires a 64-bit processor and operating system
Recommended:
Requires a 64-bit processor and operating system