GoKart - NewMexico
Release Date: 17 Feb, 2022
570
RRP: $19.99
Our price: $1.44
Start your engines and prepare for the ultimate driving experience. Compete against the clock or up to 3 of your friends, choosing from a diverse set of stunning and challenging tracks.
To play this Windows/Mac game you will have to try a new way of playing games - have a look at screenshots - Instructions.
You will be using your cellphone(s) to control GoKart(s) - cellphone has to be connected to the same local network as the computer running the game. Free apps available for Android and iPhone - search for GoKartNM (white helmet icon).
Our new technology gives you the ultimate controller for this high-adrenaline driving game. Super simple, yet super fun to use!
Update April 30th 2022 - Controller support added!
Besides using cell phones for driving, players can now use controllers to drive. This also enables remote play together mode. Notice that remote players will not have vibration support on their controllers. Also, only local players are able to connect using their cellphones.
Cutting edge technology provides a natural feel to the steering, bringing car vibrations and continuous gas and brake control into your hands! Furiously fast and unbelievably fun, feel the power of a cleanly simulated, realistic driving experience with razor-sharp precision, powerslides and drifts like you have never seen before!
FEATURES
New cutting edge technology super simple to connect and with no calibration enables ultimate driving experience. (see instructions screenshot)

Force feedback – vibration – when close to skidding makes you push the boundaries

Fun features like car horns, sunglasses, rearview camera, free-look around, and custom handmade graphics

Fun artistic effects add texture to play with colorful, permanent skid marks, dust clouds, tire burn smoke, fire, and backfire

Ten tracks, with indoor/outdoor and night racing options, provide diverse experiences with varying levels of challenge

Multiplayer split-screen, duel player vertical or horizontal split-screen modes

Various camera views allow players to choose between several perspectives while racing

Unique custom physics car model

Car tires get dirty off-road and get clean on-road while spraying sand
ACKNOWLEDGMENTS
This is my very first Unity game. I would like to thank Evgeny Turmy for many good advice. Also, I thank numerous YouTube resources - Code Monkey, Jason Weimann, and Wlad Marhulets for the excellent book.
INSTRUCTIONS
FUN!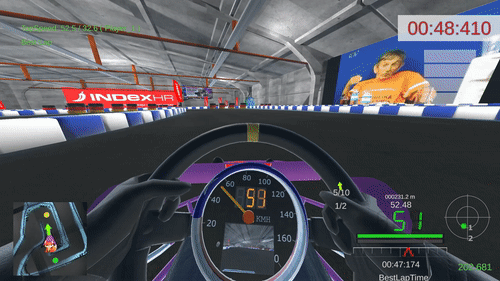 SYSTEM REQUIREMENTS
Windows
Minimum:
OS: Windows 10

Processor: 2 GHz

Memory: 2 GB RAM

Graphics: Integrated

Network: Broadband Internet connection

Storage: 3 GB available space

Sound Card: Integrated

Additional Notes: More players require more CPU power
Recommended:
OS: Windows 10

Processor: 2 GHz

Memory: 2 GB RAM

Graphics: GTX 1050

Network: Broadband Internet connection

Storage: 3 GB available space

Sound Card: Integrated

Additional Notes: More players require more CPU power
Mac OS X
Minimum:
OS: macOS 10

Processor: 2 GHz

Memory: 2 GB RAM

Graphics: Integrated

Network: Broadband Internet connection

Storage: 3 GB available space

Sound Card: Integrated
Recommended:
OS: macOS 10

Processor: 2 GHz

Graphics: Radeon Pro

Network: Broadband Internet connection

Storage: 3 GB available space

Sound Card: Integrated