Goliath
Release Date: 12 May, 2016
2579
RRP: $11.99
Our price: $2.90
Get Ready For A Giant-Sized Adventure!
Welcome to the world of Goliath, an action-adventure about crafting giant robots and punching monsters in the face! After stumbling through a mysterious rift, you find yourself in a mysterious world consisting of the jumbled fragments of a hundred dead civilizations. Ruined buildings from 1930s America share space with wrecked pirate ships and the overgrown remains of spaceships from a far-flung future. Several powerful factions battle for control of this strange and broken land, but even the strongest among them tremble in fear of the monstrous giants that roam the land. Fortunately, you can build giants of your own! Search the world for the items you need to craft tools and weapons, including giant robotic suits called Goliaths that will help you even the odd against the enormous creatures you confront!
To survive among the giant creatures in this dangerous and mysterious world, you must scavenge for resources and create Goliaths to battle your life. Starting with simple wooden versions, you will learn to create dozens of Goliaths from a variety of materials: wood, stone, metal and other more unique materials found in the world. Your Goliath can be customized and outfitted with weapons to create options that are perfect for every situation and players' preferences. But robots won't solve every problem. You'll also need to craft items and tools, build shelters and fortresses, and choose which factions to side with in the war that's sweeping across the land.
Features
Build A 'Bot: Learn how to create dozens of robotic Goliath suits from a variety of materials, including wood, stone, metal and more. Each Goliath can be customized and equipped with a variety of weapons and add-ons that grant new abilities.

Survive A Savage Land: Gather materials to build the tools needed to survive, including healing salves, protective fortresses and more. As players explore the world, they'll learn more complex recipes for better tools and weapons.

A Living World: Explore rolling prairies, dense forests, eerie swamps, frozen tundras and more, all with a complete day/night cycle and dynamic weather. Weather and terrain will affect how each Goliath type performs, so make sure you have the right machine for the job!

Choose A Side: Several factions vie for control of resources and territory in the world of Goliath. Each faction can offer different strategic advantages in unique weapon and robot plans, so you must carefully choose which factions to align with. Broker a peace deal or rally your faction to accelerate the war!

Procedurally Generated World: With procedurally generated environments and quests, the world of Goliath is full of surprises!
SYSTEM REQUIREMENTS
Windows
Minimum:
OS: Windows® 7, Windows® 8, Windows® 10

Processor: Intel® Core™ 2 Duo, AMD Athlon™ x2 6400+, or equal at 1.6GHz or better

Memory: 4 GB RAM

Graphics: nVidia® 8800 GT / AMD® 4670 or faster with 1GB VRAM (Mobile chipsets may not work), DirectX® 9.0c-compliant, SM 3.0-compliant

DirectX: Version 9.0c

Storage: 2 GB available space

Sound Card: DirectX® 9.0c-compatible, 16-bit
Mac OS X
Minimum:
OS: Macintosh® OS X 10.10-10.11

Processor: Intel® Core™ 2 Duo processor 1.6 GHz or faster

Memory: 4 MB RAM

Storage: 2 GB available space
SteamOS + Linux
Minimum:
OS: Ubuntu 14.04 LTS

Processor: Intel® Core™ 2 Duo processor 1.6 GHz or faster

Memory: 4 MB RAM

Storage: 2 GB available space
Woodworker

Build your first Wooden Goliath
Stranger in a Strange Land

Complete the tutorial
What Does the Fox Say?

Meet the Forest Brotherhood
ARRGH!

Get Drogkh to the base
Rock Your World

Build your first Stone Goliath
For a Rainy Day

Get 5000 gold
EXTERMINATE!

Kill 500 enemies
Don't Curse!

Defeat the Cursed Monster
Fortune and Glory, Kid

Get Thomas F. Melton to the base
Tonight We are Young

Reach level 20
Pay the Iron Price

Meet the Forgers
Rock it!

Kill 50 enemies with Wooden Goliath catapult
Full Metal Threat

Build your first Metal Goliath
Lost in Translation

Learn Trollese, Gnarkish and Golemian
Lawful Good

Get Sheriff Willy to the base
Shopaholic

Spend 10.000 gold in shops
Money Isn't Everything

Defeat the Great Treasure Hunter
Man with No Name

Kill 50 enemies with the revolver
I Want to Believe

Meet the Created
#Fabulous

Equip Goliath with two fabulous weapons at the same time
Let's Get Metaphysical

Build your first Crystal Goliath
Even More Metal Than You

Get T1NK3R3R to the base
No Pain No Gain

Break 50 Goliaths
Just Married

Successfully perform the ceremony of Pygmy's marriage
Forty is the New Twenty

Reach level 40
Good Samaritan

Complete 10 side quests
Storm the Castle

Defeat the Castle
Playing Nice

Get 100% reputation for all three factions
Heroes on Demand

Became a member of Order
PREPARE YOUR BRAIN

Defeat the Guard of the Citadel
If You Gaze Long into the Void...

Defeat the Final Boss
The Final Frontier

Find the Citadel
Lightnin' Up

Kill 50 enemies with Crystal Goliath lightning storm
Gravity fell

Complete all quests in the House of Miracles
Ram it Down

Kill 50 enemies with Stone Goliath ram
Good fellas

Re-educate the gang of youth thugs
Lady Buccaneer

Get Baroness Victoria to the base
Goliath Army

Unlock all unique Goliaths
Dead Man's Chests

Find 15 treasures
Ferdinand Magellan

Visit all shards in the game
Rockets Man

Kill 50 enemies with Metal Goliath rockets
Wooden Goliath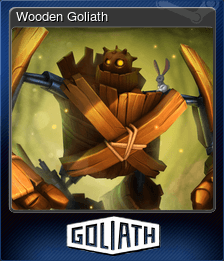 Stone Goliath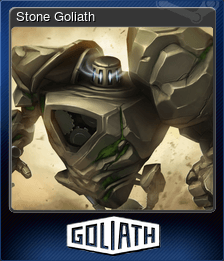 Iron Goliath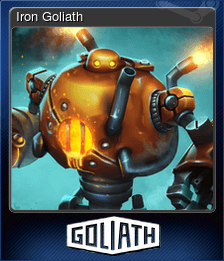 Forest Brotherhood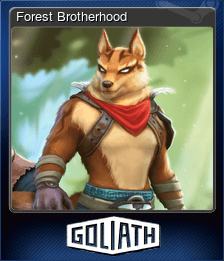 The Forgers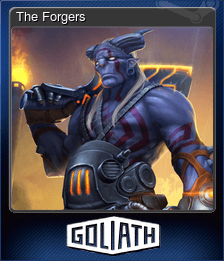 The Created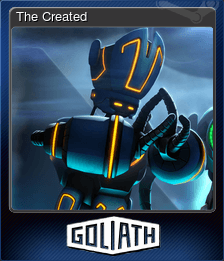 Crystal Goliath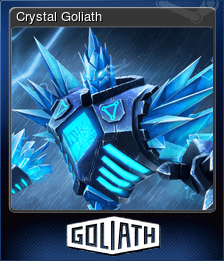 Andrew Gromov