Tabletop Simulator
Release Date: 5 Jun, 2015
2747
VR Support
Take your tabletop gaming to a whole new level in virtual reality with the HTC Vive & Oculus Rift! And what's more, both VR and non-VR players alike can play together in the same game room!
About the Game
Create your own original games, import custom assets, automate games with scripting, set up complete RPG dungeons, manipulate the physics, create hinges & joints, and of course flip the table when you are losing the game. All with an easy to use system integrated with Steam Workshop. You can do anything you want in Tabletop Simulator. The possibilities are endless!
Endless Games
Tabletop Simulator has it all. The base game includes 15 classics like Chess, Poker, Jigsaw Puzzles, Dominoes, and Mahjong. Additionally, there are thousands of community created content on the Workshop. If you're the tabletop gaming type, we include an RPG Kit which has tilesets & furniture, as well as animated figurines that you can set up and battle with your friends, with even more options in the Chest. There's even an option for Game Masters so they can control the table!
Create Games
If you're into creativity and prototyping, you can easily create your own games by importing images onto custom boards & tables, create custom decks, import 3D models, create scripts, and much more. You can choose to upload your creations on the Steam Workshop or share them privately with your friends.
Fun For All Ages
Everyone can play Tabletop Simulator! Play a classic board game with grandma, have poker night with the guys, or start your epic RPG adventure with your crew. Play almost any tabletop game you can think of! Being a multiplayer-focused game, up to
10
players can play at any given time.
DLCs
Our downloadable content (DLCs) are different from other games, as we partner with developers and publishers to bring their games into Tabletop Simulator. Each DLC is custom created with high quality assets and special themes that match their games. And best of all, only the host needs to own the DLC for everyone at the table to play.
Key Features
:
Online sandbox with unlimited games to play how you want.

Multiplayer physics with objects that collide and interact just how you would expect.

Create your own mods easily with full Steam Workshop support and 3D model importing.

Take games to the next level with Lua scripting support.

Play just like you do in real life; pick up, rotate, shake, and throw any object.

Up to 10 people can play together on the same table.

Team system with voice and text chat.

Save & load individual objects and complete games.

Hotseat allows you to play locally on the same computer with your friends.

Browse the internet, listen to music, and watch videos in multiplayer, in-game on a tablet.

Perfect for RPGs - build your very own roleplaying dungeons with our modular tileset, RPG Kit, Multiple States and Tablet (useful for character sheets).

Great admin tools to enable or disable player permissions and to eliminate griefing in public games.

360° panoramic backgrounds that change the lighting and atmosphere.

Included games: Backgammon, Cards, Chess, Checkers, Chinese Checkers, Custom Board, Dice, Dominoes, Go, Jigsaw Puzzles, Mahjong, Pachisi, Piecepack, Poker, Reversi, RPG Kit, Sandbox, Solitaire, and Tablet.
SYSTEM REQUIREMENTS
Windows
Minimum:
OS: Windows XP SP2

Memory: 4 GB RAM

Graphics: Integrated

Network: Broadband Internet connection

Storage: 6 GB available space
Mac OS X
Minimum:
OS: OSX 10.8

Memory: 4 GB RAM

Graphics: Integrated

Network: Broadband Internet connection

Storage: 6 GB available space
SteamOS + Linux
Minimum:
Memory: 4 GB RAM

Graphics: Integrated

Network: Broadband Internet connection

Storage: 6 GB available space
Follow the leader

Play a game with someone on your friend's list
Restraint

Play the game for 1 hour without flipping the table.
Did you do it?

Complete the in-game tutorial.
Good Times

Play Tabletop Simulator for over 10 hours.
Too weak

You tried to flip the table… and failed!
Be Social

You posted a message in global chat, hurray!
Attack of the Figurines!

Have two RPG figurines attack one another. They must hit!
Complete Set

Play a game with a full room of 8 players.
Confidential

Use your personal color page in the notebook.
Space Time Fun

Play a game in zero gravity.
Surprise!

(Secret achievement)
Faithful

Play Tabletop Simulator for over 50 hours.
Devoted

Play Tabletop Simulator for over 100 hours.
A Spot of Tea?

Play a civilized game of Chess for 1 hour.
Rage Quit

Flip the table in an absolute fit of rage… 100 times.
Wishy-Washy

Change your color more than 50 times.
Speed Machine

Complete the tutorial in under 30 seconds.
Color me pretty

Tint 1000 objects a different color.
Treasure Trove

Save 100 items to your Chest.
Dedication

Play Tabletop Simulator for over 200 hours.
Laser Light Show

Create an 8 player "light show" with the line drawing tool.
Don't Touch!

Lock 5000 items over time.
Money, Money, Money

Spawn 10,000 poker chips!
Sharing is Caring

Upload at least 3 legitimate Steam Workshop items.
Addict

Play Tabletop Simulator for over 500 hours.
Ultimate Rage

Flip the table over 1000 times.
True Champion

Play Tabletop Simulator for over 1000 hours.
Table Flippin'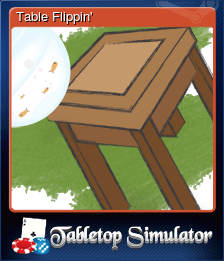 Dominoes Toppling!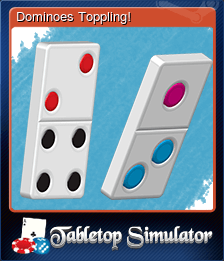 Am I Just a Pawn?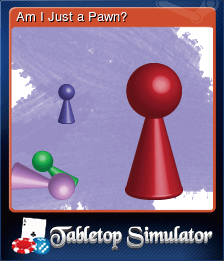 Ace of Hearts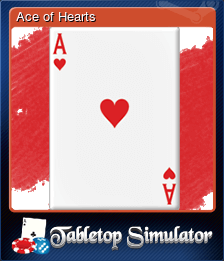 I Am Royalty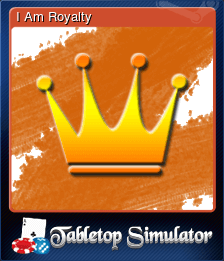 Dice 'Tastrophe