Resident Evil: Revelations 2 - Deluxe Edition (EMEA ONLY)
RRP: $29.99
Our price: $24.10
THIS CONTENT CAN BE REDEEMED IN EMEA REGIONS ONLY
This pack contains:
EPISODES
Episode 1: Penal Colony
Episode 2: Contemplation
Episode 3: Judgment
Episode 4: Metamorphosis
Extra Ep 1: The Struggle
Extra Ep 2: Little Miss
Costumes
Barry's Commandant Costume
Claire's Rodeo Costume
Moira's Urban Ninja Costume
Natalia's Lottie Suit Costume
Raid Mode: Characters
Raid Mode: Maps
Storage
Album Storage A
Album Storage B
Album Storage C
Parts Storage A
Parts Storage B
Parts Storage C
Weapon Storage A
Weapon Storage B
Weapon Storage C
The beginning of the Resident Evil Revelations 2 tale sees fan favorite Claire Redfield make a dramatic return. Survivor of the Raccoon City incident depicted in previous Resident Evil games, Claire now works for the anti-bioterrorism organization Terra Save. Moira Burton, is attending her welcome party for Terra Save when unknown armed forces storm the office. Claire and Moira are knocked unconscious and awaken later to find themselves in a dark and abandoned detention facility. Working together, they must find out who took them and to what sinister end. Will Claire and Moira make it out alive and discover what's led to them being taken to this remote island? A story of twists and turns will have players guessing the next step at every turn.
Headed for the remote prison island in search of his missing daughter, Barry Burton meets brand new character Natalia Korda, a little girl who has a strange power that allows her to sense enemies and hidden items. Using this skill alongside Barry's proven combat abilities, players will need to alternate between the two to survive the mysterious island and find Moira. With terrifying enemies waiting around every dark corner, Barry will need to use his ammo and weapon supply wisely, in classic survival horror style.
Evolving the episodic chapter set-up of the original Resident Evil Revelations, Resident Evil Revelations 2 was initially released as a weekly series of episodic downloads beginning on February 24, 2015. Players now have the opportunity to access the entire Resident Evil Revelations 2 content with this ultimate Deluxe Edition
Key Features:
Survival horror returns – A brand new tale in the Resident Evil Revelations saga comes to current and next generation gaming consoles in the form of weekly episodic downloads, a digital Complete Season and retail disc.

Experience the horror event of the season – Each weekly episode will feature hours of terrifying gameplay and dramatic cliffhangers to leave players eagerly anticipating the next twist in the gripping horror story.

Clare Redfield and Moira Burton star – Fan favorite Claire returns to the horrors that haunted her in the past alongside Moira Burton, daughter of Resident Evil legend Barry Burton.

Barry is back! – Fan favorite and classic S.T.A.R.S. member Barry Burton will be returning, as he searches for his missing daughter who is trapped on a remote prison island.

Evil is watching – Set in what appears to be an abandoned detention facility on a remote island, the horror awaits players around every dark corner. Will there be a way to escape?

New enemy types – The Rotten have bones that are visible through their bodies and stop at nothing to hunt down to hunt down the living, and the horrific Revenant are formed from parts of human beings sewn together.

Assistive co-op play – Players will need to switch between the two characters (Claire/Moira, Barry/Natalia) to overcome the nightmares.

Robust Raid mode – In addition to the deep story mode, Raid mode returns with its addicting fast-action combat. The new and improved Raid mode features 15 characters and over 200 stages, with a ton of new content such as new stages from previously-released RE titles, a deeper progression mechanic, additional difficulty levels, new weapons and weapon parts, and 4x as many character skills as in Revs 1.
Now That's Teamwork!

Have Moira stun an enemy and Claire follow up with a physical attack in the main campaign.
Three Women and a Barry

Clear Episode One.
Raiders of the Evil

Clear one Raid Mode mission.
Jammin'

Evaluate an item in Raid Mode.
Cure for the Afflicted

Defeat 100 Afflicted in the main campaign.
Scared to Death

Clear Episode Two.
I Saw, I Conquered

Clear one Gauntlet in Raid Mode.
Conquered Fear

Clear Episode Three.
True or False

Clear Episode Four.
Bounty Hunter

Get a total of 50,000 BP.
"I Do Not Like Glasps," I Gasped

Defeat 20 Glasps in the main campaign.
A Ripple in Time

Obtain the item that lies beyond the gate in the sewers in Barry's Episode Three.
Here's My Resignation

Moira defeats Neil in Claire's Episode Three.
Who Needs Fire?

Escape from the detention center in Claire's Episode One without using the flame-thrower bust.
From the Shadows

Defeat 20 enemies with stealth attacks in the main campaign.
Knifin' Around

Defeat 100 enemies with the knife in the main campaign.
Line 'Em Up!

Defeat two enemies with one shot in the main campaign.
Friend Indeed

Save your captured partner ten times in the main campaign.
Revenant Reaper

Defeat 100 Revenants in the main campaign.
Pedro, I'm Sorry...

Defeat Mutant Pedro in Claire's Episode Two.
Fish in a Barrel

Defeat five enemies with one exploding bottle or one firebomb bottle in the main campaign.
Flashlight Duty

Use Moira's light to stun 50 enemies in the main campaign.
I Can Do Blunt Weapons

Use Moira's crowbar to defeat 50 enemies in the main campaign.
And STAY Down

Perform 50 follow-ups in the main campaign.
What You Can't See Can Kill You
Defeat six or more Glasps in the monument in Claire's Episode Four, on Normal difficulty or higher.
Routes of Future Past

Complete both routes through the landfill in Barry's Episode Four.
Brick Layer

Defeat 20 enemies with a brick as Natalia in the main campaign.
"Less Talking, More Walking"

Clear Episode One in Countdown Mode.
"Not Even Close to Easy"

Clear Episode One in Invisible Mode.
"Run, Moira. Run!"

Clear Episode Two in Countdown Mode.
Fudge Them Up!

Defeat 50 enemies with physical attacks in the main campaign.
"That's Gonna Be Fun"

Clear Episode Two in Invisible Mode.
Cutting Edge

Clear Episode One only using the knife.
Unfriendly Skies

Shoot down 30 Afflicted in mid-jump in the main campaign.
Only Good Guys Win Medals

Get all medals in Episode One.
I Can See Undead People

Clear Episode Three in Invisible Mode.
"You are Authorized to Panic"

Clear Episode Four in Countdown Mode.
"There's Something in Here"

Clear Episode Four in Invisible Mode.
Pedal to the Metal

Clear Episode Three in Countdown Mode.
There's a Medal for That

Get all medals in Episode Two.
Sweet, Golden Medal

Get all medals in Episode Three.
I'm Not Leaving Without My Medal

Get all medals in Episode Four.
Disarmed

Destroy 30 Revenants' weapon arms.
Afflicted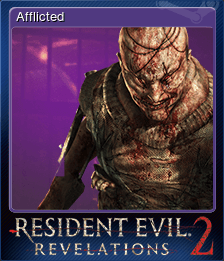 Barry Burton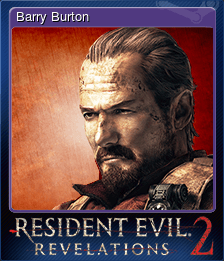 Claire Redfield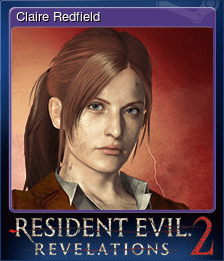 Ironhead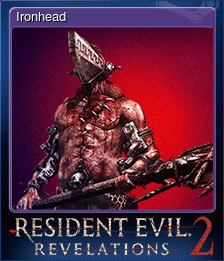 Moira Burton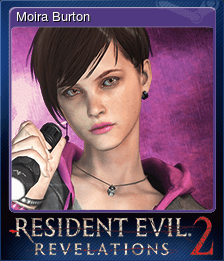 Natalia Korda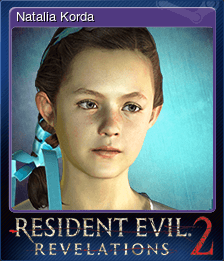 Glasp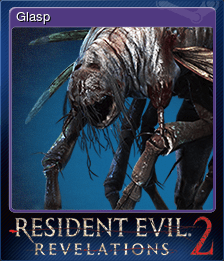 Rotten