The 39 Steps
Release Date: 25 Apr, 2013
2543
RRP: $14.99
Our price: $0.80
Prepare to experience the original man-on-the-run thriller in a completely new way. This is a digital adaptation of John Buchan's incredible book (inspiration to Ian Fleming's James Bond!). Be transported back to 1914 London, where Richard Hannay finds himself framed for a murder he didn't commit. Now he must escape the Capital and stay alive long enough to solve the riddle of The Thirty-Nine Steps. There are secrets to be discovered, locations to be explored and - above all - an incredible tale to be told in this ground-breaking interactive novel.


Key Features:
A new form of entertainment, merging the worlds of literature, gaming and film into one visually stunning storyline.
Faithfully constructed using the original - and best-selling - John Buchan text, first published in 1915.
Hundreds of hand-painted digital environments, and authentic materials from 1910s Britain.
8 different storytelling mechanics, 25 collectible items and 16 awards to be unlocked.
An original soundtrack by Si Begg and theatrical voice performances, including Ian Hanmore, Greg Hemphill and Benny Young
Created in Unity4, with a playtime of 5-8 hours.
SYSTEM REQUIREMENTS
Windows
Minimum:
OS:Windows XP
Processor:2GHz Processor
Memory:2 GB RAM
Graphics:DirectX 9 512MB card
Hard Drive:2 GB HD space
Other Requirements:Broadband Internet connection
Mac OS X
Minimum:
OS:OSX
Processor:2.2GHz dual core processor
Memory:2 GB RAM
Graphics:GPU 128MB+
Hard Drive:2 GB HD space
Other Requirements:Broadband Internet connection
The Wrong Ditch

Richard Hannay is living in London, England. He yearns for a more interesting life.
An Unlikely Visit

Resolved to leave England for the Cape, Hannay's outlook changes as a mysterious visitor drops by.
Deeper into this Mess

Scudder has confided in Hannay, but he is not out of danger. Officially dead, he must now lie low.
In The Soup

The murder of the American spy suggests he wasn't talking hot air. But everything points to Hannay as the killer.
Third Class Citizen

Wanted by the police for murder, and by the real killers for knowing too much, Hannay must flee London.
Sanctuary of the Inn

With a considerable distance between himself and his pursuers, Hannay makes his next move.
A Pack of Lies

Having decoded Scudder's book, Hannay now has all the facts - if only he can remain hidden until the second week of June.
The Radical Candidate

Sir Harry's pickle turns out to Hannay's advantage as he makes friends in high places.
Grave News

Sir Walter Bullivant takes Hannay at his word, but fears Scudder's findings may have been a little off track.
Run to the Hills

Hannay must lie low. But the Scottish police are pursuing him, with an advantage on their home turf.
Masters of Disguise

Hannay is confident he has the right place, but doubts begin to surface when he sees the target.
The Game is Up
Things are looking desperate for Hannay, as his pursuers gain the upper hand. Running is the only option.
Downward Spiral

Damaged and intoxicated, Hannay escapes the clutches of the Black Stone, but they know he is nearby.
Desperate Measures

In the jaws of the enemy, Hannay's fate appears sealed. The clock is ticking against Hannay and Great Britain.
The Roadman

As a bespectacled roadman, Hannay comes face to face with his enemies in a grueling battle of wits.
Dry-Fly Fisherman

Turnbull's nursing brings Hannay back to fighting fitness. But time is running out as June 15 draws near.
The Black Stone

The Foreign Office's meeting with Royer is brought forward in a bid to derail the Black Stone's plot.
The Thirty-Nine Steps

All seems lost. But could Scudder's pocket book hold the secret to the Black Stone's whereabouts?
High Tides

Could Hannay have got it all wrong? The final stand will reveal all.
Completed All Events

You now know the secrets of the deadly Black Stone and The Thirty-Nine Steps!
Alexander Turnbull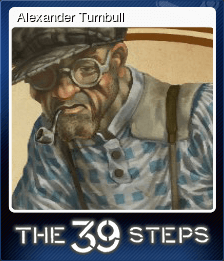 Constantine Karolides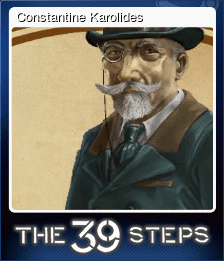 Paddock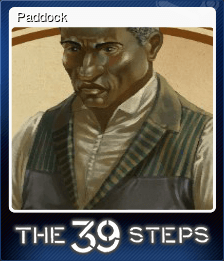 Peter Pienaar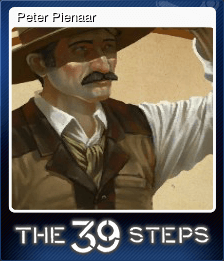 Richard Hannay