Car Mechanic Simulator VR
Release Date: 8 Jun, 2021
1037
RRP: $19.99
Our price: $3.39
About the Game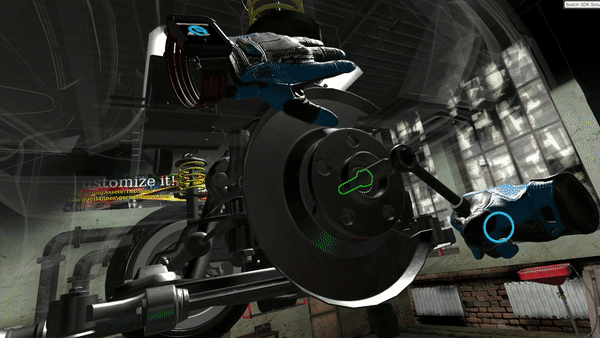 Car Mechanic Simulator VR challenges players to repair, paint, tune and drive cars in the fully 3D world. Find classic, unique cars in the new Barn Find module and Junkyard module. Build and expand your repair service empire in this incredibly detailed and highly realistic virtual reality simulation game, where attention to car detail is astonishing. All this with new, photorealistic graphics and a virtual reality experience. Features: cars (42), tools (10+), and unique parts and options (1000+). It's time to roll up your sleeves and get to work in full immersive gameplay!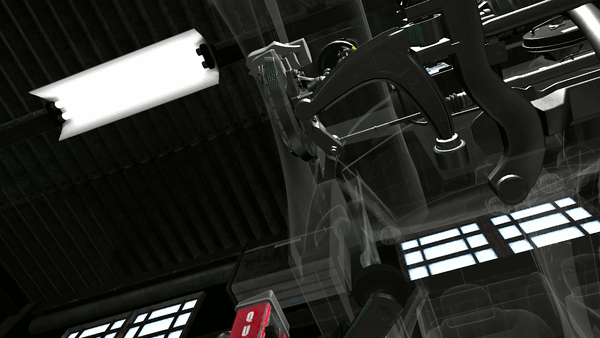 Car Mechanic Simulator VR also includes car auctions where old cars are available for resale or purchased for your collection. The game's infinite number of randomly generated missions will keep you more than busy (and dirty). Thanks to the capabilities of virtual reality you can get closer to the beautiful and rare vehicles of your dreams.
Each mission offers its own unique challenge of varying difficulty and time constraints to meet. If additional and extra tools are needed, they available for purchase. You can eventually upgrade your garage to include specific equipment such as a lacquer sprayer or a parts warehouse.
Supported VR goggles/headsets:
HTC Cosmos
HTC Cosmos Elite
HTC Vive
HTC Vive Pro
Microsoft Mixed Reality (various VR headsets, not AR)
Oculus Quest (link only)
Oculus Quest 2 (link only)
Oculus Rift
Oculus Rift S
Steam VR (various VR headsets)
Valve Index
SYSTEM REQUIREMENTS
Windows
Minimum:
OS: Windows 10
Processor: Intel Core i7 / AMD Ryzen 7
Memory: 16 GB RAM
Graphics: NVIDIA GeForce GTX 1660 Ti / AMD RX 5700
DirectX: Version 11
Storage: 13 GB available space
Road test

Finish run on Test Track
More than enough is too much

Pour to much oil
Dirty hands

Fix your first car
I know how to use it

Unlock tablet
Like a boss

Reach level 3 of garage expansion
Screws on fire

Reach level 3 of unscrewing
Gadgeteer

Unlock all the tools
Loved

Reach level 3 of discount
Scrap of metal

Buy car from junkyard
First blood

Pour old oil on the floor
Cash only (Bronze)
Collect 10 000$
I can afford that (Bronze)

Spend 10 000$ in shop
Auctioneer

Buy car from auction
Rich guy

Buy new car in car salon
Connoisseur (Bronze)

Listen 100 songs
More money!

Finish order with money bonus
Appearance matters

Paint car
More experience!

Finish order with experience bonus
No way...

Finish undone order
Cash only (Silver)

Collect 100 000$
Inside matters

Detail interior of car
Racer

Visit Racetrack
Kinda naked

Drop to 0$
Regenerator (Bronze)

Fix 100 car parts (exclude body)
For sale

Renovate and sell a car
Wrench master (Bronze)

Unscrew 1 000 bolts
Cash only (Gold)

Collect 1 000 000$
Like new

Repaint a car to factory color
I can afford that (Silver)

Spend 100 000$ in shop
Vulcanizer (Bronze)

Balance 20 tires
The Dustman

Buy 3 cars from one barn
Explorer (Bronze)
Examine 250 parts
American Dream

Fix your first Bolt Hellcat
Regenerator (Silver)

Fix 500 car parts (exclude body)
Parking boy

Unlock 10 levels of parking
Hammer that body (Bronze)

Fix 100 car body parts
Connoisseur (Silver)

Listen 1 000 songs
Picky worker (Bronze)

Discard 100 orders
Dealer (Gold)

Sell 1 000 cars
Dealer (Silver)

Sell 100 cars
Dealer (Bronze)

Sell 25 cars
Connoisseur (Gold)

Listen 10 000 songs
Explorer (Gold)

Examine 10 000 parts
Explorer (Silver)

Examine 1 000 parts
Vulcanizer (Gold)

Balance 1 000 tires
Good old times

Fix 100 old cars
Regenerator (Gold)

Fix 1 000 car parts (exclude body)
Hammer that body (Silver)

Fix 500 car body parts
Hammer that body (Gold)

Fix 1 000 car body parts
Vulcanizer (Silver)

Balance 100 tires
Picky worker (Silver)

Discard 500 orders
Picky worker (Gold)

Discard 1 000 orders
Wrench master (Silver)

Unscrew 100 000 bolts
Wrench master (Gold)

Unscrew 500 000 bolts
Specialist (Bronze)

Fix 375 cars
Specialist (Silver)

Fix 750 cars
Specialist (Gold)

Fix 1 500 cars
GAME OVER

Finish all the special missions
I can afford that (Gold)
Spend 1 000 000$ in shop
Racer boy

Finish lap with time under 1 minute