Missileman Origins
Release Date: 22 Feb, 2017
8224
Proudly Published by Opium Pulses Entertainment!
Featuring Opium Pulses' very own mascot OPIUS!

Missileman Origins is a retro-esque action-platformer set in a world where robots and humans co-exist as civilians. Missileman himself is a humble bot that wishes he could, one day, become a hero. He knows he has the potential to be one, but it's never fully realized just how capable he would be. His father, Dr. James Qworp, is one among a few scientists to bring together a particular group of robots (Missileman included) to set up the first ever school for them! Things don't quite go as planned, as chaos occurs when both the scientists and bots least expect it. Could Missileman be the one to keep things under control and find out where evil is being generated?
The gameplay itself consists of running, jumping, and shooting, as well as whatever else would occur throughout the game's levels.
And when the game doesn't focus on the action and gameplay, it will bring various characters and personality to the spotlight with dialogue exchanges and cutscenes all utilizing text boxes. There will be six levels, each with a solid length, variety (as well as the in-game ABSO Robo High school to explore) and many other surprises!
SIX WIDE, ACTION-PACKED LEVELS AND BOSSES!!
INTERACT WITH OTHER CHARACTERS AND OBJECTS!!
EXPLORE AND FIND HIDDEN SECRETS!!
TRADING CARDS AND OTHER COMMUNITY ITEMS INCLUDED!!
Note: If you use gaming controllers, it is recommended to use a program (such as Joy-to-Key) to manually configure support for this game.
SYSTEM REQUIREMENTS
Windows
ABSO Robo High Arena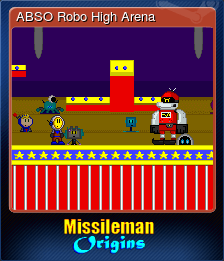 Dr. Otto's Lab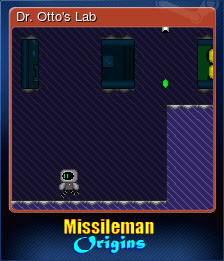 "Cool Kids" Hangout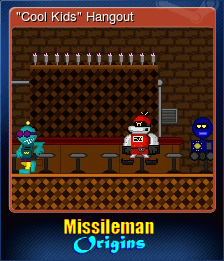 Color Palace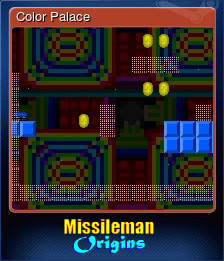 Group Picture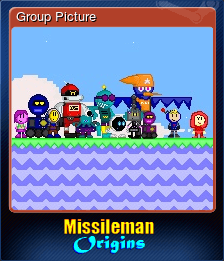 -->