Planet Earth has seen many births and deaths of Virtual Reality, from the Sensorama in the 1950s, The Sword of Damocles in the 1960s, the VideoPlace in the 1970s, the Virtual Cockpit in the 1980s, the Nintendo Virtual Boy in the 1990s, Google's Street View in the 2000s and then the Oculus Rift and HTC Vive devices that began emerging from 2010.
It's fair to argue that this incarnation of Virtual Reality has survived the longest, and although not growing at the pace many predicted, it has lasted nearly an entire decade with new technology and software being released daily. Many would say VR is now here to stay and will only integrate more with our lives as technology evolves and the concept of VR becomes more mainstream.
One barrier for many people when it comes to VR is the cost, the most advance equipment requires a powerful computer to run which could cost up to the thousands, then there's the headsets themselves, costing anywhere between $399-$799 they aren't cheap. For people living pay check to pay check it can be just too far out of reach.
But VR is slowly becoming more affordable and we're just now starting to see the birth of full standalone and wireless headsets capable of full immersion in a virtual world for a fairly reasonable price. Allow us to discuss some of those options to help in your decision, should you be considering buying one.
Samsung GearVR
The GearVR is a headset developed and released in partnership between Samsung and Oculus. The first model was released in 2015 and there have been 6 variations since, with a seemingly final version released in 2017 (the SM-R325), which supports the most phone types when using either of the Micro-USB or USB-C adaptors, supporting Samsung Galaxy devices from the S6/Note5 up to the S10/Note9. All versions feature touch controls on the headset, on-board accelerometer, gyroscope, geomagnetic and proximity sensors, a lens focus dial, Micro/USB-C charging ports and newer editions even include a three-degrees-of-freedom motion controller, which is compatible with all GearVR versions. Its arguably the most hardware and feature rich smartphone operated headset.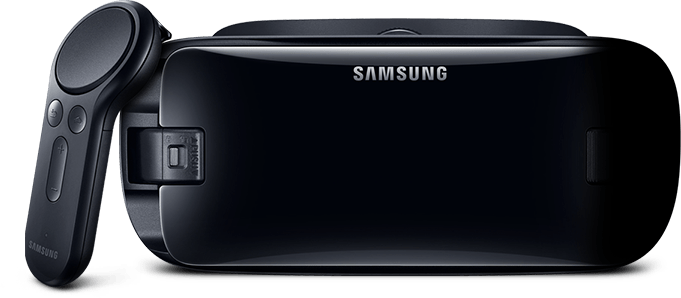 Pros
Uses Oculus store for apps and games

Great build quality and comfortable to wear

Built-in controls, power port and additional hardware

Decent field of view (96-101° depending on model)

Great 3doF controller with trigger button


Cons
Requires smartphone

Only supports Galaxy phones

Difficult to use with non-Oculus apps

No rechargeable option for controller

Requires phone to be docked at all times
Should I buy it?
The Samsung GearVR is ideal for those on a tight budget with a compatible Galaxy smartphone. It's the closest to tethered VR in the Oculus ecosystem you'll get before the Quest releases later this year, many apps and games are cross-platform and cross-purchase meaning you invest in to your next potential headset before you even own it. With built-in controls, SD card support and GPS functionality it even beats Oculus Go in some respects. If the requirement of a smartphone is a deal breaker then the Oculus Go is your best bet but these outweigh the cost of a GearVR by nearly 3 times.
---
Google Daydream View
The Daydream View is the natural successor to Google's Cardboard offering. The first edition was released in 2016 with the second and possibly final version released in 2017. The headset doesn't feature any controls so relies on its 3doF controller for this. The design uses a stylish fabric material around its body which provides a light weight and a more household item style. The headset connects with the phone using NFC and is compatible with specific handsets from Google, Samsung, HTC, LG, Huawei, Asus, Xiaomi, ZTE and Alcatel.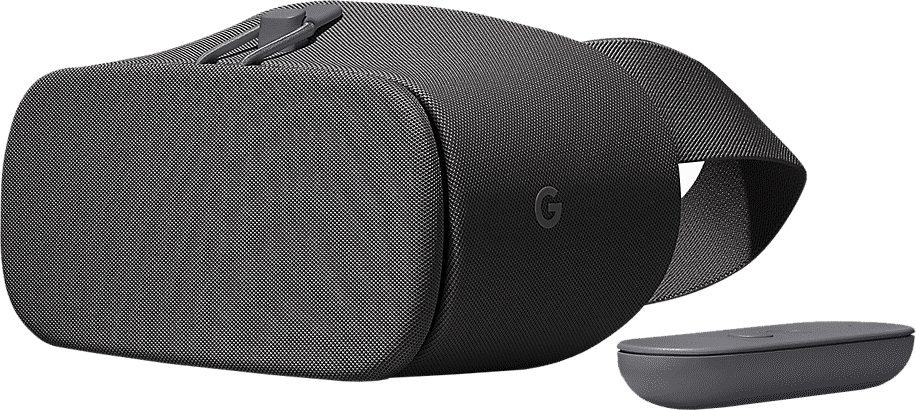 Pros
Lightweight, stylish and comfortable

Decent field of view (101° on both editions)

Compatible with handsets besides just Pixels

USB-C chargeable motion controller

Supports Daydream, Cardboard and Play Store VR apps


Cons
Requires smartphone

Limited handset support

Mediocre developer support

No physical buttons or dials on headset

Awkward controller with no trigger or grasp buttons
Should I buy it?
For us the Oculus store is a deal breaker, so we'd always go with an Oculus product before a Google one, but if you don't have a Samsung Galaxy device and are too on a tight budget then the Daydream View might be for you. Best to research if the handset you have is one officially supported first, but if you're a Pixel owner the Daydream View is the ideal headset for your portable VR needs. If style or comfort are important factors for you then the Daydream View is also the natural choice. But again if you'd rather not use your smartphone to power the headset its best to save for the Oculus Go or wait for the Oculus Quest.
---
Oculus Go
The Oculus Go, developed in partnership with both Qualcomm and Xiaomi and released in 2018, is a standalone VR headset that is neither PC tethered nor smartphone reliant. With dedicated hardware (battery, storage, processor etc.), the Oculus Go truly is the first mainstream and well supported standalone VR headset. It features a 3doF motion controller, 32/64gb storage, built-in surround sound spatial speakers and a 3.5mm headphone jack. The headset will soon be succeeded by the much improved but twice as expensive Oculus Quest in 2019.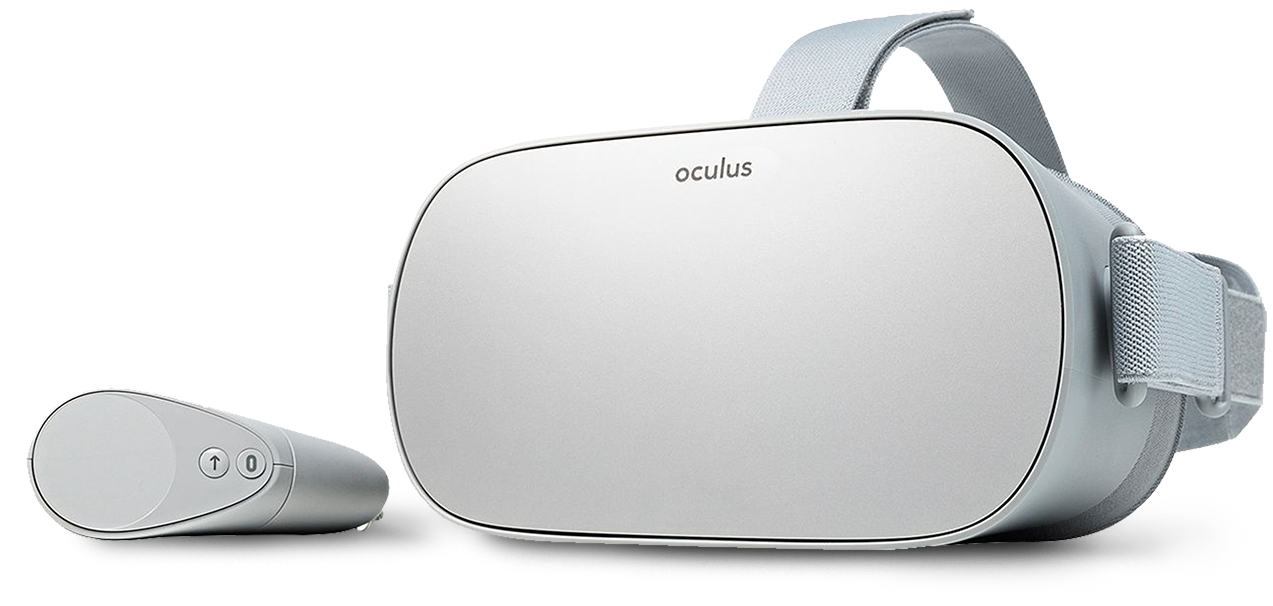 Pros
Does not require computer or smartphone

Uses Oculus store for apps and games

On board speakers, battery and storage

Great field of view (110°)

Decent 3doF controller with trigger button
Cons
No GPS and relatively weak processor (Snapdragon 821)

Almost impossible to use with non-Oculus apps

No rechargeable option for controller

Limited memory with no expansion options

No control buttons on headset
Should I buy it?
The Oculus Go is the only choice for many people for two very big reasons - 1. Non-tethered, real portability and 2. No reliability on smartphone screens and hardware. It's certainly on the higher end of what many would consider a budget headset, but what it lacks in frugalness, it 100% makes up for in sheer convenience and pick-up-and-playability. If you hate having to rely on your phone and want something truly dedicated to VR and VR alone, the Oculus Go is for you. If you want something more powerful (but much more expensive) then get the Vive Focus or wait for the Oculus Quest.
---
Generic VR Headset (/Google Cardboard)
100s of generic virtual reality headsets have been on the market for as little as $5 since the rise in popularity of Google Cardboard kits. Functionality and quality massively varies but if you do your research and don't go excessively cheap, you can get a device that supports most modern smartphones and shares the same magnet based functionality used by Google Cardboard headsets, others even come with Bluetooth controllers. We suggest downloading the Cardboard and Fulldive VR app stores to get the best out of an entry level headset like these.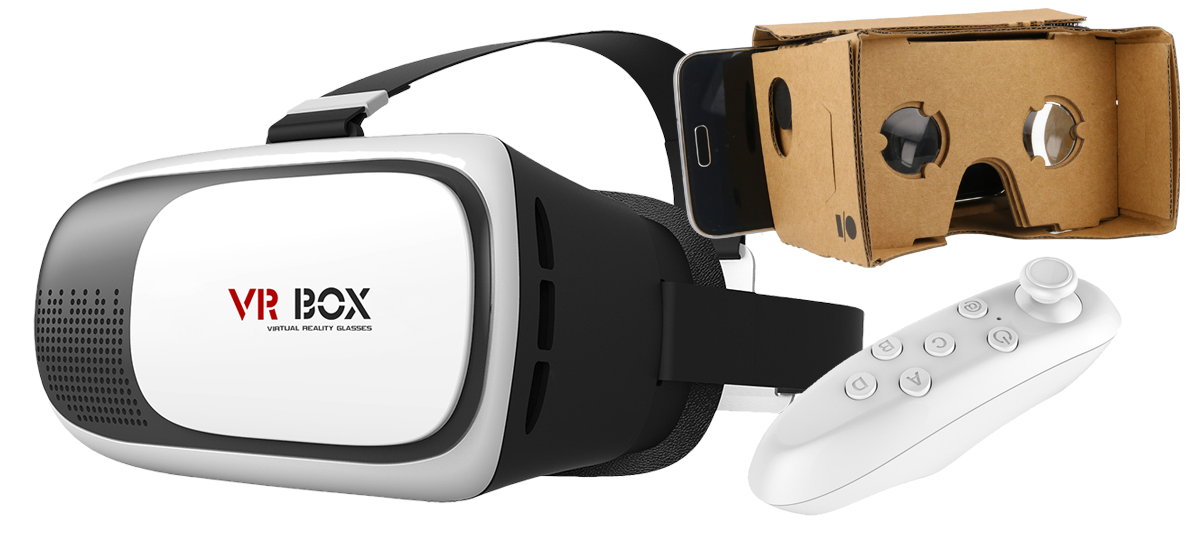 Pros
Low cost considering the potential

Lots of variety in style and features

Supports almost any smartphone capable of VR

Great gateway to more rich experiences

Good for enthusiast experiments and modifying
Cons
Relies solely on power and features of your phone

General lack of build quality and comfort

Lack of controls and functionality

No 3doF motion controller support

Very limited developer support
Should I buy one?
These headsets are the cheapest options by far and are ideal for people who want to dip their toes in to a VR experience without taking out a small loan. Yes they lack build quality and functionality and as a result, user experience – but they do give you a very base level experience of what VR has to offer, and for that they are well worth the $5-30 asking price, anything more expensive and you may as well invest in a GearVR or Daydream View – but if your phone isn't compatible with either of those I really wouldn't suggest getting a generic headset to fill the gap, as it won't be worth the investment, best to save up for an Oculus Go or borrow a friend's headset.
---
The main take away from all this is that your experience with portable devices will never match up with what is offered by tethered headsets like the Oculus Rift or HTC Vive, the portable technology and power just isn't quite there at the moment, at least not for an affordable price. Even the Oculus Quest will struggle versus its tethered cousins. But if portability or price is important for you like it is many others, the sacrifices might be worth the end result.
We use all sorts of devices here at OP and we see the potential in all of them, but we're interested in you - do you already have one of the devices covered here or maybe another of which you'd like to share your experiences? How do you feel about VR in general and do you think it will continue to grow or die another death as predicted by half a century of history? Get in touch and tell us your thoughts below!