Did you and your friends ran out of co-op titles because of all those lockdowns? Or maybe you finally want to show everyone who's the boss (actually, here you can be)? Bored out of your mind and no one to play with? BOSSGARD got you covered on all fronts! This weird mix of Vikings, cartoons and couple drops of a crazy child imagination might pull you in just right for hours of fun, all accompanied by a wide spectrum of hymns, K-pop and hardbass in the background.
Coming from Sand Sailor Studio, a small team of 8 Bucharest indie devs, the idea of the game itself is pretty simple - top-down arena boss fights, ranging from 1v5, where one player gets to control the boss, to only Vikings game type. It is a multiplayer only, but don't worry, the bots are perfectly capable of kicking your ass on their own.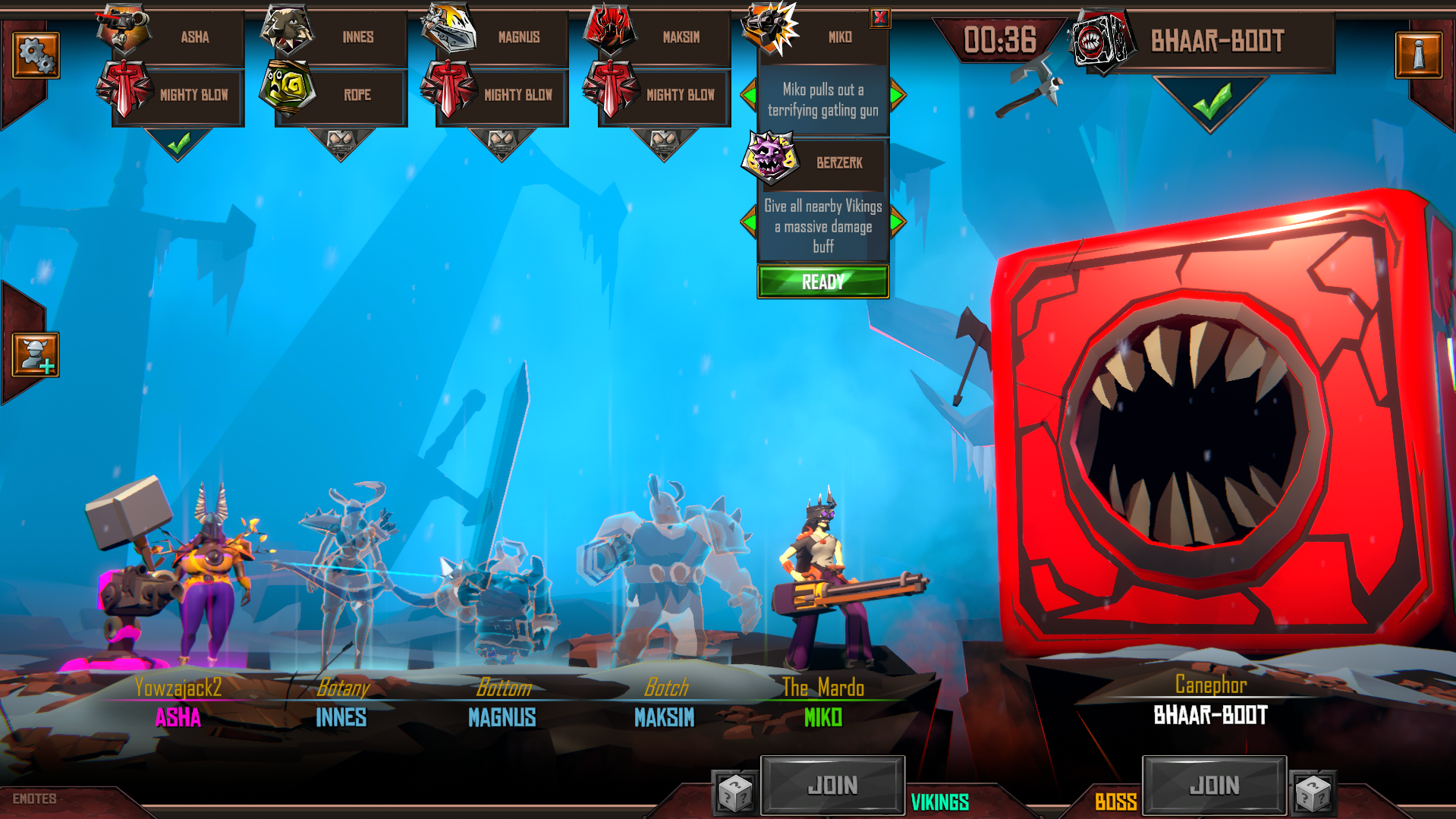 One could think that there's not much space to shine here, small game, not a lot to do except do boss fights over and over. And that's where I was surprised in a good way - absolute loads of unlockables, both visual and playable. Often I'm not a fan when I open up characters screen and I see that a bunch of options is locked out and that's the case here, but honestly, I'm glad they did that. Closing down the pool of starting characters to about 40% kinda forces newcomers to try out those few unlocked characters, but don't worry, they vary enough, so you can try out different approaches to the mechanics once or twice and suddenly you can afford a bunch of other characters. Once you will decide what fits you the most, and you want to stick with it, there's plenty of visual upgrades to each character, that's including the BOSS itself! Even if somehow you'll gear up in everything, that's where unlockable maps come to help, those are fun as hell to try out as each one got some different environment debuff like changing dead allies into mushrooms. Good thing to note here as well is there's no pay-to-win, paid loot boxes stuff or any paid DLCs at all, it's always a positive thing to see nowadays.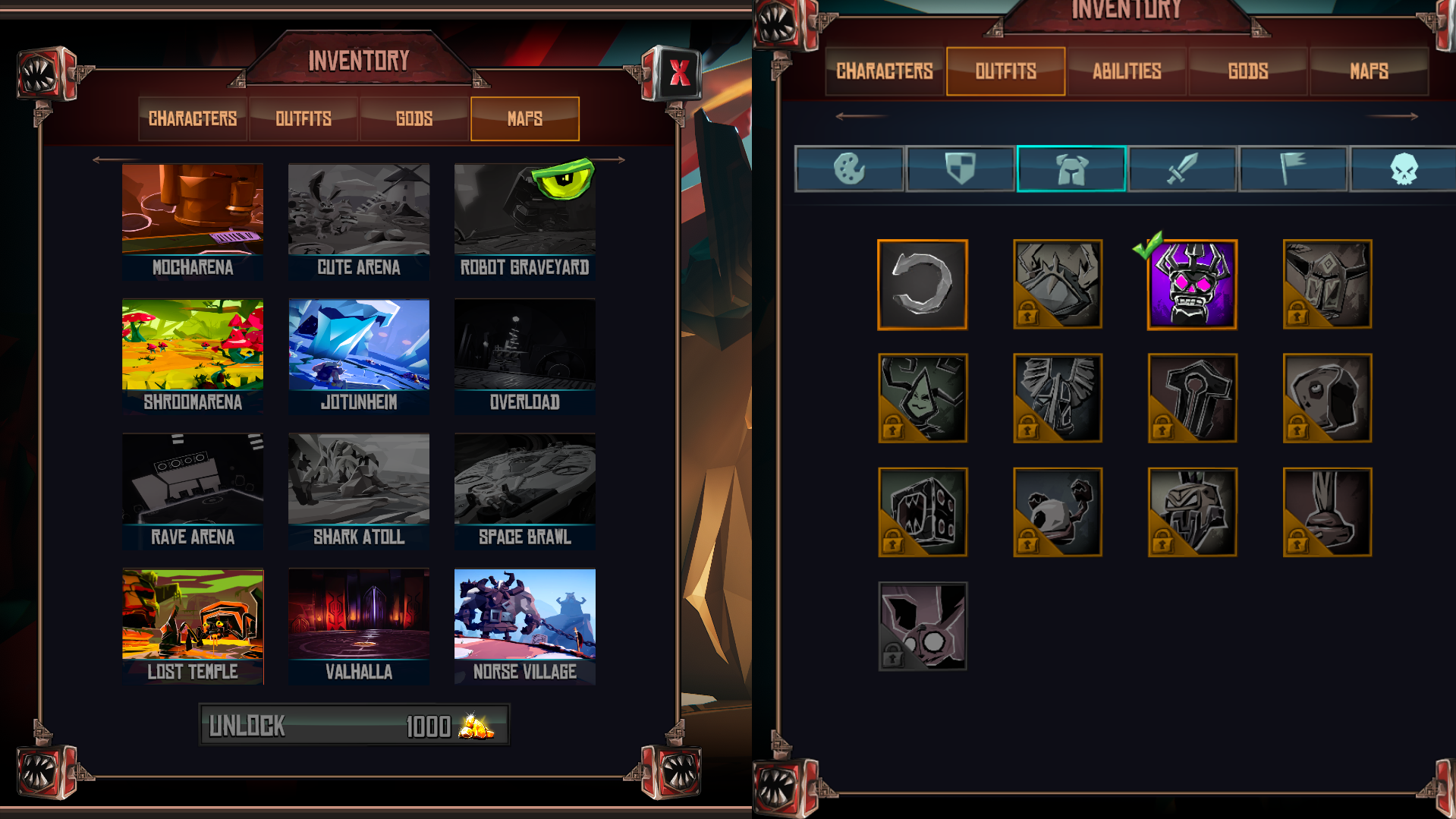 Art style in BOSSGARD is an absolute treat to look at if you dig cartoon-ish creations in any way. It fits like no other style would, and I feel like artists captured the idea perfectly. Same goes for the soundtrack - both great to listen to in the background and incredibly fitting into the whole chaotic craziness theme of the game. It might not be a Supergiant Games (Hades, Transistor) level of epic awesomeness, but I need to admit, they're keeping it pretty high level.
Controls are highly intuitive and binding was well thought through so no need to go around the options looking to alternate into anything more comfy, both on Keyboard+Mouse or Gamepad if you use it. BOSSGARD supports online, local and couch-vs-online, so I can't wait for an opportunity to bring in more people for some noisy, friendship-testing session.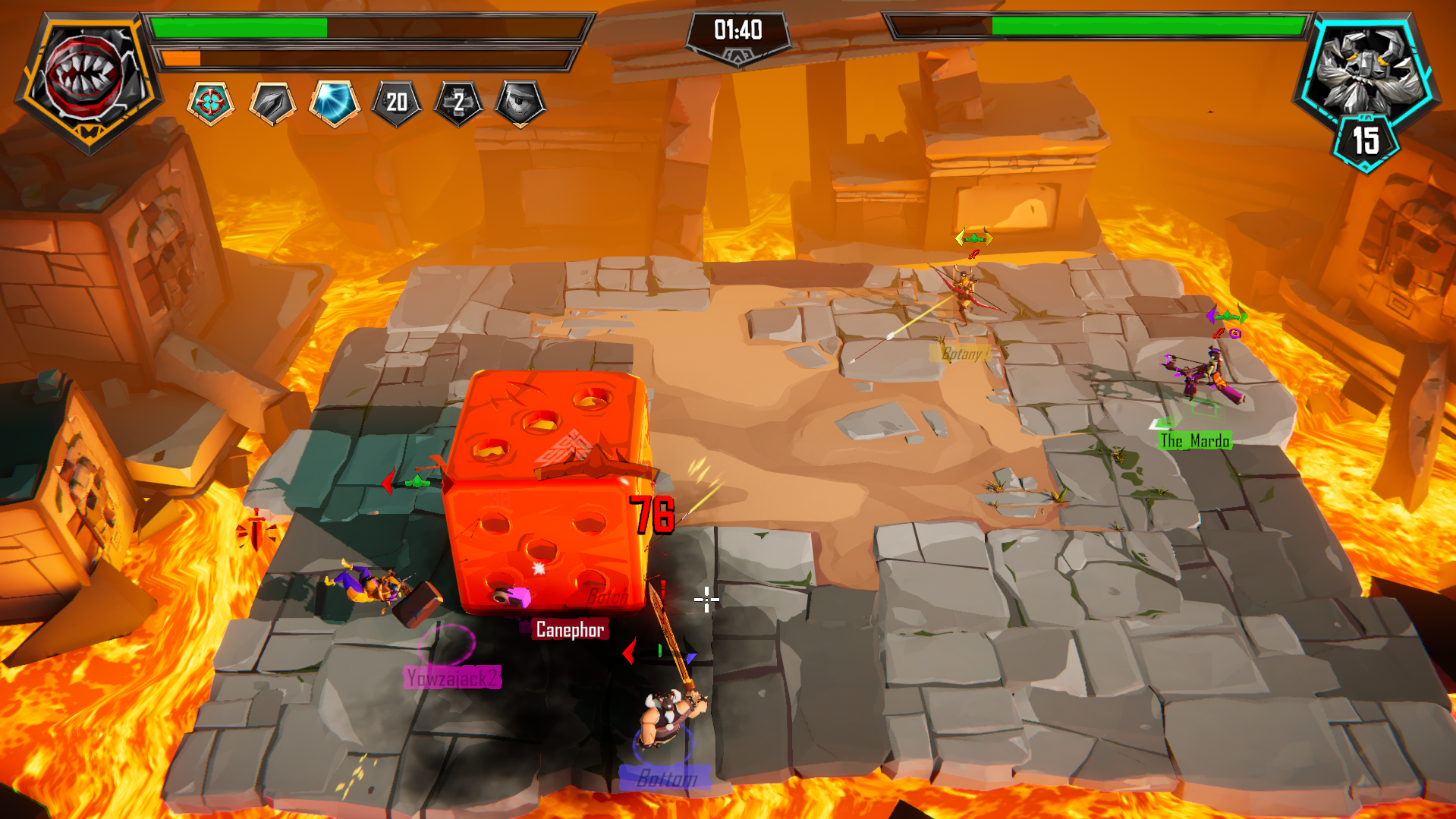 The game is currently available on PC, PS4, Xbox and Switch. Can't really find any details on the cross-platform plans, but really hope they will be considered in the future. Unfortunately, right now there's not too many people playing it (at least on PC) so if you want a full lobby of six players, and you're on your own, you might need to hang around the afternoon weekend hours, otherwise you'll mostly encounter half bot lobbies. Luckily, it's still plenty of fun, as I mentioned before, AI is pretty good at the game and acts similarly a human would, both in attacks and defence.
To summarize it all, BOSSGARD is an awesome party game, whether online or local. Fun gameplay as a Viking or the wacky boss to the beat of a great soundtrack provides a potential for hours of playtime for you and up to 5 other friends.