You may remember my
article
in March about the Desura website going down, where I pondered the future for Desura. Since then the website has been on and off (mainly off) and most people have passed the acceptance stage of grief.
Recently it has been announced that the company "OnePlay" has now acquired Desura from Bad JuJu games, along with Indie Royale and Daily Royale. OnePlay have announced this on their website, stating "We are working hard to bring back Desura, IndieRoyale and DailyRoyale to deliver you more awesome indie games".
OnePlay currently own their own digital games store, which they launched in 2008. They offer a VIP subscription for rental of games with a monthly fee. It seems that OnePlay clearly has experience in digital game distribution, which we hope will assist them when running their newly acquired Desura.
OnePlay state in a FAQ that they are aiming for Desura to be back up in the first quarter of 2017. Although the Desura website is currently down, we managed to get a quick glimpse of the potential new website yesterday (not sure if we were meant to see this!):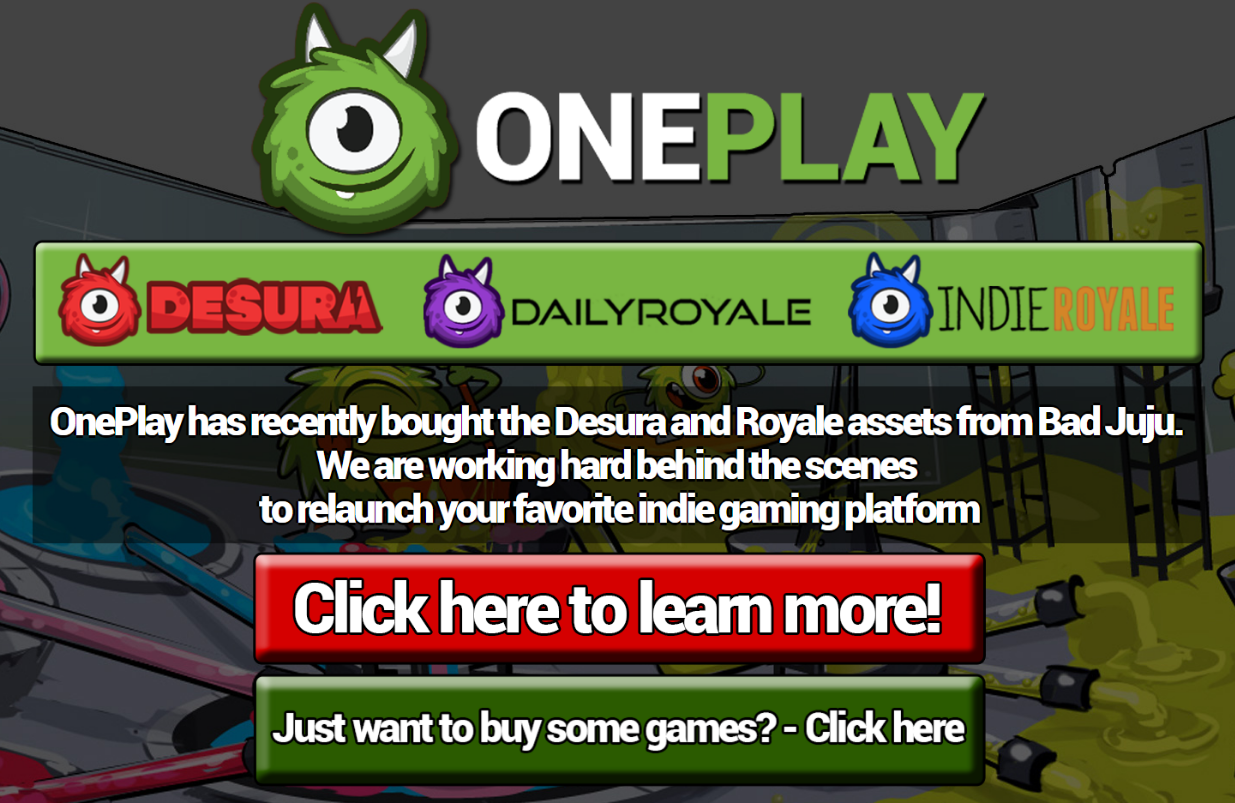 OnePlay has also stated in their FAQ that they plan to allow members access to their old accounts and games upon release (although can't promise anything). They have also explained that they will run their own site (OnePlay) separately from Desura/IndieRoyale/DailyRoyale, although overlapping campaigns and competitions will likely occur.
When Bad Juju games went bankrupt in June 2015, they were in a lot of debt with developers selling their titles via Desura after not paying them for months. Whether this debt will be paid off following the purchase from OnePlay is unclear and has not been answered in the FAQs provided by them.
Although OnePlay has informed us of their purchase and have written a FAQ, it appears they were not quite as considerate to their newly acquired loyal members on Twitter. The Desura Twitter hasn't had any news relating to Desura itself since May 2015, yet after OnePlay's takeover, they have proceeded to post many Tweets about their own website and deals with only one Tweet regarding the new owner.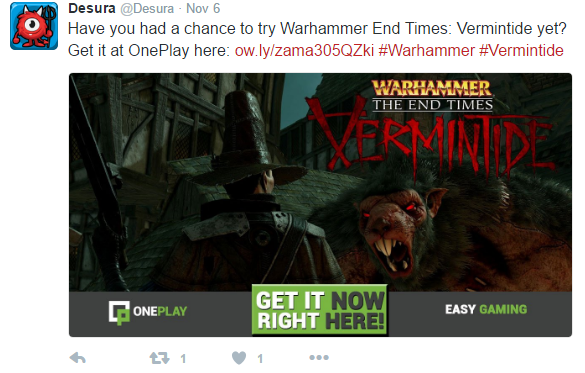 As of yet, we have little more information about Desura. We can only hope that one day Desura will be back, with our account intact and full access to our previously purchased games. OnePlay have a lot of work to do building back up the trust of their members and developers. We wish them luck, anything to bring back our beloved Desura!
What are your thoughts on the news of Desura's future return to the gaming scene?