As a result of the second wave of lockdowns across the globe, the year 2021 has been especially prolific for video games and online casino games. There are games that aim to reach a specific audience, as well as games that are oriented towards a broader audience. We've compiled a list of the 15 most popular video games from 2021.
Everyone has played a game at some point, whether it was at an online casino like FanDuel Casino or playing video games. There is almost no way to compile a list of the 15 most popular games of all time, but we tried.
Minecraft
By May 2020, Minecraft had 200 million sales, making it a definite best-seller. In Creative mode, you have all the building supplies you need to create your world. In Survival mode, players hunt for supplies and food, while fighting off zombies and other mythical creatures.
You can play alone or join one of the games online and play with others around the globe. It appeals to all age groups, which could be why it is one of the biggest video games in the world.
Grand Theft Auto V
Following the success of Grand Theft Auto IV, this action-adventure game was released in 2013. It became the fastest-selling game in history, making $1 billion within 72 hours.
It's set in the fictional city of Los Santos and follows three convicts as they run from the law, completing missions along the way. Heists, shootouts, and car chases are all part of the exciting action. An age restriction of 18 years and older apply to this game.
Tetris
A Top 10 list wouldn't be complete without the simple, yet addictive, Tetris. The goal is to score as many points as you can, while manipulating falling blocks, to complete horizontal rows. The blocks fall faster and faster, making the game more challenging.
Created in 1986, Tetris is still a well-loved game. It may not be the most popular video game ever, but it's close.
Legend of Zelda: Ocarina of Time
This fifth game in Nintendo's Legend of Zelda series makes it onto most Top 10 lists. It was released in 1998 and was the first of the series to use 3D graphics.
The main character, Link, travels through time, fighting through dungeons and an underworld to stop the evil king. Ocarina of Time has won many awards, including the Innovative Game Award at the Bafta Awards in 1999.
Super Mario Bros
Super Mario Bros has its roots in the arcade game, Mario Bros, created in 1983 by Nintendo. It's the first in the Super Mario series that has provided hours of entertainment to young and old alike. Mario must race through the Mushroom Kingdom, fighting enemies and collecting treasures, to save Princess Toadstool.
The game led to the long-running series of Mario games, an animated TV series, and a movie. It holds the Guinness World Record for the most expensive video game sold online at auction.
Wii Sports
Another Nintendo blockbuster is Wii Sports, which has five sports: tennis, baseball, boxing, bowling, and golf. You use the remote to mimic the actions of the sport. There is no virtual option, but it's a great co-op game.
Wii Sports became so popular that three years later Nintendo released Wii Sports Resort, offering 12 games. To date, over 80 million Wii Sports consoles have been sold.
Red Dead Redemption 2
Since its release in 2018, Red Dead Redemption 2 has reached over 32 million sales. An outlaw and his gang fight bounty hunters and government forces as they make their way across the country. There are many pitfalls, and you need to have your wits about you to stay alive.
Pokemon
The Pokemon franchise started in 1996 with two games for Game Boy, Pokemon Red & Blue. Since then, numerous Pokemon games have been developed, but Red, Blue and Yellow remain the most popular.
The franchise now includes a top-selling toy brand, a trading card game, animated movies, books, and a virtual theme park.
Call of Duty
The first video game in this franchise was released in 2003. The games were set in World War II until the fourth instalment, Call of Duty 4: Modern Warfare which has a more modern setting.
In Call of Duty, you control the soldier and complete missions to advance in the game. The imagery and content are very authentic, and the game simulates events as they could occur on a battlefield.
Fortnite
There are three versions of Fortnite, but the most popular of these is Battle Royale. Here you can play online against other players, either alone or part of a team. Your goal is to defeat the other players and be the last man/team standing.
In 2019, the number of Fortnite players worldwide reached 200 million! It could be the most popular video game in the world, particularly with teens/young adults.
Call of Duty: Black Ops 4
Released in 2018, this game had one of the biggest digital launches in the world, with over $500 million in sales during its first three days.
Roblox
A game tailor-made for creatives, Roblox is a fresh spin on the Lego blocks we used to play with as children. The game counts more than 100 million people as active users.
Rocket League
A weird mix of European football and monster derbies, Rocket League is a standby of any PS4 owner's collection.
Borderlands 3
If you love first-person shooting games but wished for a more cartoon aesthetic, this is the game for you.
Spider-Man
One of the first games to take full advantage of the PS4's capabilities, Spider-Man is still popular among fans of single-player game experiences.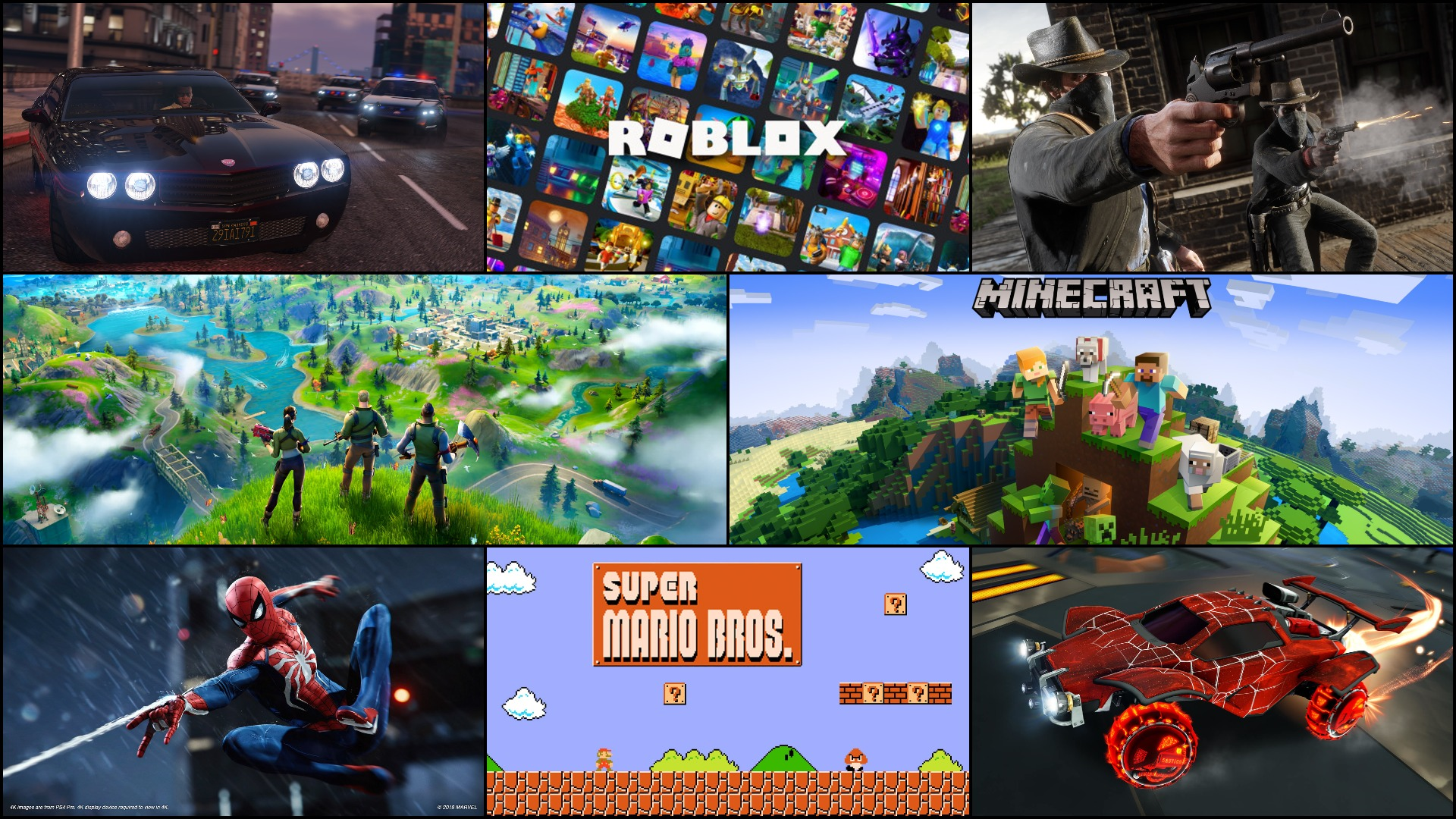 Conclusion:
Games that are popular now may not be in a month, or they may still be popular in ten years. If you have missed out on any of these games, then make it a point to check them out before this year comes to an end. The two games that we recommend trying as must-play games from this entire list are Mario Kart 8 and Fortnite. In the meantime though, keep playing your favorites!