Tremor Games, the popular offer based website for earning free video games has shut down. Below was their short and heartfelt announcement made on Wednesday 21st November 2018, shortly before they closed their doors for good:


"TremorGames.com will be shutting down on 25th November 2018. We have been compelled to do this due to some personal issues. We regret we won't be able to disclose more details about the reason for closure.

The website will become inaccessible after 25th November. We cannot give the exact time but please finish off all activities on the website by 24th November. We are closing new registrations and offerwallls from today.

It has been a great experience running TremorGames. We thank all our members who have been supportive and helpful. We tried our best to give our users the best experience. We apologize for our shortfalls."
TremorGames made completing offers to collect coins a popular activity in the gaming world back in 2012 and stood up as the leading platform for 6 years until it's closure yesterday afternoon. The announcement in the forums had nearly 500 comments, almost all saying they would miss the site and wished the team luck in future.

The site changed very little over its 6 year lifespan, with a simplistic design and minimal design polish. But its stock of titles continued to grow and expand, their offerwall variety was second to none and unlike many similar sites, Tremor had its own in-house browser games with achievements that rewarded coins.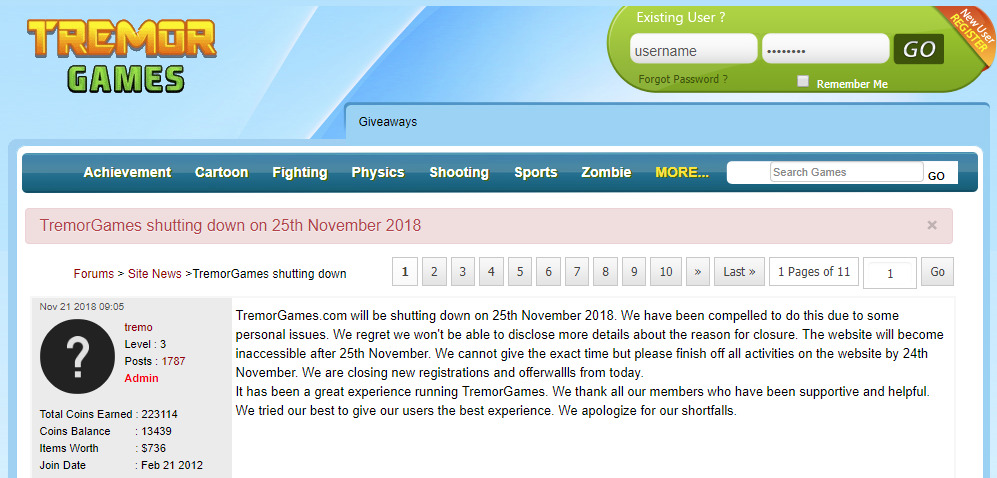 Opium Pulses started its giveaway offerings by sourcing games via Tremor so we're sad to see its sudden closure and wish the whole team good luck in their future.

For those Tremor Games users who are looking for a new place to earn games for free, we allow users to complete Quests on our own site and spend their points on games in our Treasure Trove - why not give us a shot? https://www.opiumpulses.com/treasure