What is Cartel Tycoon? Do you ever dream of being Walter white? Ever wanted to make your own drug empire? Do you want to own an island to yourself?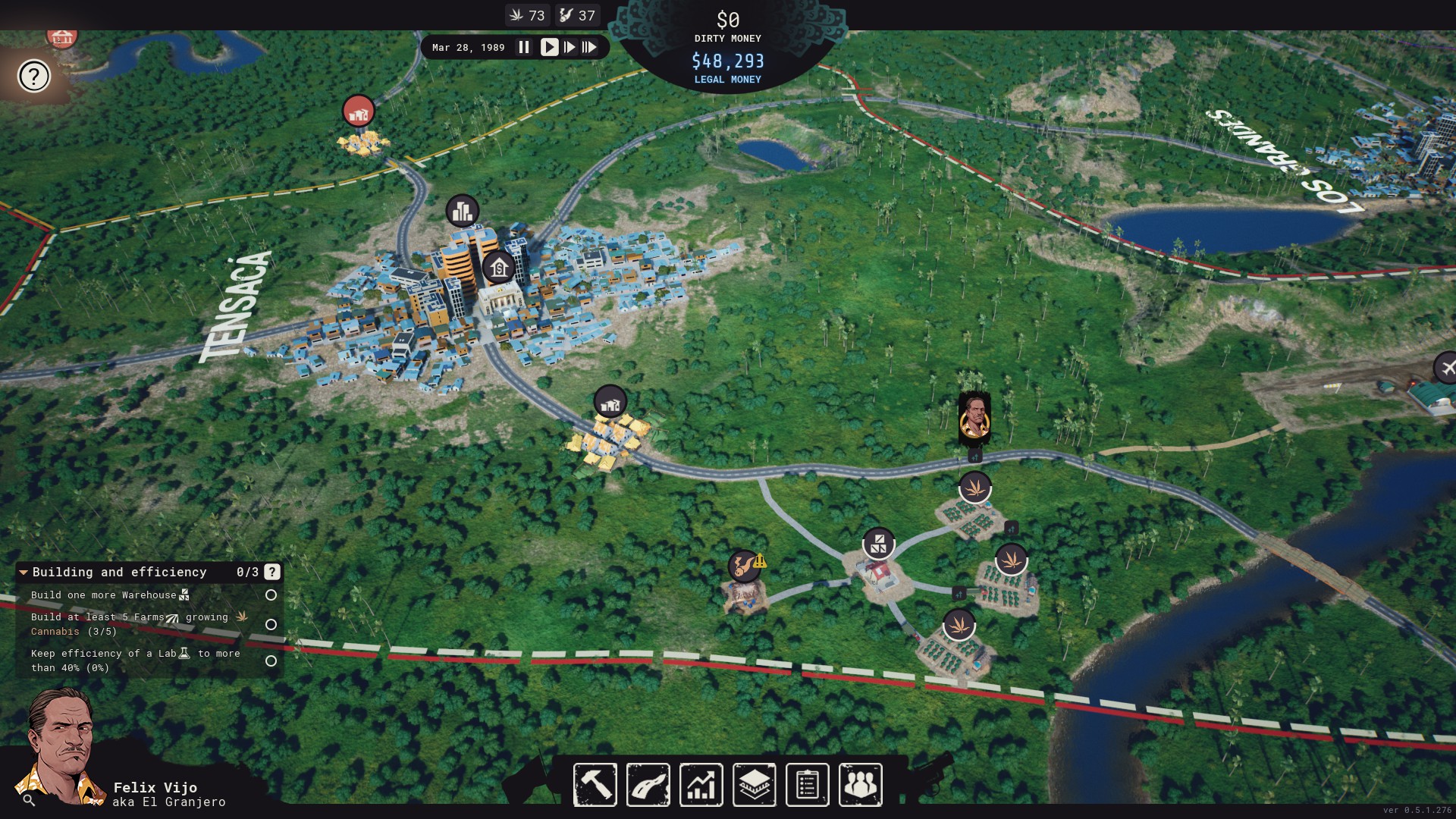 Just starting off!
The Story: at the moment there is not a story just your drugs are not doing well and you pray to god (you) to make it work.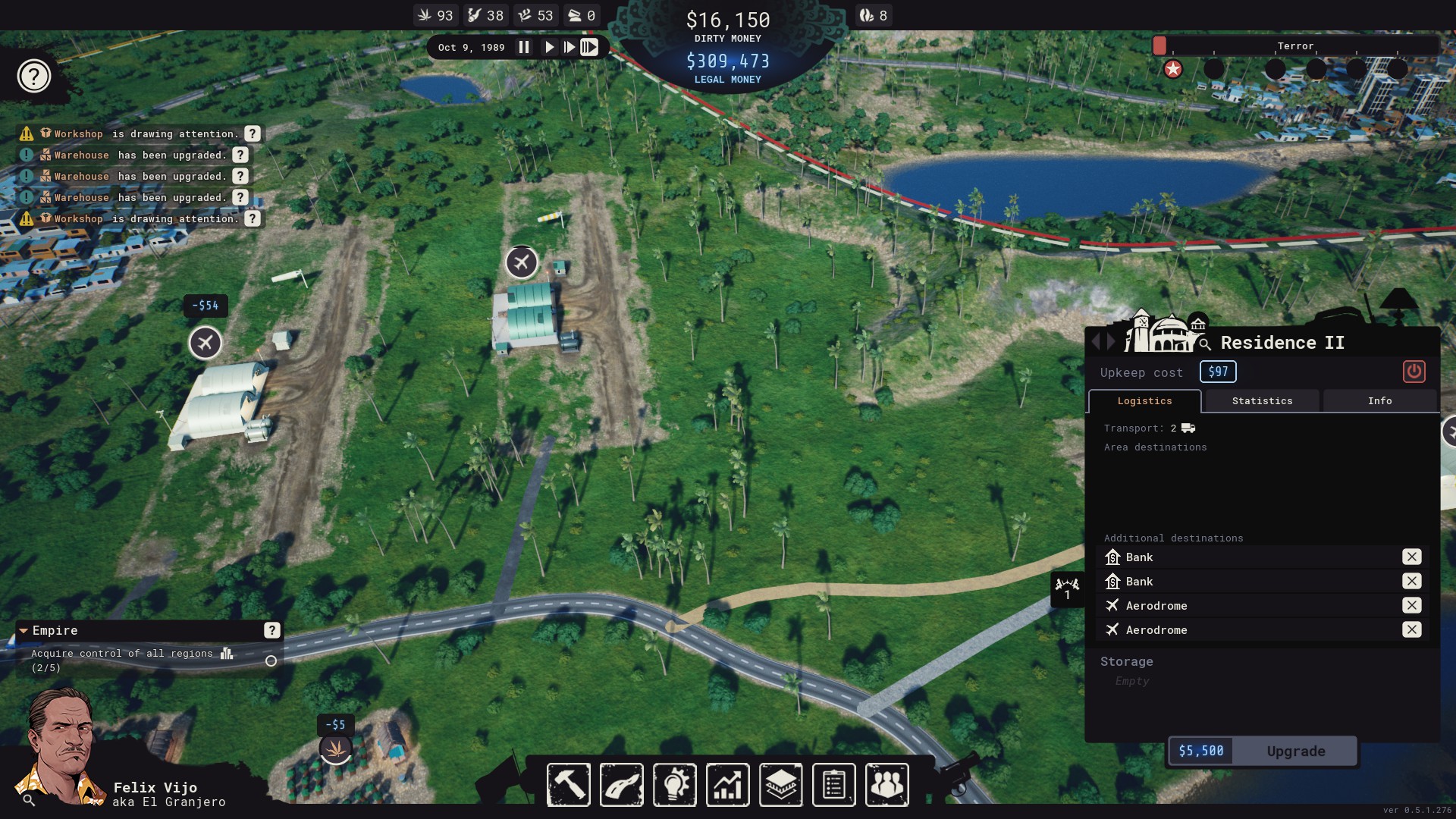 When your airports are overflowing so you need 2!
What Cartel Tycoon but more in depth? Cartel Tycoon is a tycoon game all about running your own cartel and growing drugs like Cocaine, meth, weed and making dried cannabis and selling it to make dirty money which you have to launder it to make it real money that you spend.
The Cartel is growing!
The Mechanics: Cartel Tycoon is a like every tycoon game but the objective is making your own cartel that controls the island but you have to be carful of the cops as they can shut down your operations if there is to much issues like over making weed, when this happens your meter rises and the cops start getting suspicious or worse start trying to get involved meaning you could get a wanted star or if you get to many they will close everything unless for a price you can make it all go away. The way you start is by buying more labs which turn weed, cocaine and meth to products worth more then when they have become dried cannabis if your only doing weed you can build a workshop to package them in drug packages or TVs but you have to keep buying them every 1 day in the game if not the police will come and close the place down for 24 days then you have to pay to bail them out after 24 days. There are houses you can build which can store dirty money and launder it for you which is a life saviour. When you want to expand you have to fight the other cartel for control and when you do you then have to pay the government as they will 30% of anything you make in there area which is less money for you so paying them off is worth the money.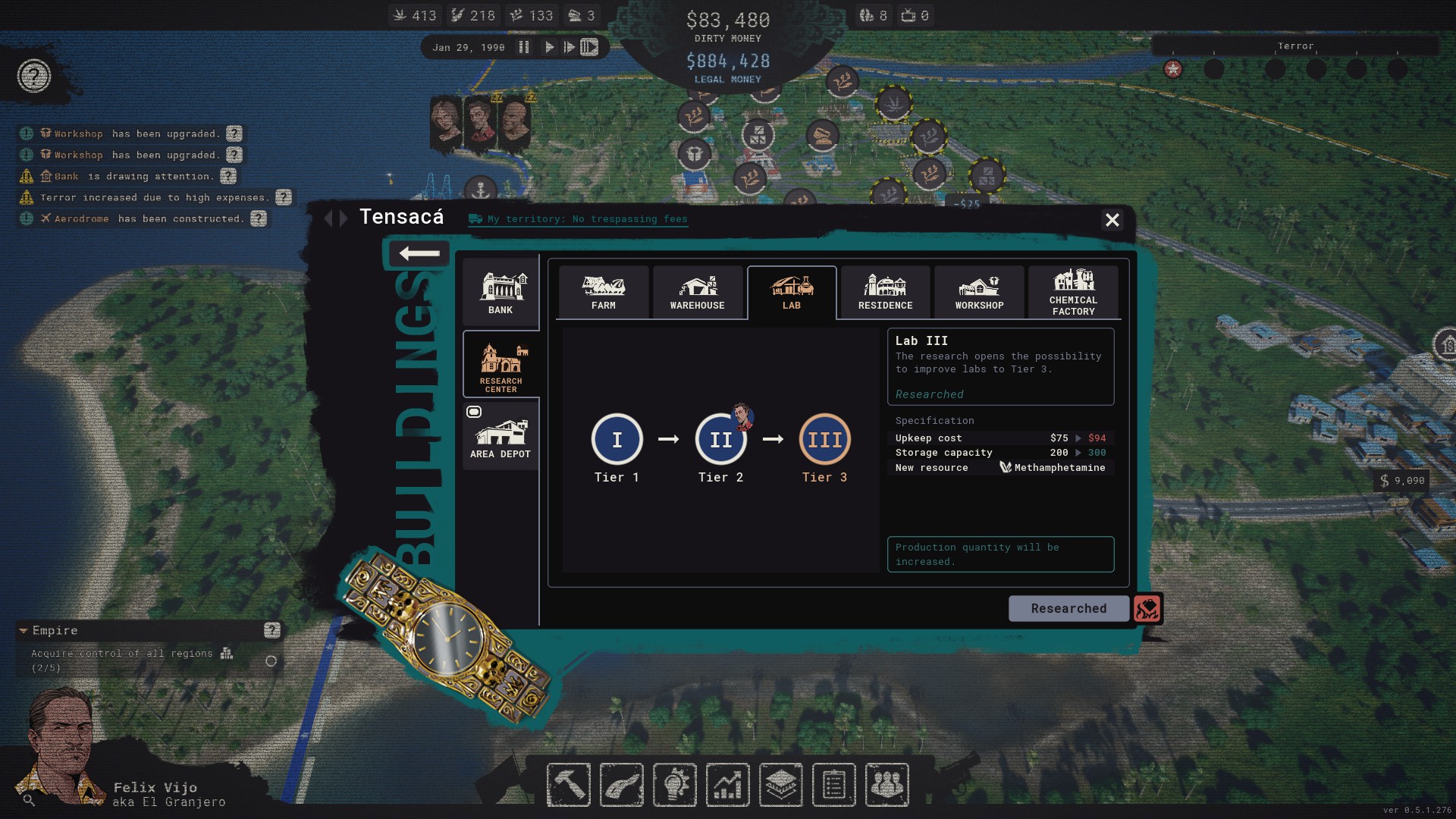 Resarching to make more money!
The Graphics: are top down high textured graphics as this was built on the unreal 4 engine you can expect this but just a shame you can see any people only trucks and cars.
Bit overkill but more money!
Pros:
Great graphics.

Easy to pick up and learn.

Barely any bugs.

Interesting concept.

Taking over territories is fun and I enjoy that.

Research is very rewarding as you work hard and you get so much out of it like new shops or new products.
Cons:
No way of buying TVs automatically or even warned about needing them.

Everything overfills to fast.

Be nice if you could buy places shut down sooner for little bit more.

Be nice if the tutorial did not just make you have to pay $50k straight up you have the option but the police get involved and make it hard to even start.
Conclusion:
For a demo this is very fun and definitely worth the try if you have the free time and is great for people who have not played it as tiny build is backing it you can trust them as they have a good history of games they have backed and ill definitely be picking it up when it comes out as I enjoyed it a lot, so if this interest you then check it on -> Steam.
Developer: Moon Moose
Publisher: tinyBuild