Wordscapes is a free word game from PeopleFun. If you want to test how broad your vocabulary is, this app will not disappoint. There are currently over 6,000 levels to unlock. It also allows you to learn new words and add them to your stock of knowledge. You will have fun playing while gaining the benefits of a sharper brain. If you find a level too hard to solve, you have the option to use Wordscapes Answers that you will find online.
---
It's free to play
You can download this game for free. If you are the type of player that does not want to spend real money on a game, it's one to add to your list. It may come with in-app purchases, but you will not be forced to buy them. You can keep on playing without spending anything. Like most free apps, it comes with ads. Some show at the bottom of the game, which you can easily accidentally hit. Doing so will lead you to the download page of that advertisement, so you have to find your way back to the game.
It's a great way to pass time
If you find yourself with plenty of free time with nothing to do, playing Wordscapes is a fun way to pass the time. You will not feel bored as there are thousands of challenging levels that await you. The puzzles are easy in the beginning, but they get more challenging as you reach higher levels. So it's not just enjoyable, but it's good for the brain because it will make you focus, and think to find the right words to solve the puzzles.
Pick up where you left off
If you need to do something and stop playing, you can put it down and pick it up from where you left off. Your game will be saved, so there is no need to start from the first level. It will remember your progress, so you can conveniently continue once you are ready to play again.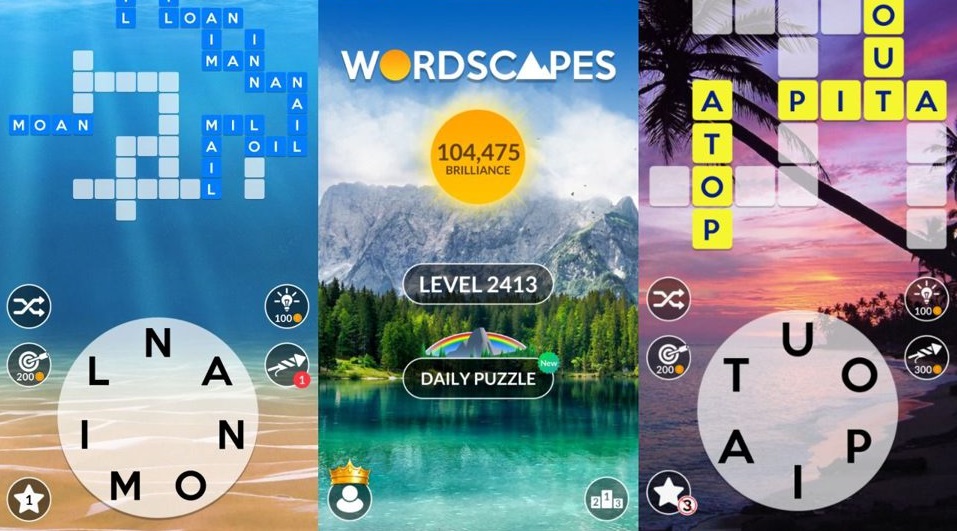 You can play it offline
Playing online lets you get updates immediately whenever they are available. However, if you are not connected to the Internet, you can still play as it is also available for offline use. So, whether you are riding public transport or waiting for an appointment, you can keep yourself busy by playing this game. As soon as you connect to the Internet, you will receive the updates.
---
The pros
Wordscapes is free to play, so you don't need to spend any money to get it. It has thousands of levels that give you plenty of playtime hours. It's available offline, and it lets you pick up where you left off. It's not just fun to play, but it will help sharpen your brain.
The cons
It comes with advertisements that you can unintentionally click while playing, which could affect the gaming experience.
Final thoughts
Wordscapes is one of the best free word puzzle games out there. It may have ads, which is common on most free apps anyway, but it offers thousands of challenging levels that are fun to play and will help exercise your brain.