Space... The great unknown that has fascinated humankind since the beginning of times. Very few have had the pleasure of visiting it, many dream of being able to see it closer. But what if you're just an innocent dog sent to space? Let's explore together what this game has to offer.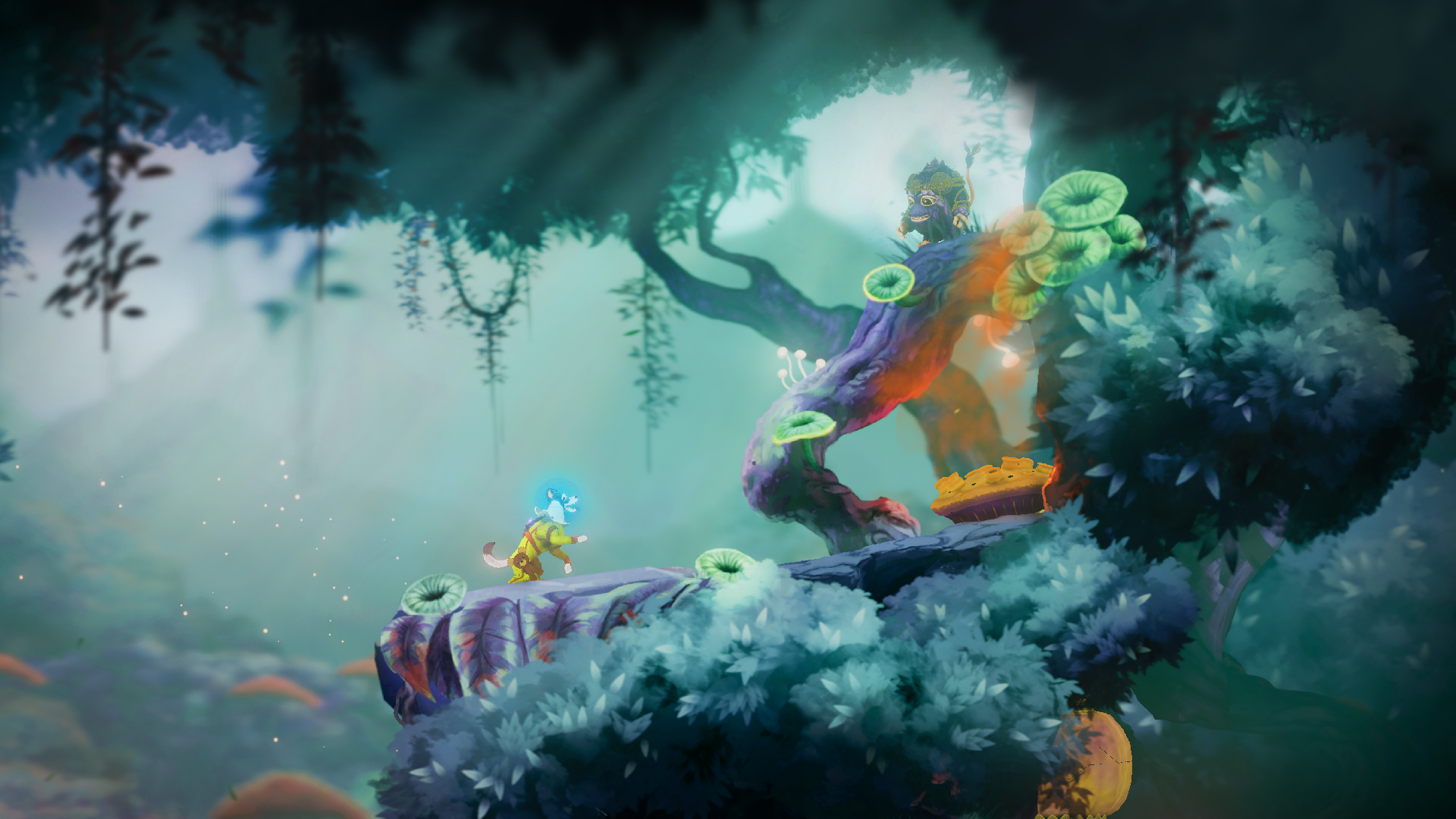 Story and Gameplay
Space Tail: Every Journey Leads Home is the first official title from Longterm Games in which we meet Bea, a cute white and black dog who has been trained and tasked with exploring the outer space with everything that it entitles. Inspired by true events, the game aims to honor and pay tribute to the animals that were sent to space and paved their way for humankind to follow. Space Tail is an atmospheric 2.5D platformer with some interesting puzzles, allies and enemies.
To start off, after some wonderfully illustrated cinematics, we encounter Bea in the training center and our tutorial begins. At this moment we learn some of the basic mechanisms that will be used throughout the whole game. The game offers 3 basic mechanisms: senses, companions and relations, which I will explain independently later on. Once the training is over, Bea is ready to leave Earth and explore her first planet all on her own. Bear in mind that Bea is just an ordinary dog, she doesn't possess any superpowers that can give her an advantage, so she must learn to use her environment, her senses and at specific moments, the help from the planet's inhabitants.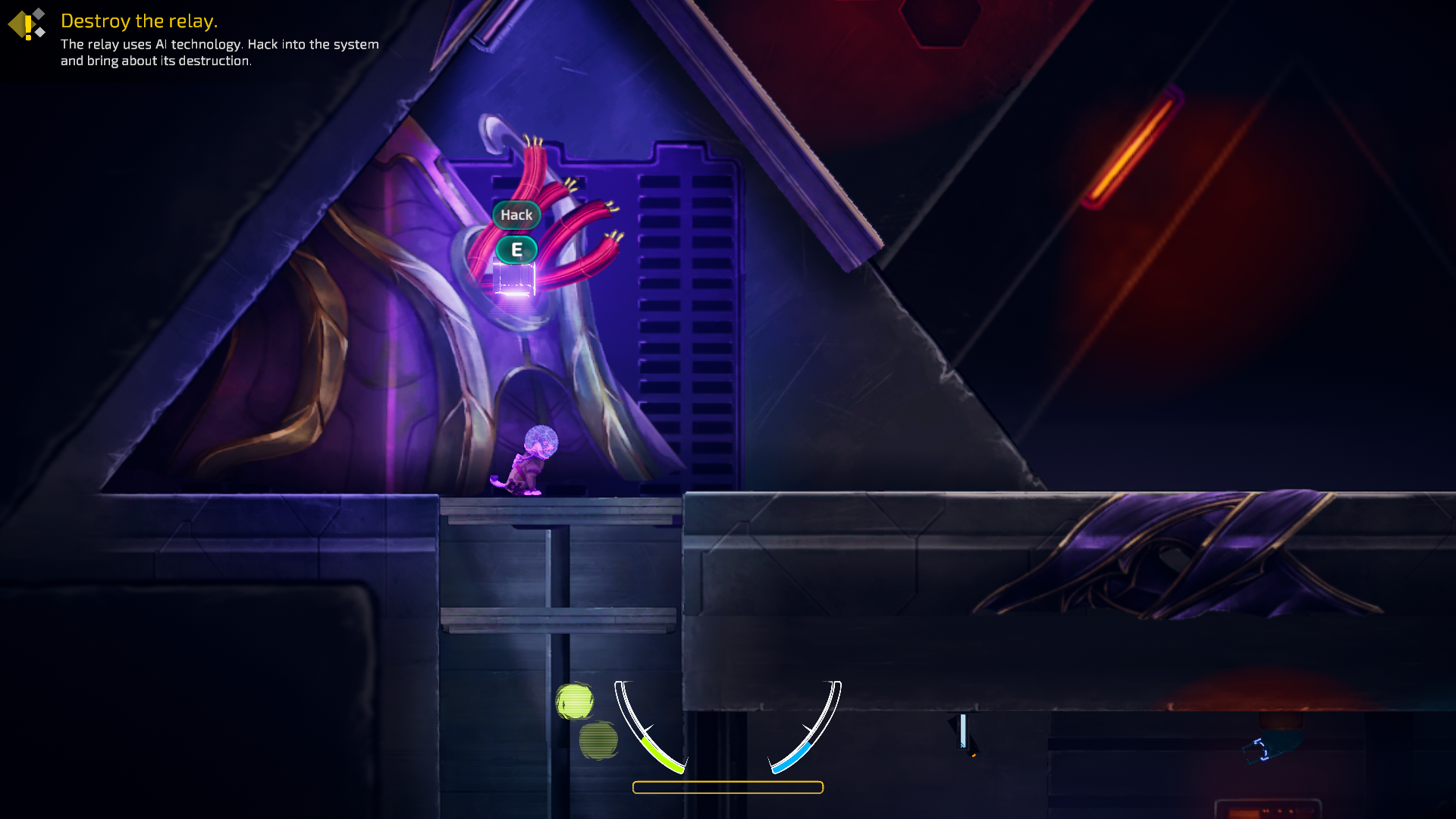 Talking about using her senses, we quickly learn that Bea has 3 main ones: sight, smell and hearing. Each of them will come in handy during different moments of the game. In general terms, sight will help you detect toxicity and lasers in the environment, smell helps you when following certain paths and traces of where to head next in order to progress, while hearing lets you listen in for enemies and hidden dangers to make them easier to avoid.
If that wasn't cool enough, while Bea is just a regular pup, she can also crouch, get through tight spaces and communicate. Yes, you read that right, she can communicate and form friendly relationships with some planet's inhabitants. Through expressing yourself, you are able to gain trust which leads to progression and even some secrets along the way. But the journey gets far too lonely to do alone and we soon encounter some companions with some really neat powers that help us immensely. 8088Y is a robot companion with the ability to hack gates and doors. Rose is a tiny comet friend with awesome telekinesis powers that also allow us to double jump.
Along the maps you will encounter puzzles which must be solve before moving on to the next area. While death exists in this game, auto save saves constantly so if you do die, not a lot of progress is lost. The cutest aspect about this game is that not only are you exploring other planets but in the mean time you are looking for your best friend's teddy bear that got lost and you want to find it and return it to it's owner.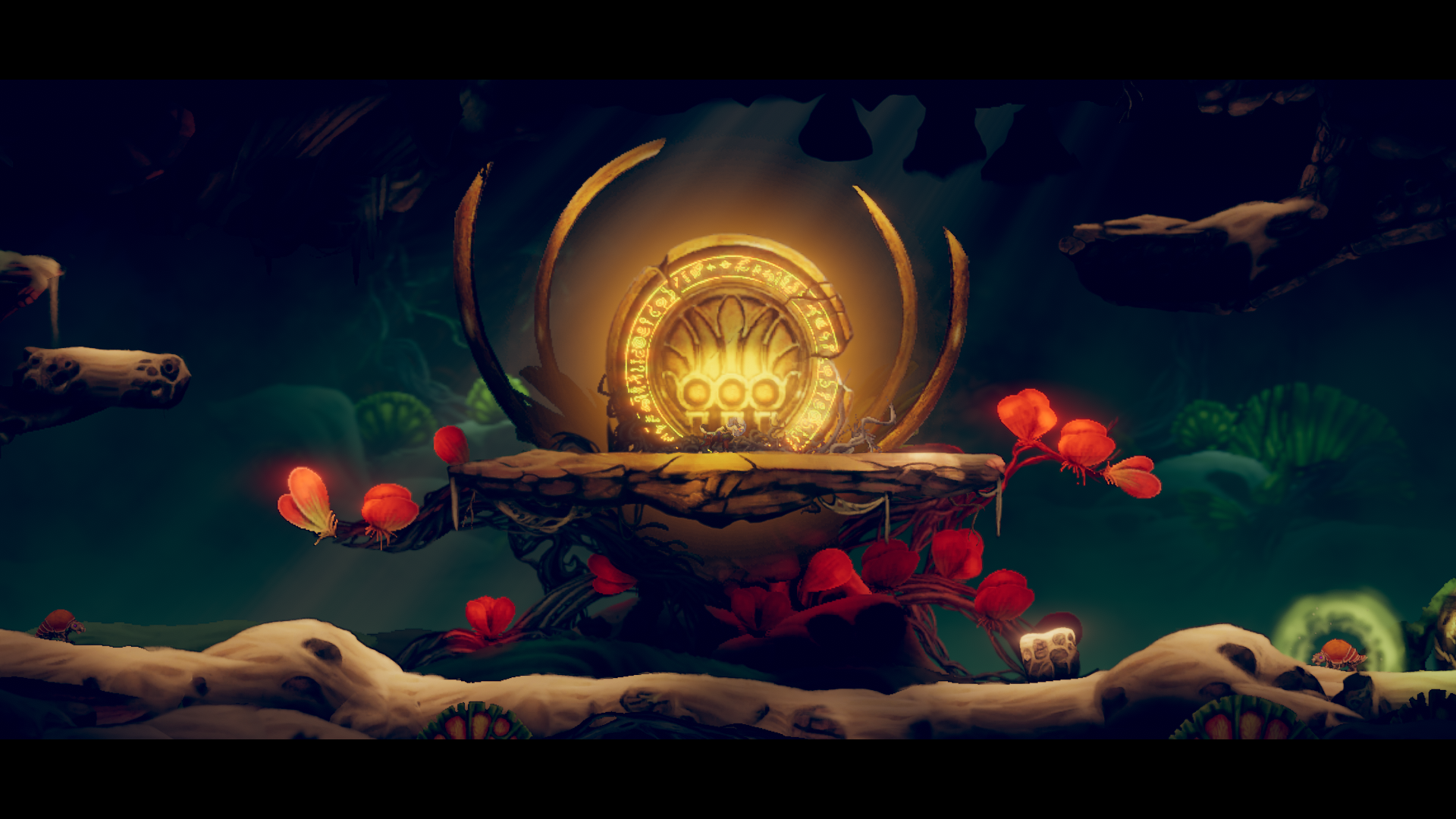 Controls
Space Tail offers control options for both mouse and keyboard combo and general controller. While both options were simple to use, as personal preference I used a controller. There were time when it was very weird because you'd have to be moving something using the right joystick but you'd also have to move out of the way or on top of that using the left joystick so it got confusing. I'd sometimes find myself trying to move Bea with the joystick for rocks/platforms and viceversa.
Anyway, here's the basic outline of the buttons and their usage: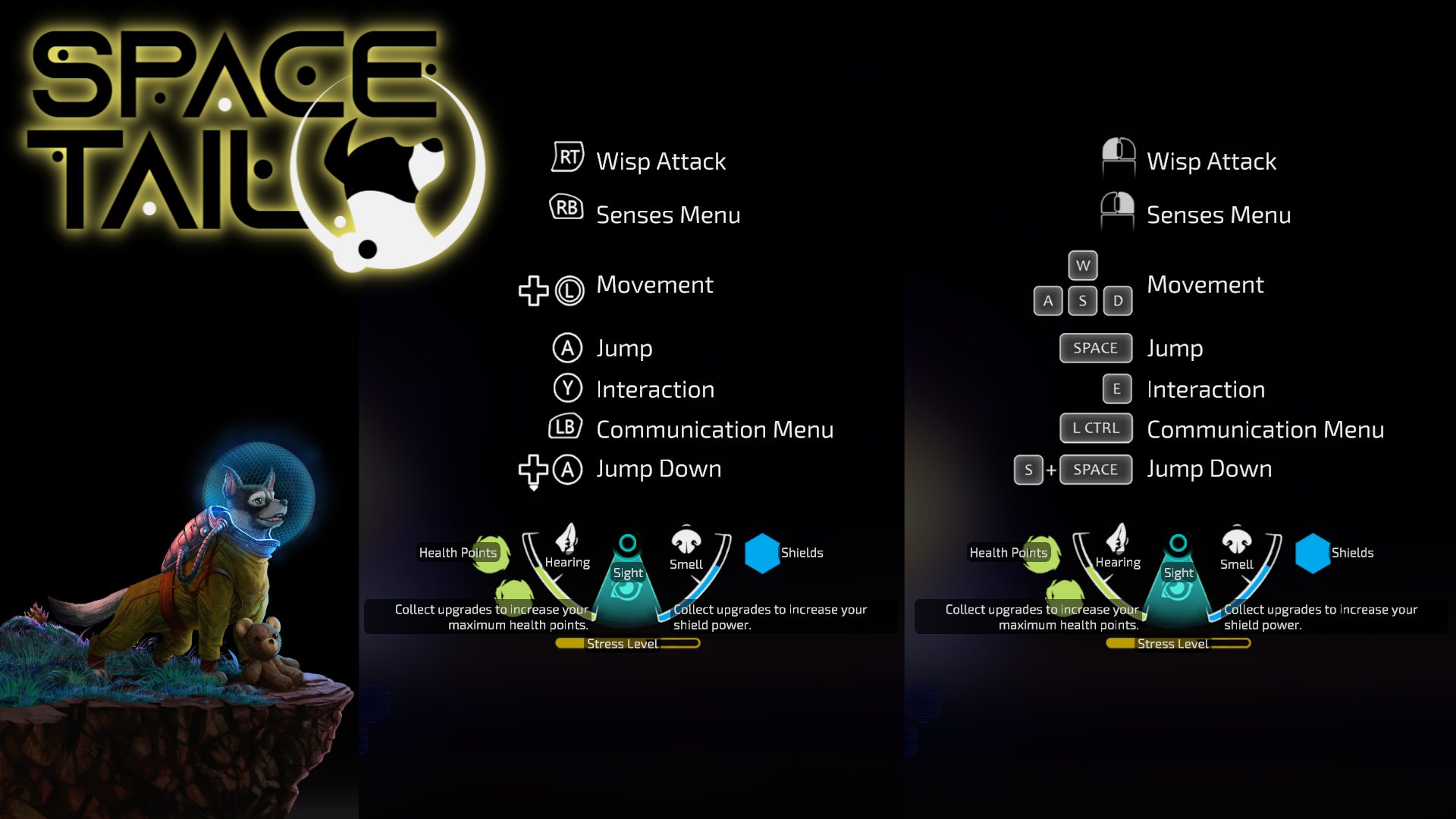 Pros & Cons
Pros
Beautiful scenery, cinematics and characters. Every art detail and design in this game was carefully created. The levels are beautiful and different from one another. Bea and company are simply superb, yes, even 8088Y which is basically a cube following you is adorable.
Engaging storyline. The narrative of this game is enjoyable and simple enough for both adults and kids to understand. The narrations feel like a cozy bedtime story is being told. And, who wouldn't want to play a cute space doggie?
Out of this world puzzles. Each puzzle has a unique twist ingrained into it. Some may use techniques and senses while others may require the help from friends.
Secrets and unlockables. If you're the explorer type of gamer, you're in for a treat. Through exploring the different planets, you'll discover secrets, important letters and would even unlock skins for Bea to use.
Cons
Puzzle/level progression. While most of the puzzles are levels can be figured out rather quickly, there are moments when you only have the very basic objective at the top and not much to go on so you might spend a large amount of time trying to find just how to work things out. I wish the game would offer a "tip" if it saw that you've been stuck at the same exact place for the past 45 minutes or so.
Communication problems. Sometimes when trying to communicate with inhabitants and failing to do so correctly, instead of the game letting you try again immediately, you'd have to create sufficient distance between Bea and the inhabitant then walk back and try again.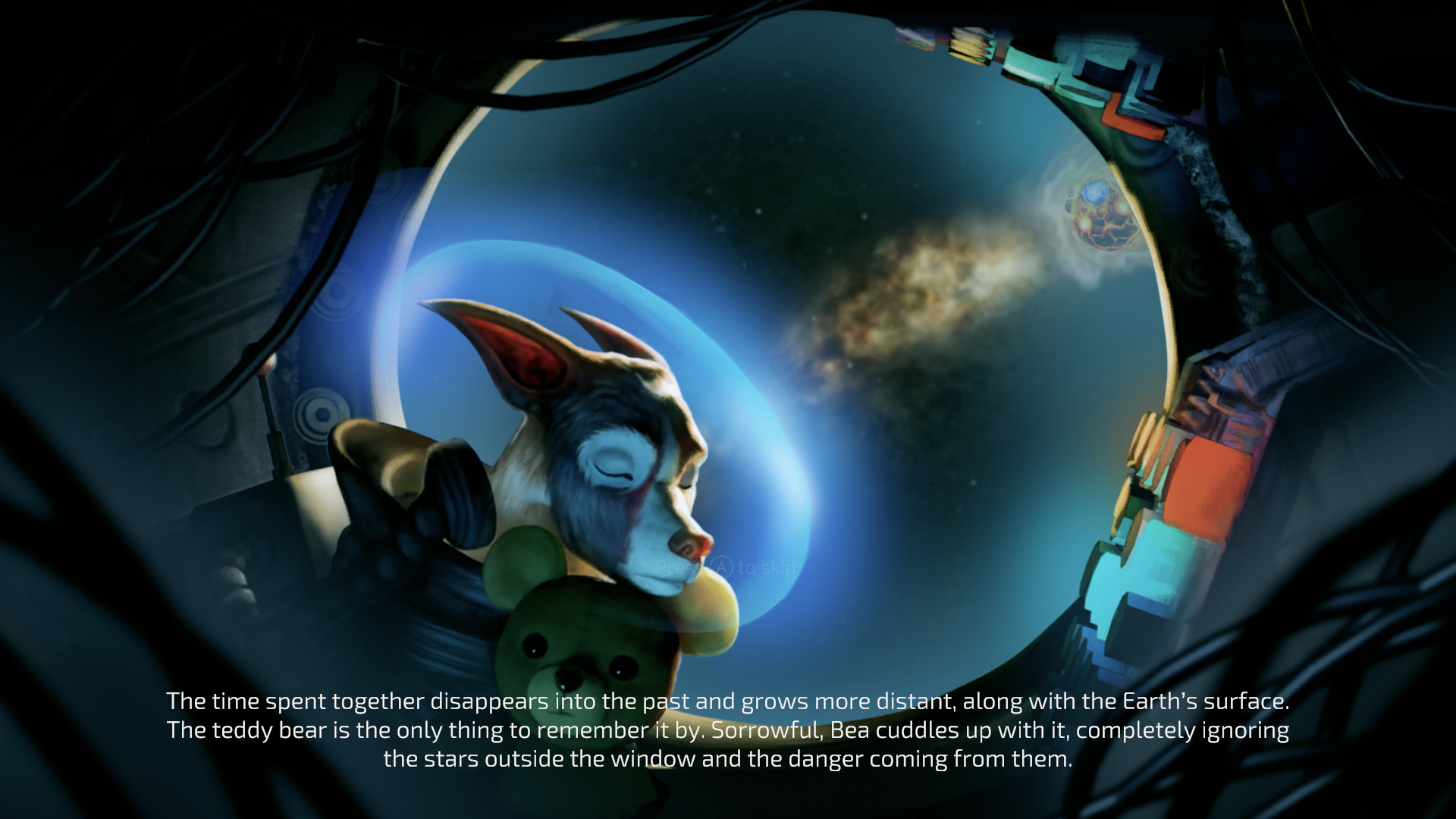 Rating:
(On a scale of 1-5, being 5 the absolute best)
Space Tail is a great game. I'm not really a platformer girl as I always seem to either run too fast and fall or not do things quickly enough and die so, when I saw that this game was indeed a platformer, I had my doubts on how much I'd really like it or be able to play. Well, I finished it. That's how good it was. The game does a great job at mixing environmental tension with an increased tempo in the background music during dangerous moments and taking you on a relaxing run the rest of the time. I explored and tried to get as many secrets as possible so my completion time was close to 10 hours. Once I got it, I couldn't put it down, even at the times I'd get stuck, I kept trying until I progressed. The game also plays out to your emotions with the touching story following Bea and the missing teddy bear. I'd recommend this game to anyone looking for a good combination of artistically looking graphics, interesting gameplay and thoughtful puzzles. Run, crawl, crouch, hide... whatever you do, don't forget that every journey leads home.
If you want to see the first chapter of the game, you can find it here!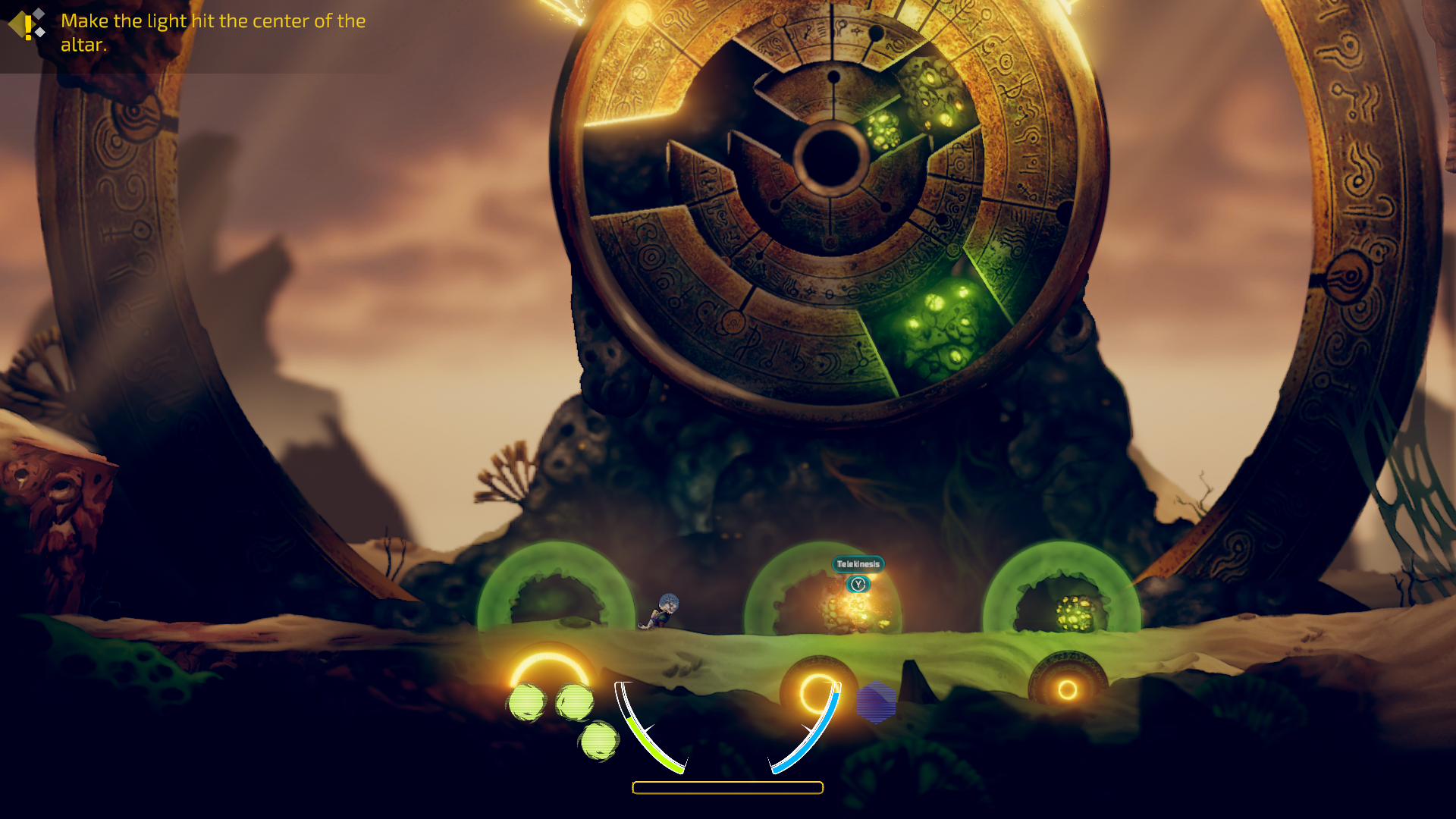 Available now on:
To learn more about the game, click here!